The Big Busk is a three-day long touring festival in support of Big Issue North Trust – the charity that supports people who sell Big Issue North Magazine on the streets. The charity supports these vulnerable people to access support with issues such as housing, employment and health. Your generosity helps us to provide this support.
We're taking our stage to city centre locations across the North West, with a mix of local artists and bigger names playing short (25 – 40 minute) slots throughout the afternoon and early evening.
Where and when
Friday, 20 September: Manchester, Tony Wilson Place (3pm-9pm)
Saturday, 21 September: Liverpool, Williamson Square (12pm-6pm)
Sunday, 22 September: Preston, Flag Market (12pm-6pm)
Line-up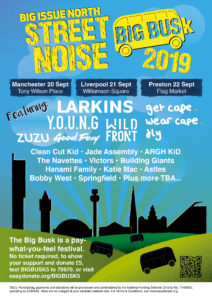 Tickets
There are no tickets! The Big Busk is a pay-what-you-feel festival. No ticket is required, but to show your support and donate £5, text BIGBUSK5 to 70970, or visit our fundraising page.
Latest announcements
Keep your eyes on our Twitter feed (@StreetNoiseUK) and Facebook page (www.facebook.com/bigissuenorth) for day splits, stage times, more artist announcements and amazing raffle prizes!
Thanks to…