An 1880 painting by John Atkinson Grimshaw, Leeds Bridge, depicts a view of the River Aire that is still recognisable today: the heavy-duty ironwork of the bridge, the substantial brick warehouses, the bend in the river towards the church in the distance. Yet today, the riverbank that was clearly a hive of dirty industry in 1880 is now bound by offices, bars, flats and hotels.
Similarly, in Liverpool, on quaysides where ships once unloaded their cargoes, there are now restaurants, galleries and arenas. In Teesside, the modern stadium of Middlesbrough Football Club sits on the site of old chemical and oil tanks. In Castleford, West Yorkshire, a huge indoor ski-slope has been built over a former colliery. Such has been the well-worn path of the last 30 years – the manufacturing and heavy industry that dominated the landscape of the north of England being replaced by service industries and leisure sites – with art and culture related projects forming a key part of this.
What a contrast from the 19th century of Atkinson Grimshaw. In the Victorian era, the booming industrial cities of northern England usually built their edifices of art and culture as far as possible from the factories and wharfs that paid for them. In Leeds, from the Art Gallery on the Headrow to the Parkinson Building of Leeds University, a cultural sphere was built that was firmly separated from the hive of industry down the hill around the River Aire and the Leeds and Liverpool Canal.
It took a long and difficult time for society to adjust to the Industrial Revolution and it's likely to take just as long to adjust to the post-industrial one
But with the rapid de-industrialisation in the UK from the 1970s onwards, a reversal took place that saw sites of industry turned into sites of culture, expected not to just reflect the wealth and sophistication of localities, as did the art galleries, museums and concert halls of the Victorian era, but rather to be the economy through generating tourism, attracting inward investment and encouraging the creative industries.
So from the Wales Millennium Centre in the old Cardiff Docks, to the Hepworth Wakefield adjacent to abandoned textile mills, Gateshead's Baltic in a disused flour mill and London's Tate Modern in the former Bankside Power Station, art occupies spaces once dominated by industry.
This has not been a wholly un-problematic shift though. Debates abound about the culture, leisure and service fields not providing the same number or same quality of jobs as the industries they have replaced – who can enjoy this new urban culture and who has to serve in it? Not to mention the thorny issue of gentrification. Property developers frequently promote cultural activities to create buzz, increase demand and drive up prices, which inevitably pushes those with more limited means out of some areas. The question remains though – just what do you do with large areas of old industrial land once it is no longer required for its former purpose? The phrase "post-industry" is bandied around a lot but is still a relatively new phenomenon. It took a long and difficult time for society to adjust to the Industrial Revolution and it's likely to take just as long to adjust to the post-industrial one.
Back to Leeds, where the industrial base did not collapse in the 1980s like other cities but has seen a significant contraction since the end of the 1990s. One of the key closures was the Joshua Tetley Brewery, an important industrial site in the city for nearly 200 years until production ceased in 2011. The key development on the brewery site since its closure has been the opening in 2013 of The Tetley, a new centre for contemporary art and learning based in the brewery's former? directors' offices.
The redevelopment of the old brewery forms part of a much wider regeneration plan for the south bank of the River Aire, where many other former industrial sites are in the process of being converted into new sites for education, offices, homes and the like. Into all of this, plans are now afoot by The Tetley to bring art outside its building on to Brewery Green, the new open space that sits on part of the former plant. The intention is that that Brewery Green will soon be home to a new major piece of public art that will be some form of play sculpture, an artwork that can be interacted with rather than merely appreciated at a distance.
I am presently curator of participation at The Tetley. This is the kind of job title that itself has only emerged in the post-industrial era, as not only the location and reasons for civic art and culture have changed in our contemporary urban world, but how we expect citizens to engage with it has shifted as well. Once the rarefied artworks collected by diligent industrial philanthropists were guarded heavily in their grand public galleries, lest they be damaged by the citizens they had been given to. Out of doors, bronzes of local dignitaries were maintained in public parks among manicured garden beds as a symbol of civic pride. Yet "Keep Off the Grass" was a key part of the culture, these creations guarded just as in galleries by a diligent band of uniformed keepers. It was culture of one form or another procured in theory for citizens, but often without their consent and only to be engaged with in a prescribed way.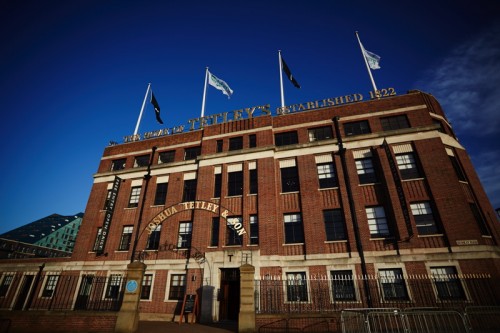 Later, in the Modernist era, despite the pretence of change, works such as Victor Passmore's concrete Apollo Pavilion in Peterlee newtown, County Durham, ostensibly being more open and democratic works of art, were in practice usually just as imposed and distant from local people, with progressive ideologies falling through the cracks of patronising and bureaucratic structures. The Pavilion quickly, inadvertently, became an un-loved place where teenagers got drunk and vandalised, though more recently local views towards it have apparently softened.
In our contemporary era of public art there is a wider acceptance among the public and commissioning bodies of broader ideas, and of people's engagement with art and culture being as important as an art object itself. From Luke Jerram's Park and Slide turning a Bristol high street into a waterpark, Carsten Höller's shimmering carousel works and the sheer variety of Antony Gormley's Fourth Plinth project in Trafalgar Square, to art collective Assemble creating a scrap playground at Baltic Street in Glasgow and people clambering around in the startlingly blue, copper sulphate environment of Roger Hiorns Seizure at Yorkshire Sculpture Park: a less precious approach to engagement with culture has developed in tandem with its relocation. Where once public artworks were made to be appreciated from afar, engaging and playing with art in the urban environment is, in many cases, now encouraged. Just as the gallery has shifted from the pillars and marble of the past to the cleaned-up old industrial site, so too we have shifted from distanced appreciation to valuing a more robust and open-ended interaction with art in the public realm.
This shift is summed up well by Usman Haque, designer of the fountain and light installation in Bradford's new City Park: a great shallow pool that is invaded by families on any given sunny day and has been a key catalyst in re-imagining the centre of Bradford: "I'm interested in how the designer of a system can best support ordinary people's creativity by being neither too prescriptive, and therefore unable to accommodate the unplanned, nor too unspecified, and therefore giving no firm take-off points for people to contribute meaningfully."
Similarly, institutions like The Tetley are not merely about the display and enjoyment of art as were the civic galleries of old, but primarily focus on its creation and production. The lines between these have become blurred in the way that mirrors wider changes in urban society. Where once industry was in the centre of the city in dirty, noisy brick-built factories, today what remains has usually been sent outwards to the distant industrial zones on the edge of town, to ultra-modern, clean plants sometimes deceptively quiet. Back in the city centre meanwhile, in buildings near to the old Leeds Bridge and The Tetley, restaurants and bars sit in old warehouses, people design computer games in former foundries, skateparks thrill in old engineering plants, data centres sit in redundant chapels, new colleges occupy old printworks. Yet in tandem, the growth in the likes of craft breweries, knitting groups, urban food growing and hi-tech "fab labs" have seen people re-discovering the value, and fun, of making, and small scale, local production in urban centres, often led by artists.
Will this new sense of DIY, craft, smaller scale and community focus retain its innocence or become another gentrification tool?
Culture in today's post-industrial, post credit-crunch cities is now often not only expected to be a catalyst for economic development, but to generate actual income. Yet there has been a move away from the grands projets of the early 2000s, of multi-million pound statement "starchitecture" that was alone meant to transform areas, economies and people's lives. Post-industrial cultural regeneration continues apace but, much as bold statements in concrete foundered as Modernism's ideals collapsed, so too largely have the palaces of the neo-liberal regeneration agenda. Meanwhile an interest in smaller scale, more open-ended and people focused projects has grown alongside the previously mentioned trend back towards craft and local making. This was exemplified by the nomination for the 2015 Turner Prize of London-based collective Assemble, for its work to support the regeneration of empty homes in Liverpool with a local community group. In many ways such actions are a return to the original origins of culture in post-industrial space. That is, instead of clearing away the past in some brave new vision, artists restoring things themselves, thinking long term and low cost, and working hard to re-use the base of the old in new ways. Yet we remain in a post-regeneration era, when no one can ignore that, however well-meant such initiatives are, they do tend to help drive up the value of former industrial land, with many waiting in the shadows for economic opportunities presented by such grassroots initiatives. Will this new sense of DIY, craft, smaller scale and community focus retain its innocence or become another gentrification tool?
It is in this context that Think. Play. Do – The Tetley's exhibition of proposals for a play sculpture on Brewery Green – emerges. On one level it is about fun and wild open ideas: what would some artists, with limited constraints, create if asked to design a play sculpture for this site? On another the project asks – what even is a play sculpture, who would it be for and how would you play with it? What role will it play in the regeneration of this part of Leeds and how will it relate to the context of where it is located?
The way we engage with art has changed, and so too has the way is it commissioned and produced. As well as the exhibition itself, the project is also a series of events, workshops, talks, publications, interactions and interventions that will all feed into what is an exercise in asking questions and trying things out. Think. Play. Do. is as much about us playing with ideas and concepts of art, sculpture, urban redevelopment and social and cultural change and seeing what happens as it is about selecting a "winning" idea. We want a play sculpture on our post-industrial site, but we're as much interested in how we get there as what we have at the end. This is a path that we hope ultimately results in a more engaging piece of public art that really resonates with this site's former, current and future use. Along the way we want to probe what direction the continued shifts in the use of the former urban industrial landscape as a site for leisure and culture may take. And of course, have a bit of fun while we're doing it.
Kenn Taylor is curator of participation at The Tetley. Think. Play. Do is on until 27 Sept
Like the Big Issue North on Facebook