I make tableware inspired by memories of my home. Drawn from a romanticised nostalgia for people, places and traditions – snippets of banister spindles, soft drapery, embroidery and loose pyjamas – I decorate pieces to be used and shared around today's tables.
I use red earthenware – the most abundant clay on earth. Through its formation the clay travels through glaciers, rivers and streams – breaking down and picking up oxides and detritus that provide its rich colour and low firing properties. Having lived in both England and New Zealand at an early age, and studying in the Uupper Midwest of America, I feel connected to earthenware as a material formed by the places it has passed through.
I have just moved into my first permanent studio after completing the Starter Studio for Ceramics programme with Yorkshire Artspace. The decision to set up on my own fell into place very naturally around February and it just felt like the right time, but came with its own set of challenges – one of which was needing to purchase a kiln. Over the summer I ran a Kickstarter campaign to support this large purchase and have over the past couple of weeks moved into a space at Persistence Works in Sheffield city centre.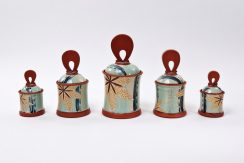 I'm taking part in this weekend's Art Market in York, which is a buying fair for more than 120 artists to sell to the public. In addition to ceramics, the show also includes paintings, prints, sculptures, glass and other contemporary glass, with talks, demonstrations, installations, interactive areas and workshops, with live music and a café area.
In my new studio I am working towards this show. I am very much looking forward to this weekend as it will be my first opportunity to exhibit a few pieces that have been made entirely in my new studio and kiln. It's a big milestone for me – two years ago the idea of having my own kiln was in my wildest dreams! It will be a great opportunity to step out of the new space, connect with other makers and meet new customers.
The Art Market York a three-day show celebrating art, design and contemporary craft at York Racecourse Events Centre on 30 Sept-2 Oct. For more about Victoria Dawes see victoriaclairedawes.com
Like the Big Issue North on Facebook