When curator James Moss invited me to take part in a show at the Portico Library themed Recollection: Memory and Time, I decided on a particular group of miniature paintings from my Creative Women series. These works draw on my remembered experiences of young women in Pakistan.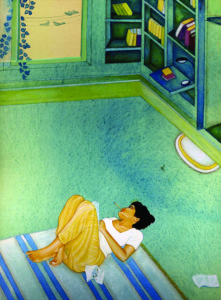 In these paintings, I have depicted and celebrated women on the cusp of creative moments – moments when unconscious impulses replace cultural expectations. Something, she does purely for herself, not for the sake of duty or social pressure. Images of women absorbed in their favourite activity like singing, knitting, drawing, and reading. Although these moments are captured on the traditional medium of wasli (paper) they stand in stark contrast to the portrayal of women who stand like trimmed objects as if arranged for decoration in traditional works.
In this show I will also be showing another series of work called Walking to School I, II, III. This is a group of paintings that depict the remembered experience of my daily journey to art school. They depict favourite sights and buildings, heaving streets laden with energy, noise, colour, smells and obstacles for a lone woman. From a discriminatory public transport system and an indifference to unaccompanied women, not to mention bomb blasts – going to art school in Lahore can be quite a challenge.
I was born and grew up in Lahore. I studied at the city's National College of Arts, where I was trained in the Indo-Persian tradition of miniature painting. This training was highly disciplined and labour intensive. It involved the study and transcribing of the old masters' work.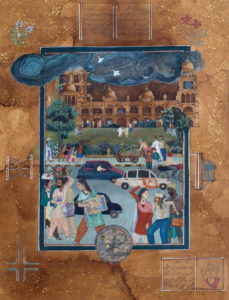 I continue to be inspired by the rich narrative of its compositional conventions. The learned language of its formal aspects like highly decorative borders, non-linear multi-layered perspective, jewel-like colours and staged figures are all conscious/unconscious devices that enrich my work.
Saima Rasheed's work can be seen as part of the group show Recollection: Memory and Time at Manchester's Portico Library, 28 July-10 Sept. Other artists featured include Asia Triennial Manchester director Alnoor Mitha, Neo Artist, Maggie Hargreaves and others. Rasheed will also host a miniature painting workshop in the same venue on 19 August
Like the Big Issue North on Facebook