This year's family trip to the theatre doesn't need to be spent rolling your eyes to the ceiling while your kids giggle at Trump jokes, you know.
Oh, yes, it does!
No, really, it can be painless and actually enjoyable for you as well – Christmas is for adults too.
Oh, no, it isn't!
Let's start with something completely different. In Manchester there's an immersive family-friendly show, The Siege of Christmas (13-20 Dec, Contact Theatre), which asks audiences to embark on a mission to save the festive period. Equipped with headphones through which instructions and clues are delivered, audiences will complete a festive assignment throughout the theatre, transformed into a winter wonderland.
If you've got very little children there's a few shows that act as a great introduction to theatre this year. In Leeds there's Crumble's Search for Christmas (until 30 Dec, Courtyard Theatre). When winter comes it's time for Crumble to hibernate but a chance encounter sets the curious fluffy creature on an extraordinary adventure to discover the true meaning of Christmas.
In Sale and Scarborough there are more animal adventures. The master of Christmas stories, Briggs's The Bear* is adapted into a stunning performance mixing puppetry and live action (until 6 Jan, Waterside Arts Centre), while The Adventures of Aluki and Nanuk (until 23 Dec, Stephen Joseph Theatre) is the story of a little girl and her polar bear who travel over ice and sea to find Asiaq, the Weather Spirit, and tell her to stop being such a meanie.
In Salford there's another fearless girl, Holly Christmas. A magic book, a Christmas wish and two elfishly brilliant Christmas helpers launch Holly on an adventure she'll never forget in The Extraordinary Tale of Holly Christmas (until 31 Dec, The Lowry). And in Keswick there's Snow Play (until 23 Dec, Theatre by the Lake), an interactive showdown between Winter and Spring over who gets to stay and who has to go away.
Across the region there are tons of classics being adapted for stage. Top of the list, unsurprisingly, is the ultimate Christmas ghost story A Christmas Carol. In Hull, rounding up a year of activities for City of Culture 2017, there's a locally based adaptation by Deborah McAndrew (until 6 Jan, Hull Truck Theatre). In Bolton Sue Devaney is joined by a cast of 12 young people playing and singing new arrangements (until 13 Jan, Octagon). And in Scarborough there's a thoroughly silly musical retelling in which Scrooge is guided on a journey of learning by three spirits, a time worm and a woman with a nut for a head (until 31 Dec, Stephen Joseph Theatre).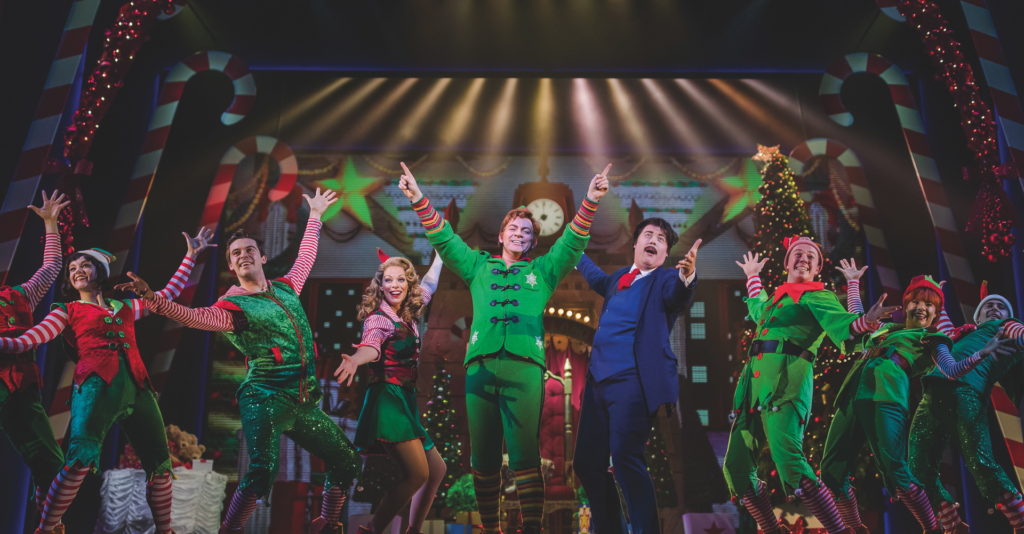 Fast forward 160 years to 2003 when Will Ferrell's Elf won the hearts of millions. In Salford, Elf – The Musical is the hilarious adaptation of the tale of Buddy, a young orphan child who mistakenly crawls into Santa's bag of gifts and is transported to the North Pole (until 14 Jan, The Lowry).
In Leeds there's Sally Cookson's adaptation of the timeless novel by CS Lewis, The Lion, The Witch and The Wardrobe. Children aged seven-plus are invited to leave war-torn Britain and step through the wardrobe into the magical kingdom of Narnia (until 27 Jan, Quarry Theatre).
In Lancaster and Liverpool audiences will be transported to warmer climes. Leading children's theatre writer Mike Kenny presents his boisterous adaptation of Aladdin in the round (until 6 Jan, The Dukes), while Rudyard Kipling's classic tale The Jungle Book gets a Christmas adaptation by Action Transport Theatre, filled with music, dance and song (until 6 January, Unity Theatre).
Another far-off land can be reached via Sheffield where there is a new adaptation of the timeless classic The Wizard of Oz, featuring all the beloved songs and characters from the original (until 20 Jan, Crucible Theatre). Meanwhile, lonely Mary Lennox must exchange her life of luxury in India for the Yorkshire Moors in Jessica Swale's adaptation of Hodgson Burnett's much-loved classic The Secret Garden, which is being performed in Keswick (until 13 Jan, Theatre by the Lake).
Christmas shows are certainly not always what they seem and that's nowhere clearer than in Manchester this year. Red Riding Hood and the Wolf (until 30 Dec, Home) subverts the classic tale by telling it from the perspective of the gentle wolf with a broken heart. He isn't big or even bad. In fact he's rather shy.
SaveSaveSaveSaveSaveSaveSaveSave
Like Big Issue North on Facebook