Where did the inspiration for Paper Peace come from?
A relative sent me an old black and white photograph of her mother, my great aunt, sitting at a table in the street where I and many generations of my family before me have lived in South East London. She was joined by other children all dressed in white and they were at a peace tea – a bit like a street party. Apparently these happened all over the country just after the First World War finished. It struck a note with me when we were thinking about how we could mark the centenary of the armistice that signalled the end of the First World War in 1918.
A couple of years ago Emergency Exit Arts started to consider what we would like to create for the 2018 centenary commemorations. The more I thought about it and talked to my collaborator, Orit Azaz, the more we wanted to explore what it was like when the war ended and peace was declared. We thought about the signing of the peace treaty and how so many treaties are written on paper – such a fragile thing with the delicate scrawl of signatures in ink. We thought about how easily these treaties can be destroyed, ripped up and burned. This inspired us to call the project Paper Peace.
We considered what peace at the end of the First World War looked, felt and sounded like, both here in the UK and in other countries that were affected and, of course, how it affected those fighting at the front. It made us consider how peace comes about and what stops wars or stops people going to war. There have been so many wars since 1918. But there might have been many more horrific events using nuclear weapons if brave, strong people hadn't come together to fight for peace and build peace in their communities and countries in order to stop wars. Of course, we should commemorate and honour those who lives were lost or those who were injured fighting wars but many would say now, and have said, that they wondered why there was a war in the first place. We would like to shed some light on those men and women who have brought about peace or inspired us to consider that there are alternatives to war.
What does peace mean to you?
A world where kindness, forgiveness and hope take precedence over conflict and destruction. I also think so many conflicts and wars come about because of economic interests and greed.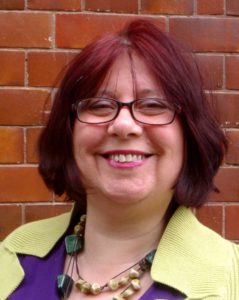 Tell us a bit about the national partners and how they came to be involved?
Emergency Exit Arts is a national organisation so we were keen to invite a wide range of organisations from outsideof London. The four organisations that came on board as our national partners are B Arts in Stoke on Trent, City Arts in Nottingham, Creative Scene in Dewsbury and Vivacity in Peterborough. We have also invited another arts organisation, the Brick Box in Bradford, to join us on the project in 2019. What we all have in common is that we work in many places where people are experiencing high levels of social, economic and cultural deprivation. We all believe that participation in the arts can enrich lives and effect change within communities.
We are also working with a number of heritage partners, including the Peace Museum, Bradford, and military archivists who have records of the trials of conscientious objectors from both world wars. These experts will support teams of young people to engage with local archives and discover stories of peace campaigners and activists.
And how did you come to work with Robert Montgomery?
There is a rich heritage of poetry associated with the First World War so we decided we wanted to work with a poet. I saw Robert's work at Artichoke's Great Fire of London event and I liked his direct but poetic statements as well as the visual scale of the work. When we met him there was an instant connection about the subject matter as he was already involved with others in an exploration of anti-war campaigning. He was also very receptive to the participation of young people, which will be a key component of the project as we go forward.
Is this similar to other works Emergency Exit Arts has created before? How is it different?
Emergency Exit Arts has been in existence since 1980 and we have always believed that we can inspire change through creativity. All of our work is created for public spaces so that people can connect with it directly, even if they just popped out to the shops. The scale and duration of this project is greater than many other projects we've been involved in and working with multiple partners is an exciting challenge.
Following the tour of the Peace Poem our partners will launch the Young Producers' programme, which is based on our successful programme the Only Way is Ethics, which was designed to encourage young people to explore the concept of citizenship. Over several years we've offered training opportunities for young people age 18 to 25 where they have been inspired by archives of political history to produce public events and activities that communicate with a wider public. During this training they learn the skills needed to work as curators and events producers, and many have gone on to work in arts and heritage organisations. The young people involved in the Paper Peace project will work towards the creation of four new artworks that will tour with the Peace Poem to each partner location in late 2019.
What are your hopes for the project – what would you like to see it achieve?
At the end of the project we will have created five new artworks to accompany the Peace Poem that will tour nationally. They will be seen by thousands of people in a celebration of peace and the people who have inspired us. Hopefully we will meet the challenge of inviting everyone who sees this and takes part in it to become peace builders by working together with their communities and society at large to create peace.
Who are your peace heroes?
As a teenager in the 1960s I was intrigued by John Lennon and Yoko Ono's Bed-Ins for Peace and how they used their fame and the controversy about their marriage to draw attention to achieving peace through non-violent protest. It was absurd and had humour but it was heartfelt. I believed in their message War is Over/If you want it.
Emergency Exit Arts has been involved in a number of peace campaigns and protests over the years, from creating giant puppets that have appeared on peace marches to providing bands for protests. I will always remember taking our alternative Christmas grotto to the Greenham Common Women's Peace Camp in the 1980s and being impressed by how committed the protesters were and how they survived the most primitive of conditions, vigilante attacks and frequent evictions. They were highly effective and instrumental in the decision to remove cruise missiles from the Greenham Common airbase. We've also been inspired by the White Poppy movement, which since 1926 has encouraged us to remember the dead of all wars while working for an end to all wars.
Peace Poem is travelling around the country including Creative Scene, Dewsbury, 14-15 Nov and B Arts, Stoke-on-Trent, 16 Nov
Like the Big Issue North on Facebook