Back in 1984, when I began tracing my own family story, there was excitement in learning to use census records to discover where my ancestors were living. There was also satisfaction in locating them in baptisms, marriages and burials in parish records between 1841 and 1881. I soon realised there must be more to family history than endless lists of names, dates and places, but that's all family history is – unless you dig a little deeper.
I was interested in finding out what my Victorian female ancestors were doing during the 1800s. Most were married to coal miners in the Durham Coalfield, but I wanted to know more about their lives.
Born in the first half of a very grim century for the working classes, probably married in the middle of it and possibly dying before the century ended, my female ancestors lived through a significant period of labour and women's history. However, as a result of their gender, status and generation these women were mostly illiterate for the whole of their lives and therefore unable to leave written documentation on which to build their story.
There is also very little written evidence about them. So to tell their stories I turned to family history research and the unwitting testimony found in men's records, alongside mandatory government records.
In 2000 I began studying for a masters degree in history at the University of Teesside and was delighted when I found it had a focus on family and local history. This was my opportunity to write my female ancestors into local and national history. These women hadn't been written out of history – they had simply never been written into it.
When I was considering a topic for my final dissertation, I decided to focus on the female relative whose history I knew best. The story of Hannah Porter, my paternal great, great grandmother, had been kept alive by my grandmother. She would tell me of her own childhood, and spoke of her parents and grandmother, Hannah. She also showed me belongings handed down from Hannah. From this I was able to build Hannah's story and paint a picture of how women in her situation would have lived.
Born in Great Lumley, County Durham, Hannah went on to marry a coal miner, John, and had seven children. The life of a coal miner's wife was far from easy. Such families often lived in poor conditions, with a husband who worked long hours and who would often come home to sleep when the rest of the household was still working.
The logistics of running this complex home fell to the woman. She was required to provide men of the house with a hot meal before they left for the pit, and another hot meal and hot bath when they returned. Due to the pattern of shifts this could be at any time of day or night, and often there was more than one miner to provide for.
 Women were frequently required to pack up their homes and leave behind a support network of friends, family and neighbours and start again in a new location
This was carried out alongside the usual routine of household chores, collecting water, baking bread and making meals, resulting in a relentless system of drudgery often lasting far longer than a miner's 12-hour shift.
Mining families are noted in the records for moving house regularly, and the women were frequently required to pack up their homes and leave behind a support network of friends, family and neighbours and start again in a new location. Their new lives could be in a nearby town or village, or they could be forced to move miles away to another county. There are many instances of families with numerous children, each child being born in a different place.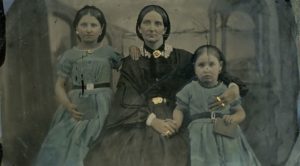 One unusual fragment of Hannah's life is a family portrait on a glass slide of naturally developing colour showing her alongside two of her children. Commissioned in 1862, it was likely one of the first of its kind, taken when the family were living at Shadforth, County Durham and would been very expensive.
But Hannah could afford it. While her husband went to seek new fortunes for the family in the newly sunk mines of Australia, she worked and earned a wage. While her husband was away, she had taken in lodgers, worked as a dressmaker and undertook agricultural work. A tenacious and determined woman, Hannah ensured her family thrived and the costly endeavour of the photograph is proof of this.
Hannah's spirit and determination is something I believe is shared by a great number of women of the 19th century mining communities. And by examining her life, and placing it in the historical context of Durham coal mining communities of the time, I believe I have been able to paint an accurate portrait of the everyday lives of these women.
Hannah's story is featured in my book, Women of the Durham Coalfield in the 19th Century: Hannah's Story, and her photograph is now on display alongside similar stories of fortitude and strength in a unique exhibition in Bishop Auckland, County Durham, showcasing the previously untold stories of women in mining communities.
Archive images and personal history contributed from the County Durham area speak of women who worked multiple jobs, took on new responsibilities and kept their communities and families going. These hang alongside artworks depicting the women who worked at the colliery, the remarkable Pit Brow Lasses from the Lancashire coalfield who protested vociferously to keep their jobs.
All of these are women who made valuable contributions to their communities and mining history but who, until now, were only considered important by their families, and were therefore left out of the history books.
Women of the Coalfield in the 19th Century: Hannah's Story is available here. Breaking Ground – Women of the Northern Coalfields opened at the Mining Art Gallery in Bishop Auckland runs until 24 March 2019
Like the Big Issue North on Facebook