A young woman sits sideways in a bubble bath, her hair bundled unceremoniously atop her head. Her skin, dewy and without a trace of makeup, already pinked from long hot days, is made rosier still by the hot water and the hot, muddy tea that she nurses in a mug half-submerged in the bubbles. The moment of unselfconscious peace is broken by an omnipresence and the woman defiantly casts her eyes skyward.
The image is lockdown incarnate. Brewing was painted by 20-year-old Abigail McGourlay from Sheffield, winning of the Arts Society's national Isolation Artwork competition for young artists.
"This piece captures a real moment of comfort, in both my two favourite things – a warm bubble bath and a hot cup of tea – and in myself," says McGourlay, whose work
was selected by public vote and is part of a virtual exhibition on the Arts Society Connected digital platform.
"I am never usually the subject of my own work and this piece has allowed me to explore my own features in ways I have never felt comfortable to do before."
McGourlay was one of eight artists shortlisted for the prize by judges including Rebecca Hossack, Charlie Waite and Dan Evans. All artists' works feature in the digital exhibition, which runs until the end of the month.
Young artists entering the competition were asked to respond to the theme of isolation and have produced new works that reflect their experience of lockdown. Many explore feelings of uncertainty, isolation, loneliness as well as nature, connection and love.
"I've struggled with the current situation both mentally and physically. The uncertainty of lockdown put me in quite a stressful mind set, and I found it, at first, difficult to feel motivated," says McGourlay, who was in in her second year of studying fine art at Leeds University and was working as a swimming instructor when lockdown hit.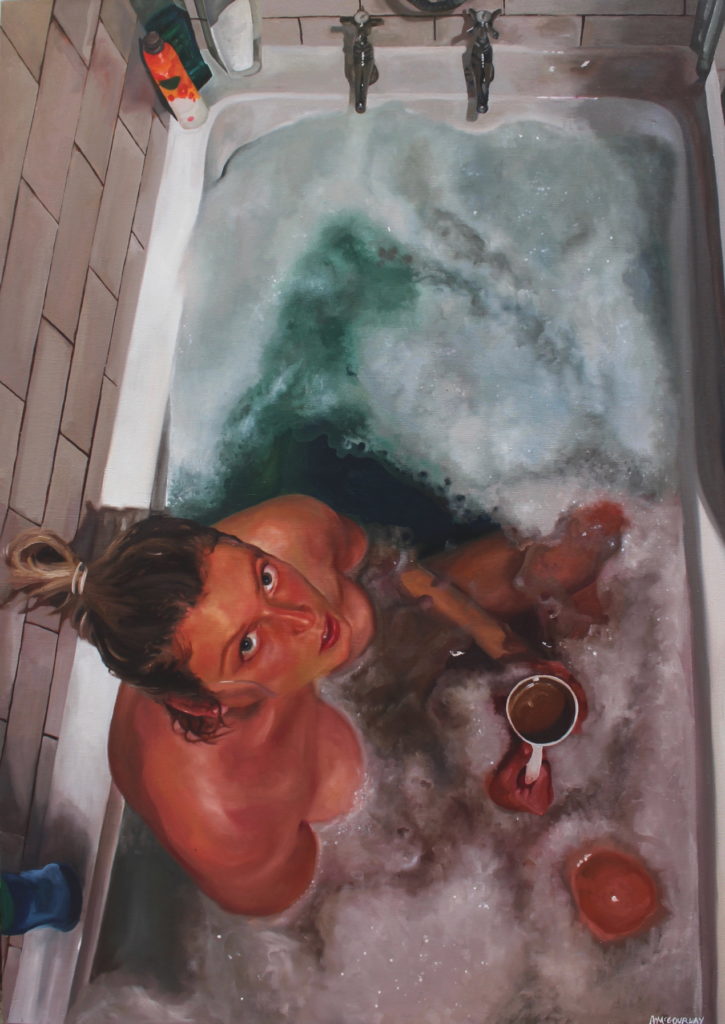 She decided to take control of the situation and, applying herself to her work, turned a corner.
"I started sketching out this self-portrait at the beginning of my first year of university but as I started to develop and focus on my sculptural practice many of my painting projects were put on the back burner.
"Through the time I've been given in lockdown I have rediscovered my love of the painting medium. The sense of utter consumption in a piece of work, like an almost hypnotic state is how my dad used to describe me when I painted, and I feel I have once again experienced that relationship with painting."
Waite, a landscape photographer known for his painterly approach, says McGourlay's talent for realism fooled him.
"My very first response was one of admiring her skill in being able to photograph herself from above. Then, after that first second, I knew it was paint and not photography that had created this extraordinary, skilled work. Being one to always enjoy detail, it was the remarkable attention to her lighting with accompanying shadows that struck me, resulting in such a powerful three-dimensional image.
"The whites of her eyes and near black pupils haul the eye and the mind of the viewer into a sense of being confronted and challenged, resulting in a feeling of being deeply unsettled, bordering on fear."
The work of all eight shortlisted artists can be viewed at connected.theartssociety.org/isolation-artwork-competition
Like the Big Issue North on Facebook