David Sedaris, the American writer who these days lives in the UK, is on tour marking the publication of his latest book of satirical essays, Happy-Go-Lucky. Sedaris has been casting a wry, sardonic eye on matters, mostly personal and sometimes political, for the best part of 30 years now. No doubt his latest "audience with…" will be largely made up of his most recent observations and maybe a few from his previous collection, the acclaimed Calypso. Catch him in Liverpool on 15 July, York 27 July and Salford on 1 Aug.
Joanne McNally is massive in her native Ireland with sold-out tours, chat show appearances, press coverage and even a documentary. Now she's making her mark on the UK comedy scene with acclaimed Edinburgh Fringe shows and a Soho Theatre run. Her success can be put down in part to the fact that she appeals to both folk on a night out and comedy connoisseurs. Her sharp, perceptive writing keeps everyone laughing. Her latest tour, The Prosecco Express, steams into the summer with many dates sold out already but more have been added in the autumn, including Chester on 8 Sept and Liverpool on 9 Sept.
This July Tez Ilyas plays a hometown gig in Blackburn (13 July) as well as other dates in the region – Bradford on 12 July and Manchester on 15 July. Ilyas's star has quickly risen with appearances on the likes of BBC's Live At the Apollo and Channel 4's The Last Leg, showcasing his brilliance at crafting gags that belie a sharp political point. The ticket price for the show also includes a copy of Ilyas's hilarious but drama-filled teen memoir, The Secret Diary of a British Muslim Aged 13¾, plus there's a Q&A and book signing at the end of the show. Bargain!
Hailing from Connah's Quay in North Wales, Hayley Ellis worked her way up on the Manchester circuit as well as at gigs across the country. Now she's juggling stand-up with being a mum but it pays off when you can write a show about it. The Invisible Mam is that show, her fifth solo outing, all about being a new mum during a global pandemic and dealing with that inevitable encroaching feeling of getting old. She's in Blackpool on 10 July, Chester, 24 July and Manchester, 14 August.
Glaswegian comedian Larry Dean, whose tour calls in on Liverpool on 29 June and Salford, 30 June, has produced a catalogue of acclaimed stand-up shows over the past few years. Originally from the south side of Glasgow, Dean came out as a gay man to audiences before he did to his own family. His subsequent shows have all had a fair degree of meat to them. His latest tour, Fudnut, promises more confessional humour, which will then wend its way towards the Edinburgh Fringe. Maybe it will garner him another award but one thing is for sure – it'll be a belter.
---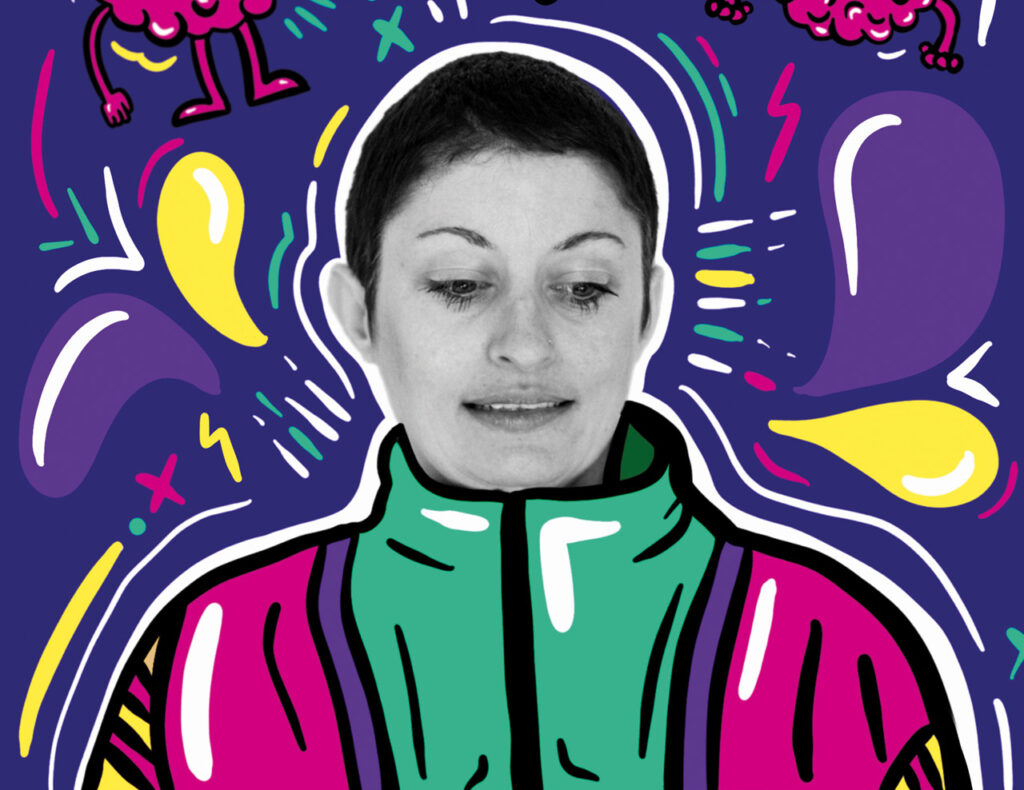 June and July always brings a plethora of Edinburgh preview shows to the region. Cornish comedian and mental health advocate Harriet Dyer is performing her new show Trigger Warning in Manchester on 31 July before she heads to the Fringe in August. Although she has always openly talked about her mental health issues in her stand-up, this is the first time she has addressed the root causes – the catalogue of sexual abuse she has suffered throughout her life. 
How did it feel to finally share the experience that led to your mental health problems?
It's all been a bit surreal really, cathartic and surreal. I'm glad I've done it though as it feels like I've lanced a boil and it caused me to turn a massive corner. In working on a show about it all I think to a certain extent I've subconsciously disassociated myself from it. I'm now seeing it as nothing else other than how to be the best show. At the moment that feels great and healthy, like once this is done I'll be able to shut the door on the whole darn ordeal for good!
And why now?
I've always loved reading autobiographies, hearing about people's lives and the struggles they've overcome in order to succeed at what they do now. It's inspiring. As I've had quite an eventful life I planned to write it all down one day. That day came sooner than expected when we were indoors for so long during the pandemic. Once the book [Bipolar Comedian] was released, a story I'd kept quiet for so long was out and people weren't dousing me in shame and judgement because of it. Quite the opposite. People were saying what an important story it was and they couldn't believe how funny it was too.
What led you to set up the Upstanding Citizens Bureau in Oldham, a safe space for people with mental health issues?
My partner's kids moved in with us full time not long before lockdown struck. There was no space for me to get work done so I wanted to get an office or something. Upon going to view a tiny little space the landlord asked if I wanted to see a bigger one. I thought that I could perhaps house my mental health comedy night, Barking Tales, that's been going since 2015 in it but I wanted it to be more than just a comedy night – a place to help, a place to gather. Long time Barking Tales attender Mercy, now a dear friend who now runs the UCB with me, suggested the name, which I loved. We use it for various things – it's free for anyone to use, with donations if you can afford it, which go back into the running of the venue. We've even got a little podcast studio in there and most importantly – a tuckshop!
Is there anything you'd really like to do given half the chance?
My partner's kids have never been abroad so I'd like to take them away. With them, me and their dad there'd be six of us altogether and to be completely honest it'd be quite the feral affair but they've not had it easy so I would love to take them on one of those once in a lifetime all inclusive holidays.
Like the Big Issue North on Facebook