Ray Winstone and Amanda Redman are squeezed on to a slightly chintzy sofa in the living room of a genteel upper middle class detached house in Bowden. Theirs is a relaxed and friendly sort of intimacy. He calls her Mandy, she calls him darling. They look for all the world like a real married couple, just back from the shops on a Saturday afternoon. Of course, to many people, they are a married couple – forever remembered as hapless Gal and Dee from the simmering 2000 movie Sexy Beast, in which they were terrorised by Ben Kingsley's unhinged gangster on the Costa Del Sol.
There's no sweltering Spanish sunshine today though. It's a few weeks before Christmas 2014 and they've braved a bitterly cold Cheshire winter to film ITV drama The Trials of Jimmy Rose. Winstone plays the title role, a career criminal who has spent most of the last quarter century in prison. On release, he tries to rekindle his relationship with his wife, Jackie, played by Redman, and his estranged kids. Although the show is set in the leafy Home Counties, the avenues of Wilmslow and Bowden are standing in, apparently possessing the sort of 1980s architecture that an ostentatious bank robber would choose.
If anyone is starstruck by the lighting rigs, cameras and famous faces encountered during the frosty morning dog walk, Bowden's residents aren't showing it. "They don't care round here," barks Winstone with a throaty chuckle. "They've got a lot of money, ain't they? They don't care who you are. All they want is for you to keep off their fucking drive."
Although the two actors have worked together since Sexy Beast, most notably in an episode of Winstone's Manchester detective drama Vincent, that film's Britflick status means their reunion carries an extra kick.
"She knows I'm going to go off on one and I know she's probably going to go off on one."
"It's kind of telepathic in a way," says Winstone of his working relationship with Amanda. "It sounds like you're not acting, and you probably ain't, but it's much easier to know one another's style and the way you work together anyway, you know? And in that way you can take liberties, because she knows I'm going to go off on one and I know she's probably going to go off on one, and it kind of works. You become very natural."
For both actors, it was not only the chance to work together but also with director Adrian Shergold that made the difference. Winstone, who worked with Shergold on TV dramas such as She's Gone and Last Christmas, says the reunion was always part of the director's plan. "He said 'Who do you see as your wife in it?' and I said 'Well, to me there's only one person that can play that, because I think she's a fantastic actress, and I've been lucky enough to work with her before, and that's Amanda Redman'. He said: 'Well, it's funny, because I've got her at the top of my list.' That really pleased me."
It's not just casting that attracted the pair. While on set, we see footage from an ambitious tracking shot recorded earlier in the week. The camera prowls behind the characters through their sprawling home, upstairs and down, always in the right place to capture their conversation yet never drawing attention to itself. It's impressive stuff, the sort of cinematic flourish you'd expect in a Scorsese movie, not a British telly drama.
For Redman, it's this willingness to go above and beyond that drew her in. "He turns everything on its head," she says of Shergold's directing style. "You think, 'Oh, right, this scene is about this' and then you get on set and he goes: 'Aha, no it's not.' It's so exciting. When you finally get to do something where you think I'm going be challenged today – how fabulous is that?"
For some actors with four decades of acclaimed roles behind them, the prospect of new work being immediately compared to something you did 15 years ago would be irritating but Winstone is happy to make the comparison himself. "I think there's something there, kind of the quality that Sexy Beast had. "When Sexy Beast started, you kind of think you've got comedy on your hands, you know, and this one starts off like Porridge, in a way. 'Oh, it's gonna be a funny prison film, maybe with cops and robbers. 'And then it goes into a world of a man that's let his family down."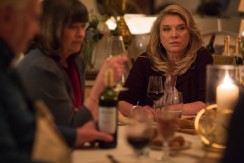 Redman agrees, and accepts that the situation Jimmy and Jackie find themselves in could almost work as a spiritual sequel to the events of Sexy Beast. "I guess if they'd made different choices it's what could have happened to them. Fundamentally, underneath it all, the love that the two have is as strong, but there's been so much horror throughout the marriage. Out of the years they've been married, 22 of them he's been inside. That's a long time."
Comparisons to Sexy Beast only go so far though. Jimmy Rose is a much more melancholy character, a man looking for a way back into his life rather than seeking to escape it. There'll be no swimming pools and cocktails here. His time inside means that the good life he enjoyed as a bank robber are long gone when he returns to society, and he's forced to make ends meet by taking a job stacking shelves. This meant that some shoppers in a Rochdale branch of a certain DIY superstore got a shock when they saw a Hollywood actor trudging the aisles in overalls. "It was a funny old day," Winstone laughs. "They must have thought I was on hard times or something."
Actually Winstone came to the set of Jimmy Rose fresh from shooting the remake of 1990s action classic Point Break in Venezuela and Tahiti. "You've got people jumping off of mountains in suits. Completely insane, but incredible to watch," he says of his latest venture into the realms of blockbusters. The lure of big budget movies doesn't seem to have changed his East End work ethic though. "Sometimes you don't need 120 million dollars to make a great drama," he smiles. "Sometimes it works better when you ain't. You crack on."
The Trials of Jimmy Rose begins on ITV on 30 August
A proper wrong 'un
Ray Winstone's five greatest turns on the wrong side of the law
Scum (1977)
Winstone's big break came as hard nut Carlin in Alan Clarke's brutal borstal TV movie. He reprised the role in the theatrical remake two years later.
Face (1997)
Winstone evolves into an elder statesman of British crime flicks, robbing banks opposite a young Robert Carlyle in Antonia Bird's stylishly witty criminal caper.
Sexy Beast (2000)
A life of Speedos and suntan lotion turns sour when unhinged criminal Don Logan tries to lure retired safecracker Gary "Gal" Dove back for one more job.
The Departed (2006)
Crossing the pond, Winstone plays the ruthless right hand man to Jack Nicholson's gangster in Martin Scorsese's tale of cross and double cross in the Boston Irish mob
44 Inch Chest (2009)
Winstone exposes the tortured soul of the London gangster cliché, as physically and emotionally impotent Colin Diamond tries – and fails – to punish his wife's lover.
Like Big Issue North on Facebook