Mark Constantine identifies himself as a bee. This might not seem out of the ordinary when you consider how busy he has been. Kicked out of home aged 16, while homeless he trained in a hair salon where he met business partner Liz Weir and, after several years developing natural cosmetics and one very public spat with Body Shop founder Anita Roddick, co-founded Lush. Twenty years on, the Dorset-based natural handmade cosmetics brand boasts more than 900 shops worldwide. Constantine and wife Mo are on the Sunday Times Rich List.
Busy as ever on the day Big Issue North speaks to him at 10am, Constantine has already been up for six hours to do a morning radio interview, following a too-short sleep and a late night watching Eagles of Death Metal.
But this isn't why the ethical campaigner and chief executive is talking about being a bee.
" I don't believe in going public, I don't believe in shares. I believe in private companies."
"I believe in capitalism as in I believe in bees versus locusts," he explains. "So locusts for me would be most financial institutions. I don't believe in going public, I don't believe in shares. I believe in private companies and I believe in companies where the people group together and they create value, not go somewhere else and strip the value out, just have it for themselves and rush off with it. They're both forms of capitalism but that more extreme form, the locust form, I abhor. The bee form I really like."
If you're not familiar with Lush's shops and spas (unlikely, really, since the sweet smell of its mostly unpackaged products wafts down every high street), you might have heard of Lush's win in a high court battle against Amazon last year. The online marketplace had been using the word "lush" to mis-sell lookalike cosmetics. Lush retaliated by trademarking the Amazon UK CEO's name and creating a Christopher North shower gel with the tagline "rich, thick and full of it".
It's hardly the first battle to have influenced Constantine's bee-like career strategy. His dad left home when he was two and they had no contact until Constantine was 60, meeting only weeks before he died. I wonder if he thinks there's anything in the "entrepreneur's wound" idea that difficult childhood events inspire a dedication to succeed in business.
"I believed that until I met my dad and then realised it was actually some other spark but having to fend for yourself does make you want to work harder."
At 16 he clashed with his mum's partner and was shocked when she told him to leave home. "I was in the situation that many are now finding themselves in. I had work; in fact I was working or going to college six and a half days a week. My problem was low pay as I couldn't afford the cheapest room in town.
"I've got a friend who I stayed with for a while so it was much more like sofa-surfing than it was really sleeping rough. I did have a period sleeping in the woods but it would be days where I didn't have anywhere else. We're talking about Dorset, you know, I wasn't on the streets like I'm passing people here in central London. It was Dorset, it was leafy, it was nice and I didn't sleep out in the winter months but it was probably about a year."
Eventually a local charity, the Gordon Boys' Messenger Corps, supplemented his weekly income so that he could rent his own room.
"They gave me a little bonus at Christmas of three quid, which I can remember moving me to tears because, you know, at a time when you're desperate and someone gives you a hand it's just such a big deal. I think in a way that small sums of money go such a long way."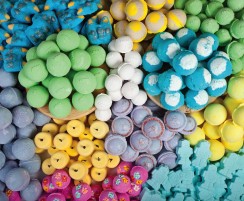 The theme of money and its value comes up a lot. He sums up his bees vs locusts explanation. "Not all money has the same value. When Anita Roddick started the Body Shop with whatever it was, say five grand, that was worth far more than the god knows how many millions that L'Oreal paid for it, because a small sum of money in the right hands has huge power that large sums of money in the wrong hands just doesn't have."
Constantine supplied cosmetics to Roddick for years before she was advised he was becoming too powerful and she should buy him out. About 10 years later, in 2001 Constantine made contact with her again, offering to buy Body Shop. Roddick was reported as dismissing it as an "early April Fool's joke" and sold to L'Oreal a year before her death in 2007.
Lush raised just over £3 million globally for charity last year and Constantine donates much of his own wealth too, awarding grants to pioneering scientists who don't rely on animal testing.
Is it true he was the driving force in the Body Shop's stance against animal testing?
Is it true he was the driving force in the Body Shop's stance against animal testing? For the first time he pauses before he answers.
"I learnt a lot from Anita Roddick. She was irritating but I learnt an awful lot from her and I love her really and I do miss her… but Anita wasn't a veggie or anything like that. She was far more into human rights when I met her than animal rights." He laughs. "She did once say that only sandal-wearing hippies are interested in that, Mark."
She and her husband Gordon Roddick, who later co-founded The Big Issue, owned a hotel where they allowed homeless people to stay.
"I don't think it was a very commercial operation. It was just meant to be a normal hotel. So there were issues that were more important to her and animal testing wasn't one of them but I don't think that's unreasonable."
Constantine met his wife Mo when he was 17 and still homeless – "I have that slight worry that had I not known Mo I might have gone the wrong way much more than the right way" – and she, their sons Simon and Jack and daughter Claire all work for Lush. When I email Simon he applauds his parents. "We have all been brought up to be headstrong, independent and to challenge things we don't believe to be right."
Constantine says of his inclusion in The Sunday Times Rich List: "It's mainly valued on my family business, so it's valued on the shares should we sell it to L'Oreal, but we're not going to do that. The money there, the multi-millions, is on the value of the property. The amount of money that Mo and I have got is certainly more than a million but it isn't tens of millions and you can see that's the way they're working it out. I think they're aware of what we do with charities so it's an accurate portrayal but we're not actually worth that unless we sell – I would say, unless we sell out, unless we give all the good-will that the customers have given us to some bastards that don't deserve it."
Lush has been accredited with the Fair Tax Mark by a partnership that recognises businesses that don't engage in tax avoidance schemes. Constantine wears his heart on his sleeve. It's a trait he admires in Jeremy Corbyn and finds lacking in the Conservative government.
"I despair of the government addressing any issues. I've come to the conclusion it's really nice having Corbyn there because you know where he stands on the Queen, where he stands on pacifism, you know where he stands on animal rights… When you hear that his marriage broke up because he liked to photocopy committee meeting minutes, you know he's obviously fairly earnest in doing his job.
"I don't think the Conservative government is actually pro-business at all."
"I believe I'm a capitalist and I don't think the Conservative government is actually pro-business at all. I think they're just pro-self-interest. I've built a business over the last 20 years, I'm in a Conservative constituency and nobody visits. I've never met the bloke, I've never heard anything from the Conservative government. If I was selling arms maybe I would, or was keen on hunting or shooting."
As it is, Constantine's passions couldn't be further from hunting or shooting. A keen birder, he founded ornithological publishing company The Sound Approach in 2006.
"I'm listening out for birds a lot of the time, or watching them in the garden on holiday or as I cycle to work. The Sound Approach started purely as a desire to point out the beauty of bird song and teach how to identify birds by sound."
Since then Constantine and his team have even discovered a new species, the Omani Owl, by the way it hoots. None of such success though will see Constantine upgrade from his pedal-powered transport, his modest office above the original Lush shop, the house he has lived in with Mo since before Lush began ("I had three children and now I don't – there's more room in the house!") or his low-key holidays on nearby seabird haven Brownsea Island.
Earlier in the week he surprised Mo by being "very spontaneous". Not for this Rich List entrepreneur a trip to his own private island a la Richard Branson though. When pressed he admits it was an impromptu cinema trip to see Spectre.
"It's a big deal for me! It's very easy when you're in business to just tire yourself out all day, go home, have your dinner, play Scrabble, go to bed and that gets boring in a relationship. We're back to Jeremy Corbyn just photocopying his bloody committee meeting minutes – there's got to be a bit more to life than that, hasn't there?"
All in a day's work
"There is no such thing as an average day but at the moment I start each morning with a little worry about some aspect of the business," says Mark Constantine. "If I'm lucky though I'll sneak off for one or two hours at dawn to Poole Harbour to watch or listen to the birds first.
"Most mornings I like to talk to my daughter Claire on the phone. She's part of the management team of Lush Oxford Street – our largest shop – and I like hearing about her challenges and getting an update. I then go to 29 High Street in Poole where I work with my wife Mo, son Jack and fellow Lush co-founders Helen Ambrosen and Rowena Bird. We often have a loose kind of meeting where we deal with whatever someone wants of us that day.
"I normally see my eldest son Simon who heads up buying. There are raw material worries as our sales have been so good and we can't get enough of certain ingredients to meet demand. Benzoin from Sumatra was today's news.
"Hilary, our ethics director, pops in about now with suggestions for or news about campaigns. Some of our Australian staff being naked to point out how unpackaged our products are are doing the rounds at present.
"Baked potato for lunch before going for a Lush spa massage where I always seem to get the tough therapist who beats me up. Before heading home I might look at some new gift ideas or shop layouts, catch up with Simon again to talk about the new fragrance show we are working on and then maybe with my PR."
Like Big Issue North on Facebook