It's a sunny but cold afternoon on Market Street, Manchester. Among the shoppers and the Evening News vendors, the buskers and the people selling football scarves, there's a man balancing on his head and his hands, legs perfectly vertical. He remains there, poker straight, as the people of Manchester surge past, the odd person dropping a coin or two into the small bowl that is placed in front of him.
This is Stefan Nan, street showman, Big Issue North vendor, traveller, former monastic brother, athlete, yoga master, nutritionist and massage therapist.
He gradually lowers himself down to the floor, resting for a moment to let the blood drain back to the rest of his body. And then he jumps to his feet, flexes his shoulders and collects the coins from his bowl. While he was standing on his head a lad walked up, took a handful of change out of the bowl and walked off without a word. Didn't he stop what he was doing and chase after him? Wasn't he angry? "Oh no," he smiles. "I have money. Thank you, God. Money is necessary and if he needs it, that is OK."
It's a characteristically generous response and an attitude that has carried Nan through his varied and fascinating life. Every Big Issue North vendor has a story to tell. But Nan's story is pretty special. The 54 year old has packed more into his life than most of us could in two lifetimes.
His attempt to walk from Romania to Jerusalem rates as one of the high points. Pulling a cart that carried everything he owned, Nan set off on 4 November 2001 from his hometown of Constanta on a near 3,000km walk. He had 234 dollars in his pocket and for the next nine months or so he kept on walking. It was a mission of personal reflection, a holy pilgrimage – one he undertook in silence. "I didn't speak for three and a half years," he says, explaining that he communicated with the people he met along the way by writing and basic sign language.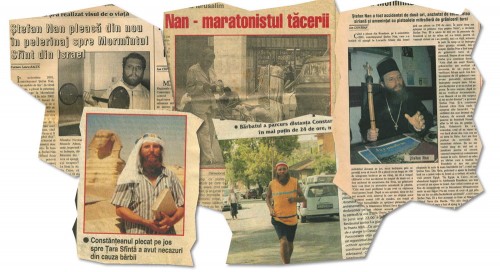 A tough journey got even harder as winter descended . "I headed south from Romania but it was very cold in the mountains and it snows every day there."
Spending nights in a tent, Nan crossed into Turkey and made the long journey down to the Syrian border, where he ran into visa problems. Twice he had to leave his trolley behind and head back to Ankara by bus to visit the Romanian Embassy. The second time he also had to spend a month working on a construction site in the Turkish city because he had run out of money.
Having walked 500km along the Turkish-Syrian border to reach a crossing point, Nan then had to walk back along the other side of the border, before he continued his journey down through Syria and into Jordan. When he finally reached the border with Israel though, with Jerusalem just a few kilometres away, he was stopped in his tracks. Conflict between Jordan and Israel meant there was no way he could reach his intended destination.
So Nan changed course and instead carried on to Egypt, crossing the Sinai Peninsula on foot. "When I have no energy left, I sleep," he says of his journey across the desert. "I don't sleep in a hotel. Not a three, four or five star hotel. I sleep in the hotel under many stars."
Finally, he reached Cairo. "I go to the pyramids, Alexandria, Valley of the Kings, Luxor and the Aswan Dam. I go to the Romanian Embassy in Cairo and they try to help me to get to Jerusalem but this is not possible because at the Israeli Embassy in Cairo the Israeli woman writes a paper that says I can't go. So that is the end of that."
All of this might be impossible to believe were it not for the evidence he carries with him. There are his tome-like journals, written mostly in Romanian, interrupted occasionally with messages from people he'd met along the way. These are written in Arabic, English and even Aramaic. One entry reads: "I'm an Egyptian doctor, welcome you in Egypt mister Stefan, you're a great man. You can withstand the long and difficult journey to many countries on foot. Our God help you. Dr Samir."
And then there are the newspaper clippings. There's one from May 2001, where a young-looking Nan prepares for his journey to Jerusalem, training in iron boots, which weigh five and a half kilograms each. In September 2001, he's looking dapper in a safari suit, his beard starting to show. And there's his cart, piled high with his possessions: a towel, a plastic container with water, his tent rolled up, a sleeping bag, his journal on top, all held in place with thin bands of rope. Here he is in front of a sphinx in Egypt, the beard even longer now, the journal under his arm, his head protected from the sun by a white cloth.
"I did not come to get UK benefits. I come to work and gain prosperity."
Nan flew back to Romania after nine months and 5,000km after leaving Constanta. There, he joined a monastery and two years later managed to make the long-planned trip to his beloved Jerusalem by air. There's another clipping of Nan in 2003, dressed in the black robes and skufia of the monastic brotherhood, holding aloft a religious staff as he sits in a Jerusalem church.
"It was wonderful," he explains, remembering how it felt to finally reach the place that he had tried, with such effort and resolve, to reach for so long. "Beautiful."
How then did he become a Big Issue North vendor? In 2014, Nan came to the UK. "I did not come to get UK benefits. I come to work and gain prosperity. I want a decent life… I have a great love for learning. Although I am 54 in actual years, I am young at heart, have the body of a teenager and an open mind."
He names some historical British people he admires – "Shakespeare, Lord Byron and Samuel Richardson [the 18th century writer and painter]" – and then affirms his "respect for the Queen and the Royal Family".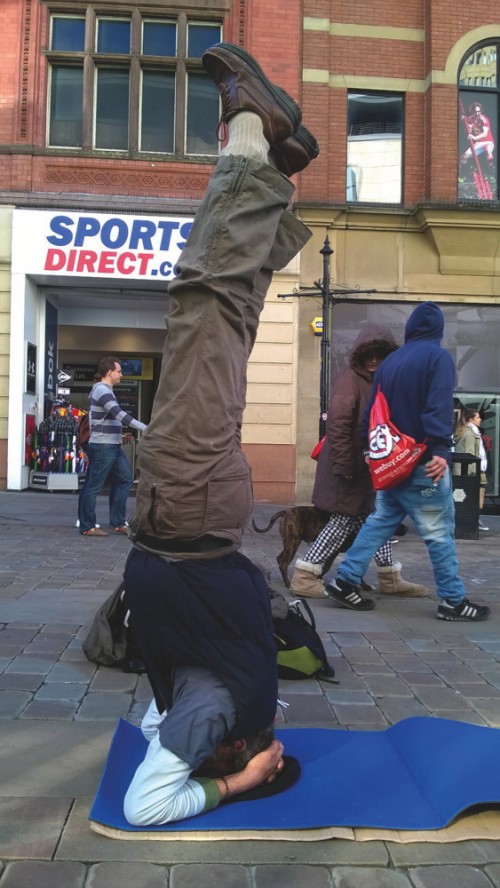 Like many people, Nan started selling Big Issue North as a way of earning some money. Later he found work in a recycling plant, distributing leaflets and car washing. Then he started doing his shows on the streets of Manchester, demonstrating his yoga abilities.
Health and fitness are central to Nan's life. "When I was 35 I know if I didn't change I would be dead. I was fat – I had a lot of problems."
Now Nan's dedication to keeping in good shape is an extension of his beliefs. "My body is a temple and I don't have permission to damage it. My body does not need piercings, tattoos, drugs, smoking or alcohol. If you disrespect your body, you are disrespecting God. God gave you a mouth to eat, not for smoking."
In May 2015, Nan joined staff from Big Issue North on the Manchester 10k to raise money for The Big Issue in the North Trust charity. He beat all the staff taking part, crossing the finish line in under 42 minutes. But then again, back in Romania, he'd been used to athletic success. "I am a double national champion – 1,500m and 3,000m," he explains. There's more evidence: the results sheet from the Timisoara Half Marathon in 2012, with Nan ranked as finishing seventeenth with a pretty respectable finishing time of one hour and 28 minutes.
Nan is now working on improving his English, taking two classes a week. "I want to learn English language, because I want to practice my profession, which is therapeutic massage. I want to teach English people about nutrition and to help disabled people using massage."
He also has plans for another long-distance walk, this time from his current home in Bolton to Africa.
"I might do this next year," he ponders out loud, the way other people ponder taking a flight to Spain for their holidays. He plans to take his journals with him when he goes.
But now it's time to get back to his street show and then later it's back to his pitch at Victoria Station to sell the magazine. "I am soldier for the Big Issue North magazine," he declares. And then he launches into a song, raising his hands upwards, the melody sounding something like Jingle Bells: "Big Issue, Big Issue, Thank you Big Issue…" His song dies away and he grins widely.
He places his bowl down in front of his cardboard mat and flexes his muscles like a strongman in a circus troupe. And after a few breathing and stretching exercises, he drops to his knees and rolls over, then raises himself up vertically, his eyes closing in calm concentration as the people of Manchester rush on past him.
Like the Big Issue North on Facebook