If they gave you a whiff from the jar of minging yellowish-brown slime that performs the task of yeast in sourdough bread, you might walk out of the shop. Yet cutting into one of the crackly new-baked loaves releases a tangy aroma that's been compared to savouring the bouquet of a fine chablis.
Suddenly, people can't get enough of sourdough. Over the last few years new bakeries have sprung up to cater for an insatiable public appetite. One of them, the Leeds Bread Co-op, went from selling 150 loaves a week to ten times that amount. An identical story is told at the Baltic Bakehouse in Liverpool, while the Barker Baker, which opened in Littleborough near Rochdale last November, is already planning a second branch in Manchester.
The pungent jar of so-called starter – the leaven – is just flour and water that has been left to ferment. The resulting bacteria excretes a poo of lactic acid that forms the dough's raising agent, giving the bread a chewy texture and an addictively piquant flavour.
The alchemy of turning this gunge into gold happens during the long wait between mixing the dough and finally baking the bread, up to 72 hours in some cases.
The gold analogy is on purpose, by the way. Sourdough first became popular back in the days of the California gold rush in the mid-19th century. Strapped to the waists of prospectors heading into the mountains east of San Francisco was a pack containing a mixture of flour and water. Heat from their bodies fermented this to produce a leaven for their bread, and the gold prospectors became known as "sourbellies".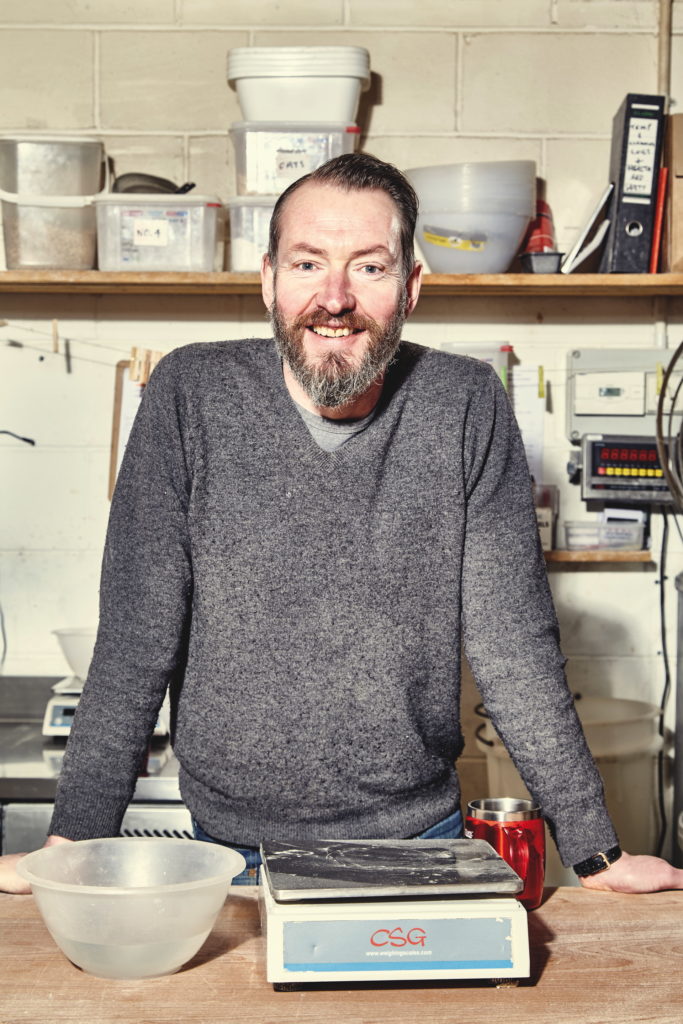 In a way sourdough itself is a new gold rush, although obviously not on the scale of those San Francisco prospectors. Bakers of sourdough and other artisan breads are opening all the time to cater for the demand, and existing ones have had to crank up production. Leeds Bread Co-op founder Zig Garrod believes the boom is part of the same food culture that's popularising craft beers and well-roasted, well-sourced coffee.
"We're all part of the slow food movement. Our breads take three days to produce and in that time we develop a product that's much more digestible, has a vastly improved flavour and a longer shelf life. Really, pick up two of our loaves and if you keep them properly you've got a week's worth of bread."
Day one at the Leeds Bread Co-op's bakery involves mixing a small amount of starter with flour and water to form what's called a pre-ferment. Day two sees the main ingredients of flour, water and a little salt being added to "bulk ferment" the dough. It is then stretched and folded, then shaped and reshaped throughout the day, and finally put in proving baskets and left in a huge walk-in fridge overnight to develop that unique flavour. And on the third day, the loaves are baked.
Garrod has been an enthusiast since working in London for a bakery that produced exclusively sourdough. There was a boom in the capital a decade ago, he says, and it has now spread to the north.
"We're all part of the slow food movement. Our breads take three days to produce."
For some bakers, though, sourdough isn't only about superior tasting bread, or the realisation that since they couldn't buy it where they live they might as well bake their own and sell it to fellow converts. It has also provided a personal epiphany. They have found that bread baking reaches far deeper inside them than their sense of taste.
Francesca Barker is one such baker. Just three years ago her life was in meltdown after being convicted for fraud. She had no job, a huge compensation payment to find and was going through drug rehab. As a part of the court's probation order – she had handed herself in to police and avoided going to prison – she reluctantly attended a bread baking course.
Something clicked, she says. Within two hours she had made something from scratch and was amazed at how proud she felt. "Baking bread gave me a purpose, a sense of positivity that drastically changed my life."
She started using the oven in her basic flat in Levenshulme, managed to bake 40 loaves – mainly soda bread because it's one of the easiest yet tastiest breads to make – then put them into a suitcase and took a stall at Levenshulme Market. Within weeks she was hauling her suitcase round other Manchester markets.
Last November she set up the Barker Baker shop in Littleborough, near Rochdale, and it's been such a success another outlet is due to open in Afflecks Palace in Manchester's Northern Quarter. Later in the year she'll be taking part of a former mill in Huddersfield to greatly increase production.
---
The neady North: 10 top sourdoughs
Artisan Foodworks, Burscough
This bakery in rural West Lancashire is run by a family of third generation bakers. Its star sourdough is a rye and caraway loaf. Also does a stone-baked pain de campagne.
artisan-foodworks.co.uk
Baltic Bakehouse, Liverpool
Surrounded by warehouses and workshops, the Baltic has elevated baking sourdough to an art form. Top loaf is the Baltic Wild.
balticbakehouse.co.uk
Barbakan Delicatessen, Manchester
Since opening in 1964 the Barbakan has watched others play catch-up while producing a huge range of breads, including a modern take on the classic San Francisco sourdough.
barbakan-deli.co.uk
Barker Baker, Littleborough
Founded by Francesca Barker after taking a breadmaking course while on probation the bakery produces sourdoughs, wholemeal loaves and soda bread.
thebarkerbaker.com
Forge Bakehouse, Sheffield
In 2012 Martha Brown set up a small bakery following a course at the School of Artisan Food in Worksop. She soon required larger premises. Teaches sourdough baking too.
forgebakehouse.co.uk
Handmade Bakery, Huddersfield
Since 2009 this workers' co-operative has been baking traditional breads in a former mill beside the Huddersfield Narrow Canal.
thehandmadebakery.coop
Haxby Bakehouse, York
Village bakery started by self-taught baker Phil Clayton, a former record store manager. His dough mixer stands in the front-of-house deli, ready for work when customers leave.
haxbybakehouse.co.uk
Leeds Bread Co-op
A 10-member co-op baking a range of sourdough and continental breads using organic flour and ultra-slow fermentation. Sold at farmers markets, Leeds food shops and by subscription.
leedsbread.coop
Staff of Life, Kendal
Opened in 1997. Sourdoughs are flavoured with local damsons and elderflowers, other breads contain caraway seeds, olives, chilli and pesto.
staffoflifebakery.co.uk
Trove, Manchester
A popular bakery and cafe in Levenshulme, started in 2011 by husband and wife Marcus and Katy Saide. Breads include organic white sourdough, wholemeal sourdough, rye and fennel seeds. Bread deliveries are in a distinctive old Citroen van named Cyril.
www.trovefoods.co.uk
Main photo: Francesca Barker from Barker Baker. Photo: Lee Brown.
Like the Big Issue North on Facebook