It is the place where stainless steel was first manufactured, an engine room of Sheffield's industrial revolution where master craftsmen sweated at the forge and produced some of the metal goods that made Sheffield famous. Yet seven years ago, after decades of neglect, planners submitted a proposal to convert Portland Works into flats.
But the community of engineers and manufacturers still plying their trade there were determined not to give in so easily and they, along with artists and other creatives who had taken advantage of the cheap workshops available, rallied to save the historic cutlery works, one of the few remaining working examples of a purpose-built metal trade factory.
In 2013, after gaining widespread support, the works was saved by a £395,000 community shareholder buyout, and the Portland Works craftspeople secured its long-term future.
"It's not something contrived or a museum. It's people coming to work."
Fast forward three years and Portland is transformed. Unlike many other renovated factories of the period, it is still recognisably a working industrial space, an enclosed rabbit warren structure of different buildings and workshops surrounding a noisy central yard. A staircase leading up to the roof gives a full panoramic view of the factory, from the original forge where stainless steel cutlery was made in 1913, to the units now hosting tenants as diverse as guitar makers, artists, rehearsal space for bands and even a gin distillery, as well as the traditional craftspeople who gave it its reputation – making knives, tools and furniture.
"It's very different. It's a nicer environment, there's a nicer vibe around the place because of the mix of tenants. It's pretty cool," says Stuart Mitchell (main photo), a knife-maker who served an apprenticeship under his father at Portland Works from the age of 15, and has witnessed its rise after a long period of neglect. "I was recently sat in the sunshine on the flat roof, drinking a cup of coffee, watching people milling around and listening to the different things, thinking through the cross-section of makers, skills and people doing stuff."
To him, Portland Works is unique. "It's not something which has been contrived and thrown together as a museum. It's people doing what they do. It's their job. It's people coming to work. Where else would you find that?"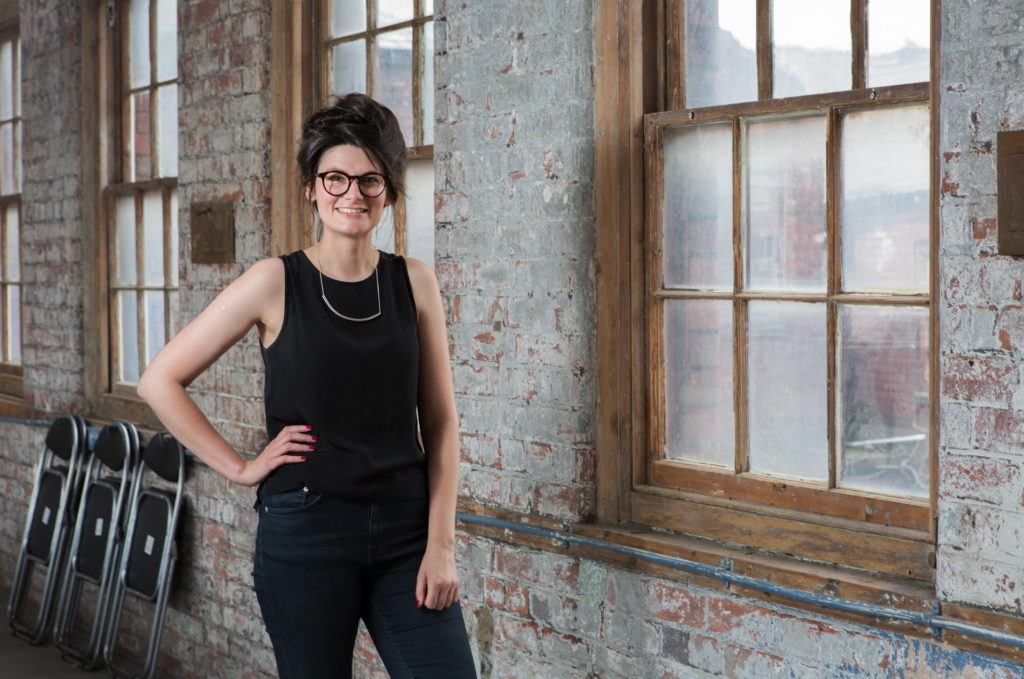 All workshops are now full, with the owners embracing everyone who has a making ethos. To many of the newer tenants, the slightly messy feel of Portland Works is preferable to refurbished ex-industrial buildings in other parts of Sheffield. "In the city there's loads of different places where you can do clean work in a lovely building but here it's different. I don't know anywhere else that has what we have," says Georgina Barrett, manager of Portland Works.
Pippa Elliott, a rugmaker, agrees, having viewed several city centre locations when she started out a year ago. "I'd rather have the grittiness."
Mary Sewell, one of several artists to be based there, says the machinery, colour and texture of the environment influences her art. "It's an inspiration as well as just a space to work," she says.
Despite the popularity of Portland, there is little evidence of the regeneration in the area around that tends to follow after a creative buzz starts to develop. But those at the works don't seem to mind. Pressed back against Sheffield United's Bramall Lane stadium, around a mile from the city centre, Portland Works sits amid a mixture of old residential housing and light engineering firms in a sequence of streets often referred to as the John Street triangle. Dotted among them are arts venues and private rehearsal spaces, though there is little that advertises them to the untrained eye. Whereas other ex-manufacturing areas of Sheffield, such as Kelham Island to the north of the city centre, are undergoing something of a developer-led boom after becoming a home for creative businesses over recent years, this area still feels very industrial.
Barrett says: "There's different people doing wonderful, creative things and there's lots of exciting organisations but it's a true mix of traditional and modern craftspeople working alongside each other which is difficult to find. What is also interesting about this place is unlike the nicer restored places where everything is really clean and running properly – where it seems that they kicked everyone out to restore the building and then started from afresh – here we're doing it around the people here already. So it's very messy but quite fun and organic as well."
The Audacious Art Experiment is an arts and music collective that has rehearsal space and a gig venue on a neighbouring street. Luke Twyman, a member of the group, says the industrial nature of the area, such a big part of Sheffield's identity, is part of its appeal. "There's definitely a romanticism towards being around here. There's something amazing about making music in an area that has made so much other stuff, that has essentially been an area of fabrication or industry. I grew up in an industrial area so there was something about that feeling about having an arts space in an area that feels like going to work to make a load of stuff."
Portland's close shave with the developers has spurred people into action. Twyman says that although his group doesn't have much day-to-day collaboration with the works, there is now an agreement that if developers came sniffing again, the area's artistic spaces would resist.
One Portland tenant is James Wallbank, a veteran of the Sheffield art and technology scene, who uses his workshop to host one of his two giant laser-cutting machines. His other is based at antiques and curiosities shop Makers, which he opened last year with his wife Lisa around a mile away in the Sheffield Antiques Quarter, an area of the city rapidly developing a reputation as a hub for craft and making. The shop sells antiques, but also teaches people how to design their own products using the laser cutter – from jewellery to clocks – and even how to sell them to the public.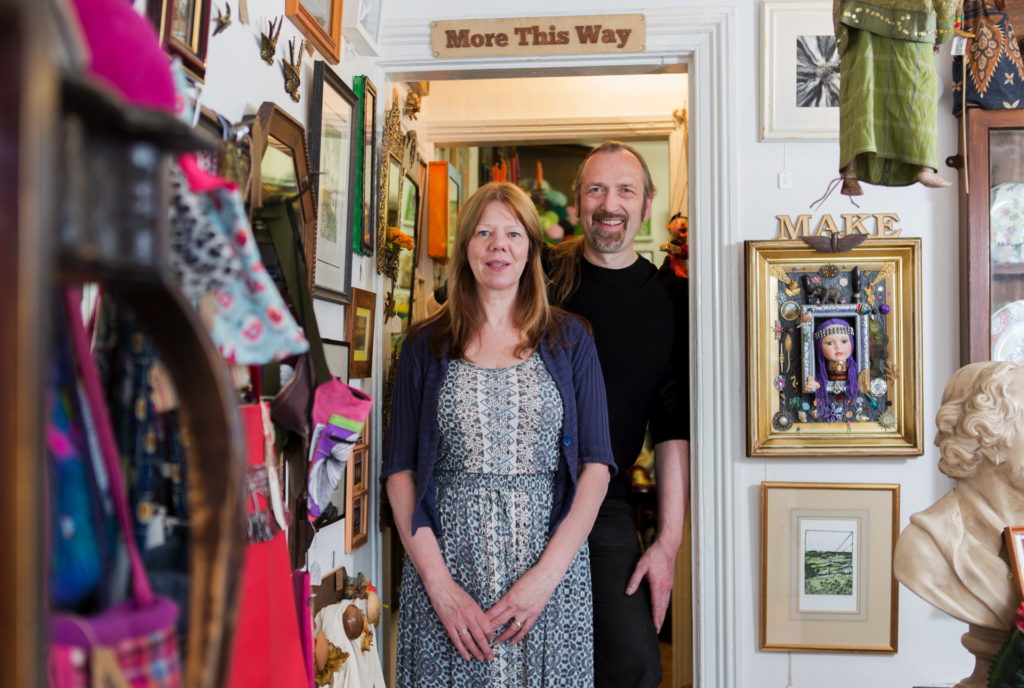 Historically the centre of Sheffield's antiques trade, European dealers would frequently arrive on Abbeydale Road during the eighties and nineties in white vans to take goods back to the Continent, but the area slumped in the latest recession. Four years ago, Hendrika Stephens got in touch with the remaining antiques shops to help them better advertise their businesses after she had set up a gallery space in one to promote local art and craft. After learning more about its history, she brought in the council and Welcome to Yorkshire to try to restore its identity with a modern twist. There are now 60 independent antiques, vintage and crafts shops, cafés, bakeries, bookshops and arts spaces in the quarter – and it is an increasingly attractive place to live in Sheffield. At the very centre is the landmark Abbeydale Picture House, a 1920s theatre and cinema which had closed but is now being used again as an arts and events venue – recently participating in Sheffield Doc/Fest.
Art underpins the quarter, explains Stephens. There are further plans for arts projects to engage with local young people and tackle anti-social behaviour, and also to create an arts trail through the quarter. "For me, it's creative people that make Sheffield particularly special. It's creative people that will make communities feel good," she says.
There is little obvious similarity with the industrial Portland Works, yet to Wallbank they are opposite ends of the same spectrum of making and selling creative goods. He set up his workshop there when it was being threatened by development, and says he was "boggled" that its rich heritage had not been preserved until now. "It is that behind the scenes place where things actually get made. It's rough and ready… Makers is like the opposite end of that. It's connecting those things."
He plans to rent out the flat above the shop to artists, with the aim of selling their work.
"There's some really good energetic and exciting businesses in the Antiques Quarter and the areas around," explains Jon Johnson, owner of Strip the Willow, a social enterprise that restores and recycles old goods. In Sheffield, he explains, "there's a fabulous depth of talent with making and so on. The arts and crafts scene is really good at the moment. That ties in with the music and the food and stuff as well. Sheffield is really the unsung hero, because we don't shout about it very well."
Sheffield's creative sector feels in transition. The Cultural Industries Quarter near to the city centre, designated in the 1990s, continues to host some of its most successful and enduring creative institutions, including the independent Showroom cinema and a huge range of art galleries and spaces. Yet multi-million pound redevelopment work is in train to create 190 apartments and shop space in the area, and there is a recognition among some artists based here that its purpose is changing. Kelham Island attracts investment apace, but creatives based there acknowledge that part of this process means it will inevitably become less affordable, and other sites further out of the city have already been identified as likely next destinations.
The Sheffield Creative Guild has recently launched to promote the city's creative sector and help those working in it to collaborate. Development Officer Jane Dawson says arts and creative work is dispersed across the city and had lacked a central hub of organisation, citing funding cuts as one explanation.
"I wouldn't say I can think of one building in Sheffield where I would say oh, that's the home of creativity. If I want to find out what's going on creatively or if I want to meet creative people I go here. That really doesn't exist." But, Dawson says, that also means that Sheffield has developed its own ethos – DIY – that permeates across the city and also means the city's creative sector is not defined by geography.
"What that's led to is this incredibly vibrant and buzzing scene, but because it's not coming from a central point, what you've got is lots of different things happening and people don't have the time, money or capacity to bring everything together. Everyone is just too busy working on their own thing to connect everything up or to do that."
She says Tramlines, the successful summer music festival now in its eighth year, and the buyout of Portland Works are examples of its DIY ethos.
"As a creative individual, or a small business in Sheffield, you do multi-task those things. You don't just do that one thing. If I'm a ceramicist, I don't just make ceramics. I'm involved in these kinds of communities and you do run your spaces a lot. There are a lot of artist-run studios that have been made in these kinds of old heritage buildings, or old cutlery works, or old steelworks that have been marked for demolition or not fit for purpose that people have taken over and done themselves."
"The number of people doing interesting things in their shed is just massive in Sheffield," says Wallbank, a veteran of the city's creative scene for over two decades. "That idea of making, of crafting, is very deeply ingrained in the city."
All photos: Rebecca Lupton. For more urban areas on the up see our features on Ancoats in Manchester and Liverpool's Baltic Triangle
Like the Big Issue North on Facebook