At first glance, it looks like a scene out of The Big Bang Theory. Surrounded by £60,000 worth of scientific equipment, Professor Fiona Measham and her squad of analytical chemists are forensically testing and cataloguing various unidentified substances, aided by FTIR spectroscopy sensitive enough to identify any drugs in 60 seconds. What's perhaps unusual is that this isn't happening within the clinical confines of a laboratory, but at the back of one of Britain's most popular club nights on a busy Friday.
Every month, Measham – co-founder and co-director of drug and alcohol harm reduction charity The Loop – and a group of volunteers check the content and purity of drugs deposited into the amnesty bin or seized by security at the Warehouse Project, tonight located in a re-purposed air-raid shelter turned car park under Manchester's Piccadilly railway station. It's a trailblazing approach that means clubbers can be alerted to potentially dangerous batches circulating. Mere metres away, ravers are going sweatily berserk to the trap beats of headlining rapper Danny Brown. Some of them will be among the 200,000 Britons each weekend who ingest MDMA. But in their secluded area at the back of the house, Measham's team are getting equally animated by chemistry.
"We're really geeky about drugs," admits Measham, a professor of criminology at Durham University and a member of the government's Advisory Council on the Misuse of Drugs (ACMD). "Everybody here is obsessed with them. For them, it's like a scientific conundrum – if they can't identify something, they get really excited by the challenge. We put on little bets amongst ourselves: can we identify ecstasy, cocaine, and ketamine just by sight?"
When they can't identify something, they get really excited by the challenge
With more than 25 years at the forefront of researching club drug trends, understandably she's become pretty adept at it. As questions are raised over what can be done to halt the recent spate of drug deaths, could the pioneering work The Loop are doing here tonight hold the answer?
At 9.30pm, as the first of the 2,000 clubbers start to stream in, the safe of confiscated drugs from previous evenings is opened. The designs are varied and intricate. Blue Spider-Men (MDMA with the superhero's masked face etched in cobalt), a smattering of ones designed like a triangular elderly people road sign, yellow cubes emblazoned with the Instagram logo. One person has attempted – unsuccessfully – to smuggle in wraps of ketamine attached to the adhesive inside of a plaster-bandage. "Samples inside Kinder Eggs have usually been hidden in cavities," Measham semi-grimaces, showing her gloved hands.
Eliciting particular interest are a bunch of miniscule Pink Teddy Bears. Known for being strong, these hit the headlines over the summer when they caused the hospitalisation of three 12-year-old girls from Salford.
"I've never seen one like this before!" marvels Patrick, one of the volunteers, holding up a small red pill shaped like a Greek theatre tragedy mask with Cry Later inscribed on the back. His reaction is similar to a teenager encountering a rare Pokémon. These might be the kind of post-doctoral scientists you'd expect have the expertise to make the drugs – but instead they're trying to protect people from possible harm from them.
Substances are checked using the laser spectrometer and a barrage of other analytical techniques that The Loop is constantly expanding and refining. Costing £25,000, Greater Manchester Police can't even afford one – The Loop possesses two. The strength of a pill is determined by washing out any adulterants, then weighing the MDMA left behind. From now until 3am, The Loop tests over 100 samples, of which over half are MDMA in pill, powder and crystal form. "It's a bit of a production line," observes Measham. It takes 60 seconds to identify a drug and 15 minutes to calculate its potency.
As Measham tests a fluffy white powder that resembles cocaine, she explains there's often a gulf between what users think they're consuming and the reality. "Ooh, benzocaine," she says, looking at the results. "It's basically false cocaine. It burns your nose but you won't get any psychoactive effects off it."
But mis-selling isn't the biggest concern at the moment – it's purity. The Loop's campaign slogan #CrushDabWait is emblazoned boldly on Measham's T-shirt, urging users to crush up crystals into a fine powder, lick their fingertip, and dab the powder to consume a small amount, then wait a couple of hours for the effects before considering taking more. "The average purity of ecstasy tablets has gone up five times in five years," she says, from 25mg in 2009 to 120mg now. "At the same time, there's been a five-fold increase in the number of deaths."
Last year, there were 57 deaths linked to ecstasy. In August, Fabric in London – one of the most famous dance clubs in the world – was forced to close its doors permanently after 18-year-olds Ryan Browne and Jack Crossley died after taking drugs there, only re-opening after the club and Islington Council agreed to strict new licensing conditions, including an over-19s policy and a lifetime ban for anyone caught with substances inside.
Testing the potency of a sample of MDMA, Patrick points out the consequences of an arms race among ecstasy manufactures in Europe to make the strongest pill. "Typically a common dose would be 75mg, depending on your size. A lot of the pills we're encountering now are 200-230mg, so people are feeling it a lot heavier than they used to, because pills were traditionally weak. People are taking two of those pills, and that's where the problem is."
The sample he is analysing rates 959 out of 1,000. "That suggests that the sample may be high purity. There's a potential overdose there."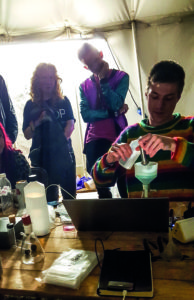 That's why Fabric's licensing condition of banning 18-year-olds feels like a straw-man solution. Naivety may be an issue, but seasoned clubbers who started taking MDMA years ago may have a dose they regard as safe and fail to realise the drug is now stronger. The old advice used to be to take half a pill, but few substances tonight have score-lines – or they are irregular shapes. Besides, how do you split a teensy teddy bear into two or four pieces without feeling like the rave version of Jesus trying to feed the 5,000?
Neither The Loop nor the venue condone the use of drugs; it's simply a realistic, pragmatic attempt to educate clubbers and mitigate the adverse effects of an illegal market. As the evening wears on, they can be handed samples from the police, welfare, medical and security service – which they prioritise. At 1am, the general manager arrives with some confiscated powder, which the medics want tested.
"He thought it was cocaine, but the patient is presenting ketamine-like symptoms," he says. The Loop is able to ascertain that not only is it ketamine, but it's also likely to be high purity. "That's one of the best things about this," says volunteer Jens. "You can let the paramedics know what it is. It takes some of the worry out of it – and can save lives."
Since the age of 14, Measham has spent most of her life in nightclubs. "To me, they're still like this little wonderland of excitement," she says. Back in 1992, she was one of the first people to conduct academic research at raves. "When I started out, there was lots of really good harm reduction support in nightclubs. There were outreach workers in the Haçienda, and Manchester Council had safer dancing guidelines that informed their licence policy."
Eighteen years before it became a national requirement with the 2010 mandatory conditions, Manchester Council paved the way and made it a requirement for clubs to provide free water. Since then, she feels the UK has headed backwards, so three years ago, she joined forces with DJ and promoter Wilf Gregory – who has wrestled with his own drug problems in the past – to fill the chasm in care.
The Loop's presence at the Warehouse Project is more than just CSI: MDMA. The Loop also provides a free, confidential and non-judgemental welfare service at every event. Trained volunteers in purple bibs dispense advice and assist those who've overindulged. Wrapped in a foil blanket in their welfare area, a twentysomething's eyes are rolling so fast he could probably see another dimension in time and space. "He says he's just drunk," remarks one of the volunteers, who by day works for the NHS, "We suspect he's had MDMA. He keeps trying to turn the [imaginary] volume down." He suddenly stands up and starts stacking the fold-up chairs. The Loop's care approach relieves pressure on the medics.
This summer witnessed a watershed for The Loop – and the UK's attitudes towards drugs. In a seismic, award-winning move festival-goers at Secret Garden Party and Kendal Calling were able to have their chemicals checked without fear of police reprisals. All they needed to do was to spoon a tiny amount of their drugs into a plastic bag, then 30 minutes later they'd receive a 20-minute package of health and safety advice – without ever having to give their name. Approximately 1,000 people used the drug testing amnesty at Secret Garden Party, submitting 249 samples for testing, one-fifth of whom asked for their drugs to be disposed of when they learned of their contents – which included anti-malaria tablets passed off as ketamine and concrete pellets mis-sold as pills.
"That showed people were engaging sensibly and productively in the fact that when they were told the results, they said: 'We don't want to take it,'" says Measham.
"One of the criticisms is that it endorses drug dealers. My response is, at the moment, dealers have no accountability. People were going back and saying: 'I tested this and it was shit. I want my money back.' It puts dealers on the back foot."
Measham had expected a lull on Sunday, with the heaviest traffic occurring on Friday and Saturday before festival-goers took their drugs. "Actually we were really busy with people saying: 'We had a really bad time Saturday night. We don't know what we took but we want to know what's in it. We have a tiny bit left – can you test it?' We had one woman who was hospitalised on the Saturday and came back on the Sunday to find out why."
It's a testament to the sea-change in attitudes The Loop has helped foster that next year, already 10 festivals are keen to follow suit, while an anonymous survey at Operation Gothic – the annual conference of police forces that have a festival on their patch – revealed that 80 per cent of officers were in favour of the scheme. Even pearl-clutching tabloids haven't been outraged. The year before The Loop arrived at Kendal Calling, 18-year-old Christian Pay died there after taking what he believed to be MDMA. Scenting outrage, journalists doorstepped his mother. "The press said: 'What do you think of the testing?' thinking she'd say it was terrible and encourages drug use," remembers Measham. "In fact, she said she agreed with it and wished it had been there the year before – her son might still be alive."
For its next step, The Loop is in negotiations to pilot city centre pop-up testing kiosks in the new year, available between 6pm and 9pm. "Ideally you want people to come along before they've taken the drugs – which most people do before they go to clubs," says Measham. Dates are unconfirmed, but Preston is likely to be the first location, with the backing of police and public health.
Will it work? Such approaches are yielding positive results in the Netherlands. In Swiss cities such as Zurich, clubbers can drop off drugs for testing midweek and get the results
back on Friday. There have been no deaths due to party drugs since the imitative has been in operation there. It's changed the black market too: products identified as of concern were the subject of warning campaigns and swiftly left the market. Over time, this meant the ingredients of the drugs started to correspond to the expected components. Research from Austria showed that 50 per cent of those who had their drugs tested said the results affected their consumption choice.
Measham hopes that front-of-house testing becomes "the norm" at festivals, "maybe even as a condition of the licence". Yet as everyone knows, after a high comes the inevitable comedown, and The Loop is braced for a backlash. "At the moment, there's a lot of hype that this is the answer to all problems, so I'm keen to say this may help to reduce harm but there are no guarantees there won't be a death on-site. This is just one piece of the jigsaw."
Drug services tend towards helping people with problems – The Loop has found a valuable way of engaging with dilettantes rather than dependants. During a questionnaire on their drug and alcohol habits, clubbers tonight are asked if they would give up a small proportion of their drugs to know its contents. Everybody tonight responds yes. As one clubber tells the Big Issue North outside: "If there is a war on drugs, isn't this just a way of giving people a flak jacket?"
Like the Big Issue North on Facebook