Zee Smith* was 13 years old when she came home from school and found a party taking place in the living room of her Yorkshire home. When Smith asked her mother what the occasion was, she was told it was an engagement party.
"I asked who was getting married," remembers Smith. "And she said: 'You are. It's your engagement party. You need to go upstairs and get dressed.'"
Without her knowledge, Smith's mother and father had arranged for their only daughter to marry a relative who lived in Afghanistan. Stunned, the teen sat through the celebrations, but in the following weeks the reality started to sink in, and she took two overdoses.
Smith hoped hospital staff would probe the matter and intervene, but when her father, an imam, told doctors his daughter had swallowed 30 Paracetamol tablets by accident after mistaking them for sweets, staff chose to believe him.
"I knew the family was planning to get me married soon because I'd hit puberty."
"My parents said I thought they were Smarties and they didn't pursue it further," Smith says. "They took me out of school. We had one or two education welfare officers coming in to see me, but my dad was very articulate. He came to this country when he was 12 so he was very well spoken and very articulate in what he was saying. Everybody believed him."
Terrified at the thought of being forced into marriage, Smith ran away. It has been over 20 years since she last saw her family, but the issue of forced marriage is one that still plagues the lives of thousands of men and women across the UK.
According to the Home Office, the government's Forced Marriage Unit (FMU) gave support related to 1,428 possible forced marriage cases in 2016. Of those, 371 involved victims under the age of 18, while 1,145 cases involved female victims.
But although forced marriage has been illegal in the UK for almost three years, there has been just one conviction, and forced marriage activist Jasvinder Sanghera argues that the government has not done enough to raise awareness of the law, leaving victims in the dark about their rights.
"Criminalising forced marriage was really important, and government have done that now. However we have not seen any action with respect to any national campaign to raise awareness that a law even exists, so many victims out there don't even know that there is a law against forced marriage in this country," says Sanghera.
Smith faced months of preparation before she ran away. "I decided I was going to run away, so I looked at a map of the UK and thought: 'Where can I go to that's very far away?' I didn't know anywhere. I didn't know where my corner shop was because I wasn't allowed out. I would be picked up and dropped off at school every day.
"I knew the family was planning to get me married soon because I'd hit puberty. Because I'd started my periods I was considered to be marriage material. I didn't want to risk staying until I was 15 or 16. I had it in my head that I wanted to get out."
Smith stole £17.50 from her older brother and wrote a note to say she was leaving. Packing her Maxi Priest and Take That albums, she fled the family home and took a coach to London. But arriving at the capital's Victoria coach station at midnight, the magnitude of her decision started to take hold.
"I called Shelter's nightline, and they told me I had to go back home because London isn't paved with gold. They sent a taxi driver to come and get me and I ended up in a refuge for a couple of weeks."
Social services started court proceedings, but the professionals' approach led Smith to believe that she could not trust those around her, as they seemed determined to place her back into the care of her family.
"Professionals were made to believe that there was nothing wrong in my home. My family made them believe that I was this tearaway teenager. Nobody listened to me, so I set a booby trap. I knew my dad was going to call me, so I asked them to record the conversation. He made it clear that he was going to kill me when they found me. It was through that conversation that they decided I didn't have to go home, but they still insisted on putting me with Asian foster families and they still insisted on me having contact with my parents. In the end I just wouldn't go."
Sanghera herself ran away from home as a teenager after her parents arranged for her to marry an older man, to whom she had been promised from the age of eight. Sanghera's parents disowned her, and in 1993 she founded the Leeds-based charity Karma Nirvana, which offers support to men and women affected by honour-based abuse and forced marriage. Sanghera's memoir Shame was a Times top 10 bestseller, and she was awarded a CBE in 2013.
Over the last 24 years Sanghera has lobbied a string of governments over the UK's stance on forced marriage, and in 2014 her work contributed to the change in the law that made forced marriage illegal under the Anti-social Behaviour, Crime and Policing Act. But she says there has only been one criminal conviction since then.
"That cannot be right. How can it be that we are seeing thousands of victims reporting forced marriages nationally, and for all the thousands of cases since 2014 we have only seen one conviction? That is a huge disparity and it is wrong.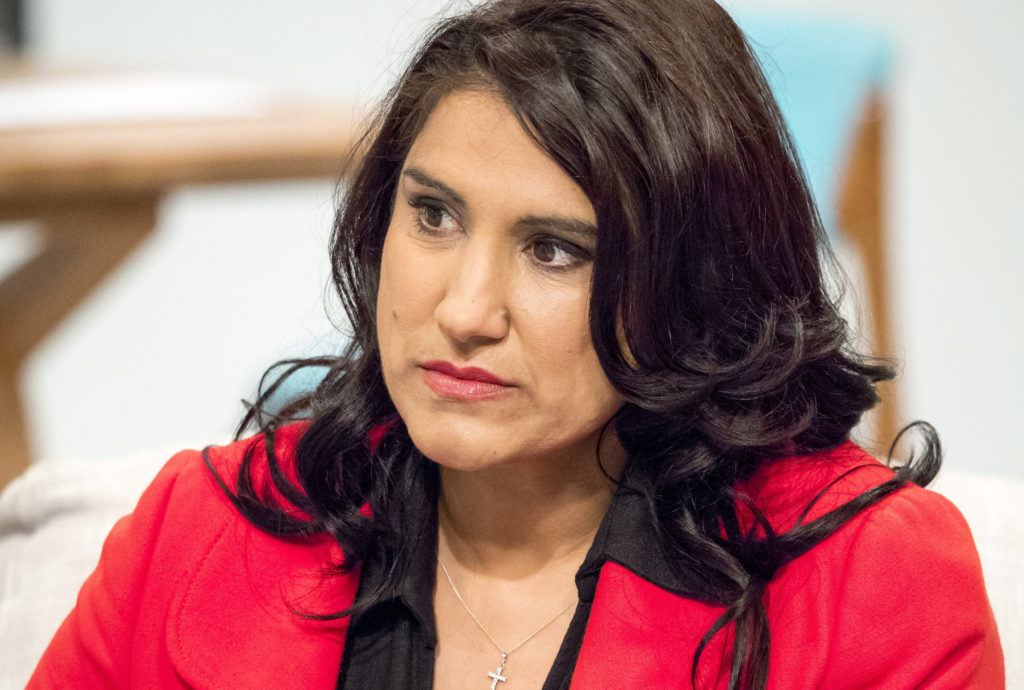 "I believe that some of this is about a lack of awareness and understanding about the law: the fact that we have some prosecutors and other professionals who have a sheer lack of understanding of forced marriage and honour abuse. They have created a law but not considered training prosecutors, professionals and police forces."
In 2015 Sanghera took part in a review of the way police forces deal with forced marriage, honour-based violence and FGM. The report, The Depths of Dishonour: Hidden Voices and Shameful Crimes, advised: "Every police force must improve its understanding of honour-based violence, forced marriage and female genital mutilation."
Sanghera says: "It was shocking to see how, from the chief detective to the bobby on the beat to the community support officer, I probably spoke to 85 officers and only around 10 per cent knew forced marriage was a criminal offence. So again it is a sheer lack of awareness, the need for education, the need for professionals and certainly prosecutors to lead on this and to recognise it as abuse and not be worried about causing offence, not be worried about treading on cultural toes and being sensitive or the fear of being called a racist."
Sanghera makes an important point. The recent Rotherham child abuse scandal highlighted how the fear of being branded a racist was a reason claimed by some council staff for not reporting abuse that stretched to more than 1,400 victims.
"Children don't self harm for the fun of it, they don't run away for the fun of it."
"Many of our politicians are not demonstrating effective leadership when it comes to talking about the issues related to minority groups and culture, tradition or religion because they fear offending them," says Sanghera. "I don't want to ever cause offence to anybody. However, if culture, religion or tradition are being used to make people turn the other way or to instil fear, or for people to lack professional confidence, then we've got to question that.
"We've got to recognise this as child abuse and a public protection issue. Cultural acceptance does not mean accepting the unacceptable. If we think otherwise we are part of the problem."
Rubie Marie was 14 when she was flown to Bangladesh and forced to marry a man more than twice her age. She eventually managed to escape and returned to the UK, but says: "I fell through the net on so many levels, it's ridiculous when I look at it now. Nobody helped me, nobody put me in touch with support groups, nobody did anything. I would go to the doctors because I was severely depressed but I wouldn't tell them because they were Asian and I felt like I couldn't tell them that I needed support."
Forced marriage and honour violence force thousands of victims to live in silence, while their perpetrators often put them under permanent surveillance. For Smith, the best way to stop more crimes from being committed is through education. She says: "You don't see it. It is ingrained in you growing up and everybody's experience is different. Every family and every culture have different codes. We need more schools to be aware. We need to reach out to doctors because that's where people go.
"The public needs to be open and not be afraid to have discussions about it. You can tell from a mile off if somebody is withdrawn and vulnerable. Children don't self harm for the fun of it; they don't run away for the fun of it. There's something going on and communities need to get on board as well."
A Home Office spokesperson said: "Forced marriage is an abhorrent practice and this government is determined to tackle it. We know that it is often a hidden crime, and we want to give more victims the confidence to come forward so they get the support they need and send a clear message that this brutal practice is totally unacceptable in the UK.
"We are encouraged by the first conviction for forced marriage in 2015 but we know there is more to do. That is why we introduced lifelong anonymity for victims through the Policing and Crime Act, and will continue to work with the police and the Crown Prosecution Service to ensure the enforcement response is as good as it can be.
"In addition, over 1,000 forced marriage protection orders have been issued to protect victims and those at risk, while our Forced Marriage Unit runs an extensive outreach programme to provide professionals with the knowledge and skills they need to handle cases effectively."
* Not her real name
Main image: A scene from Catch Me Daddy, a film depicting honour crime in Yorkshire 
---
Karma Nirvana helpline
Karma Nirvana runs a helpline for victims, and all call handlers are trained in risk-assessing cases of forced marriage and honour-based abuse.
The charity also provides training, and so far Karma Nirvana has trained 25 of the 43 police forces in the UK. The organisation regularly runs campaigns in memory of those whose lives have been taken as a result of honour violence. Call 0800 5999247 or for more information visit karmanirvana.org.uk.
Like the Big Issue North on Facebook