It's hard to move through parts of Yorkshire's Aire Valley without coming across the tall, slim personage of Sophie Walker moving from door to door, meeting to meeting.
"I'm out every day and night. It's up to every candidate to raise their game here," she says. "The votes don't belong to them – they belong to the electorate. I'm seeing community groups, small businesses, schools. I'm going to sheltered housing where they haven't seen their MP or another candidate for years, to explain my campaign. You can't phone this in."
Unlike other candidates contesting the Shipley constituency on the north side of Bradford, though, she wears no rosette. The Women's Equality Party (WEP), founded by journalist Catherine Meyer and broadcaster Sandi Toksvig, rejects the football supporter mentality of politics. "People are tired of tribalism. They don't like this idea that politics has be about grandstanding and point-scoring."
That may be so, but Walker has come 200 miles from her home and family in London to make a very large point. She is trying to unseat Philip Davies, MP since 2005, who's a sort of Conservative version of Labour's maverick backbencher Dennis Skinner, the Beast of Bolsover. Davies, Walker calls, the Sexist of Shipley.
What particularly incensed the WEP was Davies's filibustering for an hour and a half in the House of Commons last February in an attempt to scupper a bill that was designed to become, says Walker, the "gold standard to end violence against women and girls". She accuses him of being a "sexist misogynist" and having an anti-equality agenda that also threatens the rights and freedoms of people with disabilities, ethnic groups and LGBT communities.
Davies, who has a majority of almost 10,000, was unable to meet Big Issue North to respond, saying he spent all of his days knocking on doors in the constituency. But he quotes an endorsement from women's refuge founder Erin Pizzey on his campaign leaflet and recently told the Yorkshire Post: "In 12 years as an MP I have never said anything which could be described as being unfavourable to women."
The WEP tried to persuade other parties to step aside in Shipley and leave Walker in a head-to-head contest with Davies, but only the Greens agreed. Steve Clapcote for Labour, which held the seat from 1997 to 2005, never considered making way for Walker. It would have been a strange gesture, he says, when the WEP was actually putting up candidates against female Labour MPs in two London constituencies.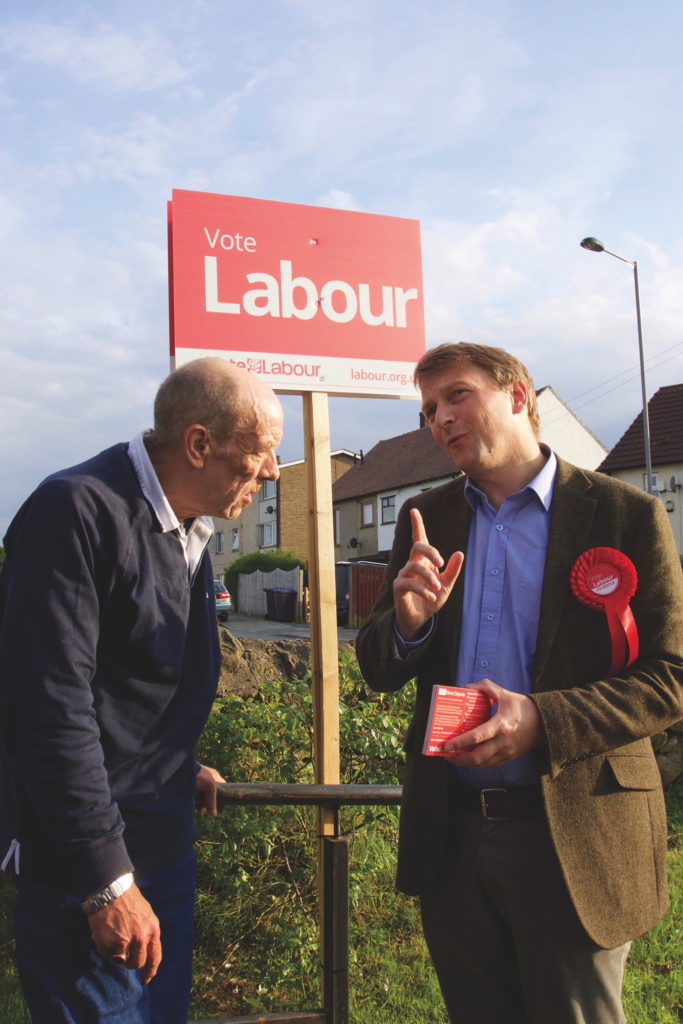 Clapcote came second to Davies in 2015 but is encouraged by the growth in his local party since then. "Two years ago we had 400 members and only about 15 of them were helping out. Now there are 1,400 members and about 100 people are helping to take the campaign to the people of Shipley. There's no Ukip candidate this time and we're coaxing the party's voters back to Labour. So far I have only met one person – a man – who admits to supporting Sophie Walker."
The closest electoral battle in the north of England is in Chester, where Labour's Chris Matheson is defending a majority of just 93. The city may look affluent but housing estates like Blacon and Lache have made Chester into a two-way marginal between Labour and Conservatives.
Matheson, a former trade union officer, took the seat from the Tories in 2015 and has impressed as a member of the Commons Culture, Media and Sport Committee. His scrutiny of the national press's conduct and ethics earned him help with his re-election campaign by the actor and comedian Steve Coogan, who was a victim of phone-hacking.
Far from the city's medieval covered walkways, Matheson has been one of the most prominent opponents of press abuse. During Coogan's visit to Chester last week he said the Conservatives' manifesto pledge to abandon the Leveson recommendations on ending press misconduct meant the party was reneging on commitments it had given to victims like the family of murdered teenager Milly Dowler.
Locally, Matheson is campaigning against school cuts – Cheshire West is one of the worst affected areas in England – and the closure of Dale Barracks, currently home of the 2nd Battalion Mercian Regiment and a significant contributor to Chester's economy.
He is pitched against Will Gallagher, a former special advisor to justice secretary Chris Grayling. Gallagher has attempted to swing voters away from Labour by highlighting the perceived unpopularity of its leader Jeremy Corbyn and what he termed – resolutely on message – "his coalition of chaos". One of Gallagher's main local campaigns is to save the Free After 3 parking scheme, which brings shoppers into the city. Ironically, though, it is Conservative cuts in funds to the local Labour-led Cheshire West and Chester Council that have forced it to increase its revenue through car parks.
There is a particularly bitter electoral feud in Burnley. The seat changed hands back in 2015 when the Liberal Democrat MP Gordon Birtwistle was beaten by the leader of the Labour group on the local council, Julie Cooper. This time round Birtwistle and Cooper are again slogging it out, with Cooper's 3,244 majority at stake.
The bookies have declared it another two-horse race and put the candidates neck and neck, offering odds of 11/8 for each.
The campaign was always going to be rancorous, with accusations of dirty tricks flying around on both sides two years ago. This time Cooper claims she has been subjected to smears about her marriage and "falsehoods" spread about her support for a controversial Travellers' site.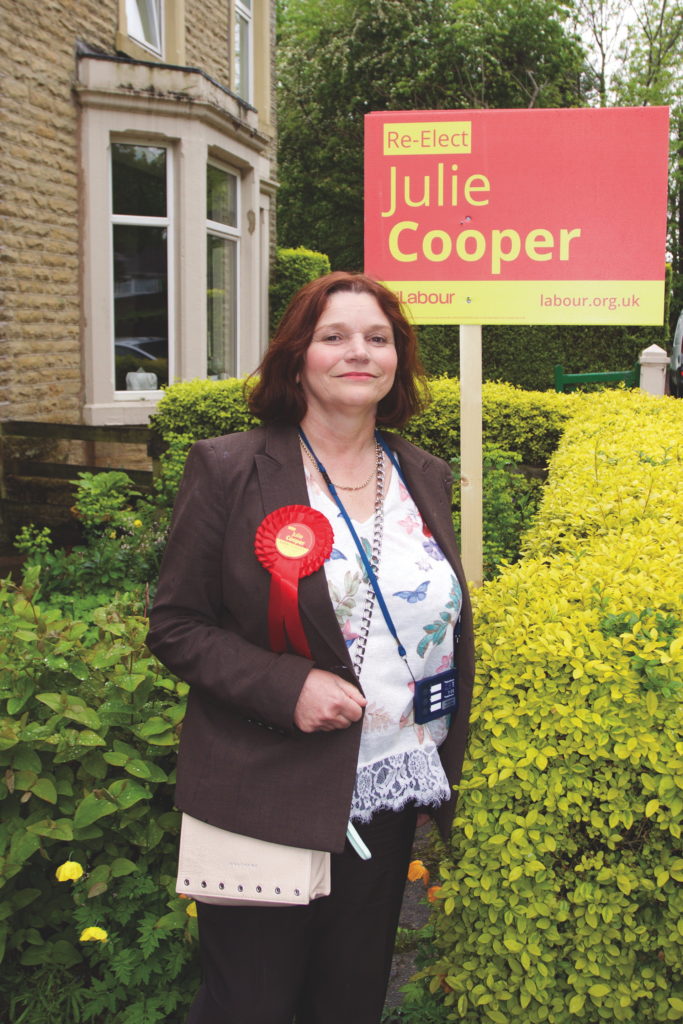 The constituency has a large Asian population and witnessed riots in 2001. It became a hotbed for the BNP, which at one time had eight seats on Burnley Council as well as a local county councillor and one of the MEPs for the North West before its support imploded. Ukip hasn't managed to do well in Westminster elections, however, although the party got its only county councillor in the whole country here at last month's local elections.
Cooper claims Ukip supporters made personal threats on a visit to her constituency office earlier this year, something the party denies. However, fears of attack from right wing extremists after the murder of Jo Cox in Batley and Spen a year ago have led to Special Branch providing her with an alarm, which she wears around her neck while campaigning.
After becoming MP she backed Andy Burnham for the party leadership in 2015, then Owen Smith last year. But she accepted the job of shadow health minister from Jeremy Corbyn and was not one of the 172 MPs who voted against him in last year's vote of no confidence.
She has not found Corbyn to be a liability on the doorstep. "I've been knocking on doors at elections for years. People threw things at me about Tony Blair after the Iraq war, about Gordon Brown and Ed Miliband. It's not new. My answer is, I support Burnley football club and while managers come and go it makes not one jot of difference. It's the values people vote for, not personalities."
A further problem for her is that she was firmly a Remainer in the EU referendum while Burnley voted by 66.6 per cent to 33.8 per cent for Brexit.
That should also be a difficulty for Birtwistle, whose Lib Dems are offering a second vote on EU membership. But Birtwistle is at odds with his party on the issue. "We're banging on about having a second referendum but to be honest nobody wants it," he says. "We should've dropped the idea a long time ago."
Birtwistle is well known for being a free spirit in his party. He was sacked from a job as coalition Treasury Minister Danny Alexander's parliamentary private secretary for voting against the Lib Dems' policy of allowing same-sex couples to marry. It will come as no surprise to other Lib Dems that, when asked how his leader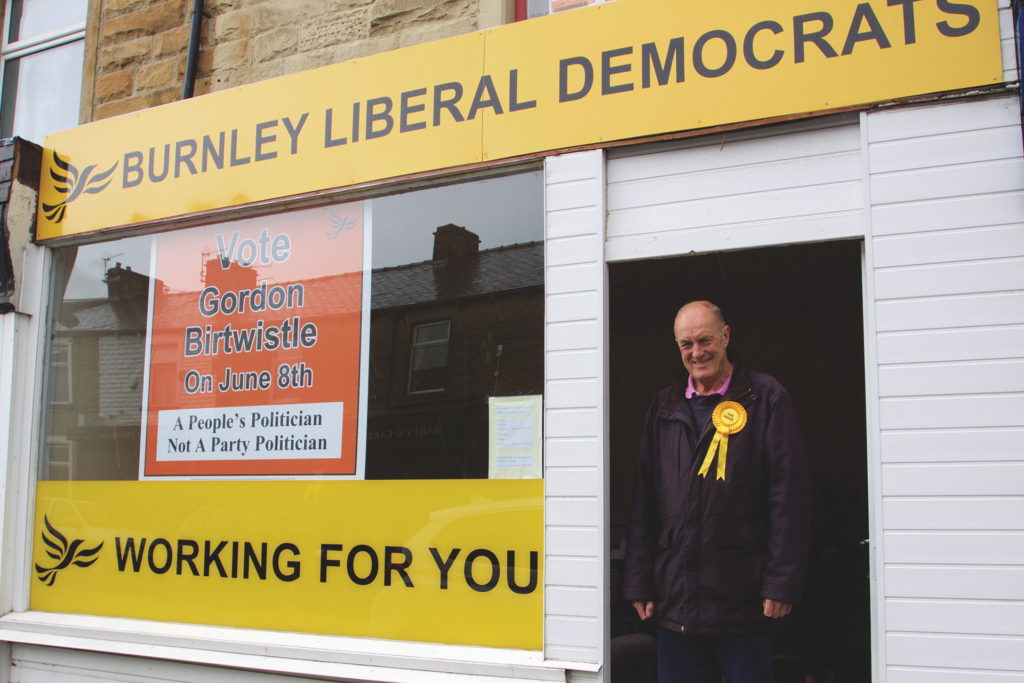 Tim Farron is playing on doorsteps, he replies: "Not good. People say we can't vote for you because we think your leader's rubbish. I reply that the leader's name isn't on the ballot paper."
One of the most unpredictable of marginals is Wakefield, where sitting MP Mary Creagh – a former member of Ed Miliband's shadow cabinet – is defending a 2,600 majority.
On paper at least, it looks like her seat might fall to the Conservative candidate Antony Calvert, who came second in 2015. That's because Ukip has decided not to contest Wakefield despite getting almost 8,000 votes last time. And with the city voting decisively to leave the EU at the referendum the party's supporters are being urged to turn against Creagh, who was a high profile campaigner to remain in Europe.
But nothing is certain in politics, and last week there was a bizarre intervention from Ukip's candidate Lewis Thompson in the neighbouring constituency of Normanton, Pontefract and Castleford, represented since 2010 by Yvette Cooper. Thompson has no chance of winning there, but he wrote to the local paper urging Ukip voters next door in Wakefield to support Creagh saying: "We can't let the Tories get a huge majority."
Runners and riders
Burnley 
2017 candidates: Gordon Birtwistle, Lib Dem; Tom Commis, Ukip; Julie Cooper, Labour; Laura Fisk, Green; Paul White, Conservative.
2015 result: Labour 14,951 (37.6%), Lib Dem 11,707 (29.5%), Ukip 6,864 (17.3%), Conservative 5,374 (13.5%), Green 850 (2.1%). Labour majority: 3,244 (8.2%). Turnout: 39,746 (61.6).
Chester 
2017 candidates: Will Gallagher, Conservative; Lizzie Jewkes, Lib Dem; Chris Matheson, Labour.
2015 result: Labour 22,118 (43.2%), Conservative 22,025 (43.1%), UKIP 4,148 (8.1%), Lib Dem 2,870 (5.6%). Labour majority: 93 (0.2%). Turnout: 51,161 (70.8%).
Shipley 
2017 candidates: Steve Clapcote, Labour; Philip Davies, Conservative; Caroline Jones, Lib Dem; Sophie Walker, Women's Equality Party.
2015 result: Conservative 25,269 (50%), Labour 15,645 (31%), UKIP 4,479 (8.9%), Green 2,657 (5.3%), Lib Dem 1,949 (3.9%), Yorkshire First 543 (1.1%). Conservative majority: 9,624 (19%). Turnout: 50,542 (71.7%)
Wakefield 
2017 candidates: Waj Ali, Independent; Lucy Brown, Yorkshire Party; Antony Calvert, Conservative; Mary Creagh, Labour; Finbarr Cronin, Lib Dem.
2015 result: Labour 17,301 (40.3%), Conservative 14,688 (34.2%), Ukip 7,862 (18.3%), Lib Dem 1,483 (3.5%), Green 1,069 (2.5%), TUSC 287 (0.7%), CISTA 283 (0.7%). Labour majority: 2,613 (6.1%). Turnout: 42,973 (60.9%).
Five Other Seats to Watch
Barrow-in-Furness
Represented by Labour's John Woodcock since 2010, his 795 majority is vulnerable to a 2 per cent Conservative swing. The main issue locally is the renewal of the Trident nuclear deterrent since the submarines are built in Barrow. Questions about Jeremy Corbyn's and Labour's commitment have huge implications for the 6,500 people employed in the shipyard.
Halifax
Labour's Holly Lynch has a majority of just 428 (1 per cent) over the second place Conservatives, whose poll lead nationally would be more than enough to unseat her if reflected on 8 June. But with no Green and Respect candidates standing against Lynch this time she may garner enough votes to survive.
Harrogate & Knaresborough
A one-time Liberal Democrat stronghold, in 2010 it fell to Conservative Andrew Jones, who went on to push his majority above 16,000 at the last election. But the constituency voted 51 per cent to 49 per cent to remain in Europe and Helen Flynn of the Lib Dems is campaigning hard on her party's commitment to a second referendum.
Rochdale
Simon Danczuk was MP from 2010 but his controversial personal life earned him the sack as Labour candidate. Danczuk is now standing as an Independent against the party's replacement, Tony Lloyd, a former police and crime commissioner and interim mayor of Greater Manchester. At the last election Danczuk had a 12,442 majority.
Wirral West
In 2015 Margaret Greenwood had a majority of just 417 over the Conservative candidate, former TV presenter Esther McVey, who as employment minister was held responsible for the unpopular bedroom tax and cuts to disability benefits and is now Tory candidate in George Osborne's former seat Tatton. With no Ukip candidate this time round it may be hard for Greenwood to retain hers.
Main photo: Sophie Walker of the Women's Equality Party
Like the Big Issue North on Facebook