They've put up a Christmas tree on the fracking front line in Yorkshire and decked the site's security gates with tinsel and ribbons. Next week a full vegan Christmas dinner or traditional turkey with trimmings will be on the menu for the growing band of full-time protesters camped out in tents and caravans.
"The tree is not decorated with the usual baubles," says Henry Kellie, who towed a mobile snack bar up from Leicestershire to provide hot food and drinks. "We're asking people to write their wishes on little cards and put them on the branches. It's a Christmas wishing tree."
Crane hopes the government will hold off giving Third Energy the go-ahead to frack
No prizes for guessing the most popular wish. Any day now, fracking could start at the village of Kirby Misperton near Pickering on the edge of the North York Moors, on course to be the first commercial shale gas fracking operation in the UK. Since September the drilling company Third Energy has brought onto the well pad it established on farmland all the equipment required to extract gas from rock 5,000 feet below the surface by injecting water, sand and chemicals
at high pressure.
A highly organised local campaign, Frack Free Ryedale, fears health risks from air and water pollution and cites evidence from the US where toxic pollutants have included methane, radon, benzene and arsenic. There have been large demonstrations at the site entrance aimed at halting the process, requiring a police operation that has so far cost £500,000 and led to 75 arrests.
The company delivered its final submission to the government on 8 November and the file now lies on the desk of Greg Clark, secretary for business, energy and industrial strategy, awaiting approval.
"It's curious that Clark has been sitting on this for over a month," says Ian Crane, one of the UK's leading anti-fracking campaigners. "If he signs it off now, what a Christmas present that will be to the people of Kirby Misperton, who are almost universally opposed to fracking here."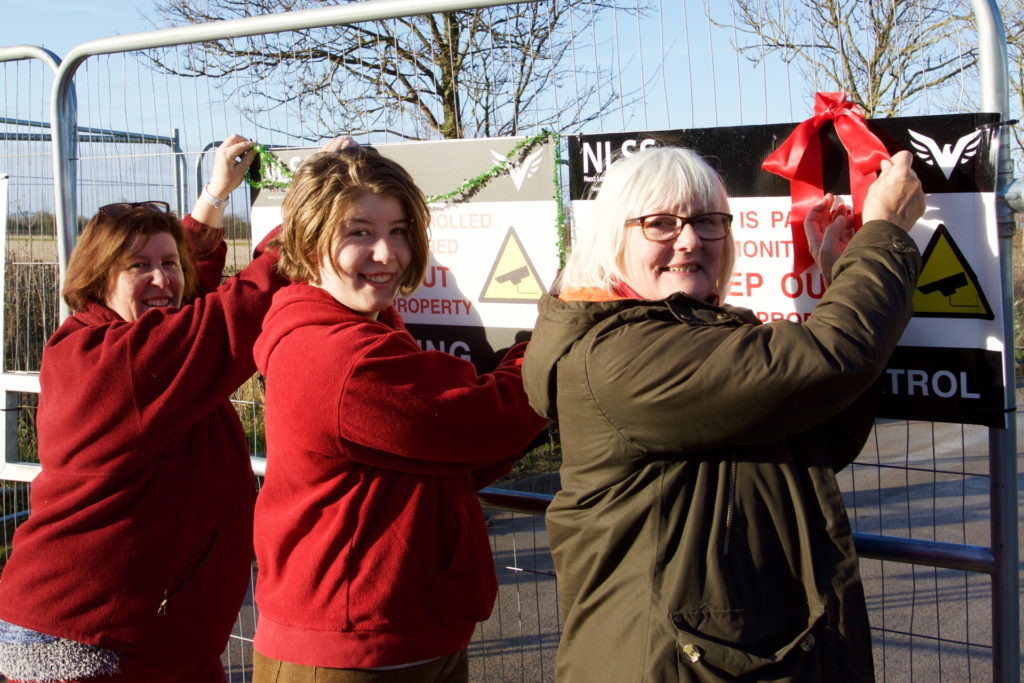 A former oil and gas company executive, Crane became a full-time campaigner against drilling for shale gas after seeing in Queensland, Australia, what he claims was the devastating impact of the industry on agricultural land similar to that in Yorkshire. On 20 December last year he set up the anti-fracking camp in a field outside Kirby Misperton, which the landowner decided not to challenge despite being "not best pleased we're here", according to Crane.
The number of people living there varies from week to week in the two dozen caravans, tents and makeshift wooden shacks, the latest of which is a large communal structure called the Roundhouse, made from donated pallets and fitted with a woodburning stove. Solar panels and a wind turbine provide electricity, with additional power from a generator to top up mobile phones, laptops and cameras. A smaller camp, known as the forward protest, has grown up next to the site gates a couple of miles away.
Crane hopes the government will procrastinate and hold off giving Third Energy the go-ahead to frack, since shale gas exploitation is a policy handed down to Theresa May's government by former prime minister David Cameron and his chancellor, George Osborne, both of whom were ardently pro-fracking. "It's a toxic legacy for this prime minister," he says. "If there's enough public pressure she might pull the plug on fracking."
One of the protest's local supporters, Carol Towner of Pickering, is helping to organise events at the camp. Last week, outside the site gates she and other volunteers set up trestle tables and put on a vegan pre-Christmas lunch for over 100 protesters with crackers and party games. "It was wonderful," she says.
Meanwhile, in Lancashire the stand-off continues between anti-fracking protesters and the shale gas exploration company Cuadrilla near Blackpool. Having won legal challenges to the plan, the company began test drilling in August but has so far not commenced fracking operations. And at Tinker Lane, Bassetlaw, in North Nottinghamshire, a new fracking flashpoint has emerged at a site where IGas Energy has been given planning permission to conduct exploration drills.
Crane says: "There's going to be opposition wherever this industry does try and get a foothold, because there are enough people who realise that if they don't stop it then basically their community is at serious risk."
---
A year of resistance
Antonia Charlesworth rounds up our extensive coverage of fracking over the last 12 months
The two fracking sites where the energy industry has focused its efforts in 2017, Lancashire's Preston New Road and Kirby Misperton in North Yorkshire, are Big Issue North heartlands and we've been closely following developments in the industry, and the protest movement that's grown out of community opposition to drilling, for the past 12 months.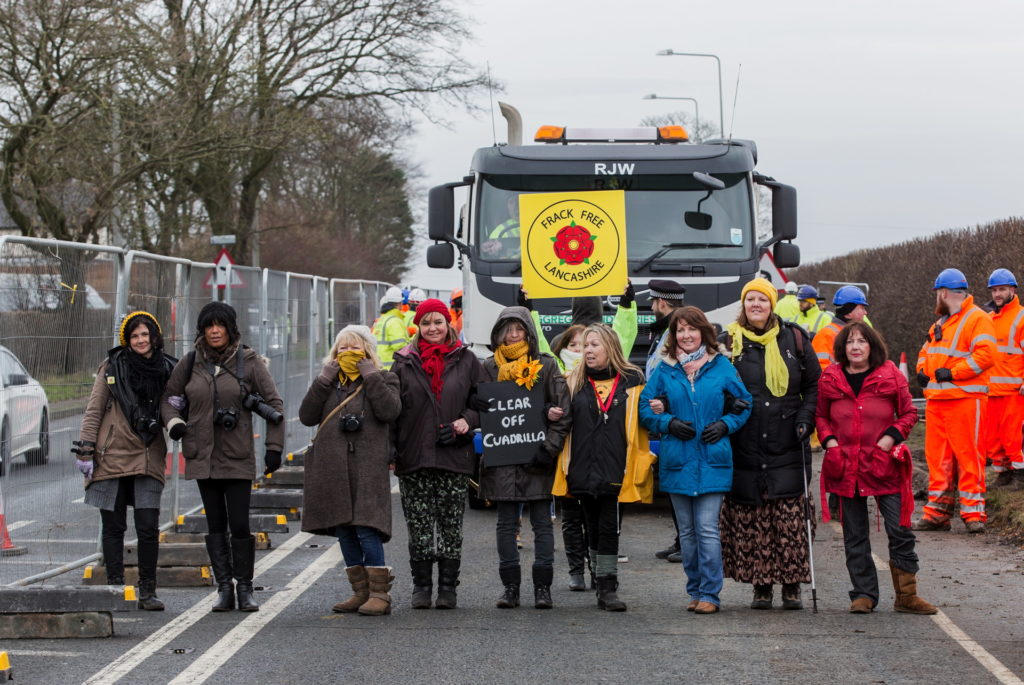 "We're disgusted this is happening because local democracy counts for nothing. As far as Lancashire is concerned it has been dismantled," Frack Free Lancashire's Claire Stephenson told us when we visited Preston New Road in January, a week after Cuadrilla had surprised residents by beginning work on the site despite an impending High Court injunction. Within an hour, anti-fracking campaigners had set up a demonstration and some of them have stayed put ever since.
Meanwhile in Kirby Misperton Third Energy had won planning permission to frack after North Yorkshire County Council's planning committee voted 7-4 in favour, despite only 36 of the 4,420 representations received from the public supporting the application.
By February video footage from Preston New Road began to emerge of on-site security behaving aggressively towards protesters and one showed a truck reversing into two of them. A busy road plus high tensions led to the deployment of police officers, but campaigners said their presence was disproportionate and that they were using forceful tactics. When we visited the site in early March over 30 arrests had been made and two local councillors had been injured. One of them, Miranda Cox, told us about the "tidal wave of force" that left her with torn ligaments and a fellow protester unconscious.
"As security have backed off the police have stepped up, and they've stepped up massively," said Cox. "One morning there was four of us at the gates demonstrating and we had a riot van each. It's ridiculous."
The police operation was estimated to be costing around £14,000 a day and we spoke to Lancashire Police and Crime Commissioner Clive Grunshaw, who was calling on central government to foot the bill. "I'm really concerned about the strain that this is putting on officers and the drain on our resources, making the thin blue line even thinner," he said.
By the end of the month business representatives admitted they were concerned after a week of direct action against companies supplying Cuadrilla led to seven businesses bowing to pressure and pulling out.
"Our fear is if the protests go on and on and escalate it may have the potential of putting local suppliers off supplying the industry," Babs Murphy, chief executive of the North and Western Lancashire Chamber of Commerce, told us.
Business representatives admitted they were concerned after a week of direct action
By April the PCC had his response: Lancashire Constabulary was expected to fund the next six months of policing the fracking protests in the county, at a cost of an estimated £2.5 million, the Home Office said. Around 100 officers a day were being deployed and they had made over 60 arrests since protests began. The PCC told us: "In terms of officer numbers the Commander makes those decisions. From what I have seen and the safety risk posed to many of the protesters by their own actions on a very busy A-road, then this is a legitimate level of police presence."
Protesters said they were being forcefully stripped of their rights to peaceful protest. A paralysed former naval officer told us how he was reduced to tears in pain following what he described as "assault" by a police officer during a demonstration. "He brought his knee down into my thigh with as much force as he could and kept me pinned there for a couple of seconds until I screamed out," Nick Sheldrick said. "As soon as I screamed out he let me go."
Dr Joanna Gilmore, a legal academic at York University who had produced the report detailing Greater Manchester Police conduct at the 2013-14 protests at Barton Moss, told us the police operation was consistent with what was happening across the county. She said: "One thing which has been very, very clear is a massively disproportionate policing response to what in the majority of cases – possibly all – have been peaceful protests characterised by violent policing but not violent protesting."
But progress had been made by Cuadrilla, which had fought off the challenge in the High Court over the planning application. The company was preparing to start exploratory drilling and director Matt Lambert said Lancashire homes could be heated by shale gas by 2018.
Corin Taylor, senior adviser to trade association United Kingdom Onshore Oil and Gas, pointed out that they still didn't know if fracking would be cost effective.
"We know the rocks are rich but don't yet know flows and that's really crucial because if you get hardly any gas then that's not commercial," he said. But he did add that if the industry could get 10 per cent of what the British Geological Survey estimated there might be in the north, it would be equivalent to 40-50 years of the country's demand for heating. And he added: "It could potentially cut imports in half. And not only have you got a secure domestic source of energy but you're providing tax revenue and jobs."
We also heard from Andrew Aplin, Durham Energy Institute professor of unconventional petroleum, who emphasised the challenge facing the UK industry if it was to make a contribution to UK energy needs from a standing start. "In order to produce perhaps 25 per cent of UK gas consumption by 2030, we would need to drill 300 wells per year for 10 years – 3,000 wells in total," he said.
While Cuadrilla began drilling its one pilot well in the summer, we headed back to Kirby Misperton where protesters were on stand-by to resist Third Energy's operation, set to begin as soon as a traffic management plan was completed. "We're watching them all the time," said Frack Free Rydale's Di Keal. "At the moment, it feels like the calm before the storm. We have this huge anxiety hanging over us all summer."
In October there were more clashes between police and protesters when a 79-year-old Yorkshire woman serving tea and an 85 year old in Lancashire sitting by the side of the road were forcibly removed.
"They lifted me out of my chair and dragged me across the road by the shoulders. They did nothing to lift my ankles or feet," said 85-year-old Anne Power.
"We need to balance the rights, needs and wishes of everyone at the site, including those who want to assemble and protest safely and peacefully," Superintendent Lindsey Robson of North Yorkshire Police responded.
Both sites were approaching milestones, with Cuadrilla about to move from vertical to horizontal drilling at Preston New Road and Third Energy saying it would be fracking by the end of the year.
Francis Egan, chief executive officer of Cuadrilla, told us he was "very proud" to be the first operator that will drill horizontal wells into UK shale rock.
"The ability to drill horizontally, at depths miles under our feet, will allow us to increase the rate of gas flow from just one well, which reduces the number of well heads on the surface and therefore significantly lessens any potential impact on the environment," he said.
Aplin told us that the two companies' milestones "did not change anything" and warned the industry was costly and making "slow progress".
Like Big Issue North on Facebook