On a cold Sunday afternoon in Manchester a group of people are ushered out of a hailstorm into the peaceful interior of St Mary's, otherwise known as the Hidden Gem, a small Catholic church hidden away down a back street. The tour guide, Danny Collins, removes his grey flat cap as the group enters the church and describes in a hushed voice the history of the building and how it was once a place of shelter for him. Then he opens his folder and reads a poem to the group, which today includes a businesswoman from Amsterdam, a French journalist and four university students.
As well as Edinburgh and Manchester, Invisible Cities tours have started in Glasgow and York
This is no ordinary city tour and Collins, 64, is no ordinary guide. And not just because he peppers his two-hour walking tour around Manchester with pieces of poetry he's written. Collins has a special insight into this city. He slept on its streets for nearly five years and this is one of several tours led by people who have experienced homelessness organised by the social enterprise Invisible Cities.
During his walking tour, Collins points out places of interest that have personal resonance with him, such as St Ann's Square, where he stayed in 2015, as part of the "tent city" that was established there. Near a car park in the Northern Quarter, he points out a painted mural that runs along a low wall in a sheltered spot away from the road. He used to sleep there.
"I was woken up one morning by a nice gentleman who asked me politely to move so that some primary school kids could paint a mural," he explains. "I sat watching as I had nowhere else to go. Then they offered me a chance to join in." He shows us the part he painted – the tail of a worm making its way along the garden scene that adorns the wall.
Not all of Invisible Cities' walking tours are focused on homelessness. In Edinburgh, you can learn about the city's relationship with crime and punishment, for example, and, in York, explore the city's railway heritage. But Collins takes time to praise the organisations that help homeless people in Manchester and discusses some of the issues homeless people face. He points out the modifications that have been made to certain benches, which stop people sleeping on them, and he describes how two strangers once kicked him in the face while he slept in a sleeping bag on Portland Street.
"They decided to pick on a homeless guy," he says. "It was reported to the police but they didn't follow up on it. Wee against a wall and they will fine you but kick a homeless person in the face and they don't bother."
He tells anecdotes about his life on the streets of Manchester as we walk and responds openly to questions, but doesn't volunteer his whole life story. He served in the army when he was younger but when someone on the tour asks where he was stationed his smile falters and he says he "doesn't want to go there".
Speaking after the tour, he explains that he left the army following an injury. "I suffered with bad depression when I was discharged," he says. "For people who come out of the armed forces, it's very hard to settle back into civvy street. When you're in the army you are told when to eat, when to sleep, what to wear and you become institutionalised."
Collins had a wife and two young daughters who had stayed at home in Liverpool while he was abroad. "I loved the bones of my two kids," he says with sadness in his eyes. "But it was hard adapting to family life again."
After leaving the army, Collins went into the building trade and built up his own business, but continued to suffer with depression. That, coupled with problems at home, led to him suffering a severe breakdown in his fifties.
"I was found on the motorway at four in the morning just outside Birmingham," he says. "I was in jeans, a t-shirt and a pair of slippers."
He was sectioned and taken to a hospital near Wolverhampton where he spent nine weeks. At first he couldn't even remember his own name.
Once discharged, and feeling that he had "burnt his bridges" with family and friends, Collins found himself homeless. He spent some time in Birmingham, and then decided to go to Blackpool to see his sons from a second marriage. He recounts the story of how he ended up in Manchester as part of the tour.
"I hitched a lift on the motorway and the driver said: 'I can take you as far as Manchester.' I woke up in Piccadilly Gardens. That was six years ago and I've still not made it to Blackpool."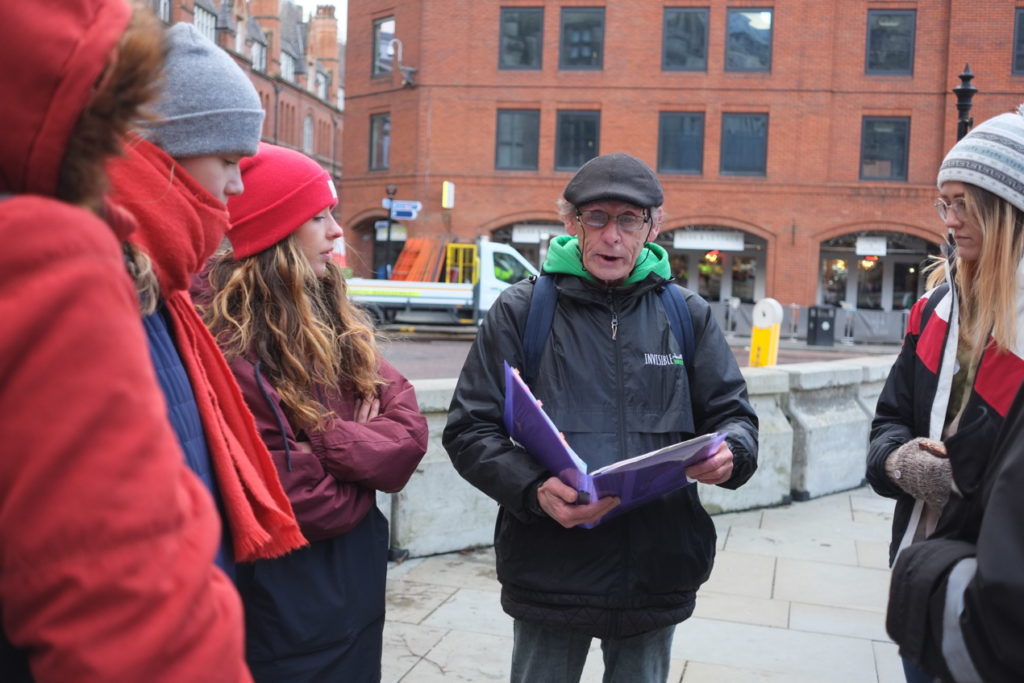 Collins was approached to be a tour guide while volunteering at the Booth Centre in Manchester, a day centre service for homeless people. "It was a good idea, so I thought I'd give it a try," he says. And now, a year later, he's loving it. "They say you can't teach an old dog new tricks. Well, this old dog is learning every day."
He loves the variety of the job and getting to meet people from all over the world who join him on his walks. "I always say, regardless if I have four or 24 people on a tour, if I get one person that takes in what they've learnt and they go back to their parents or partners, or to the office, and they say something about the situation of homelessness, then we've achieved something."
Collins gets paid expenses, but all other proceeds from tours go back into the organisation. But he's benefited in a different way. His poems have been collected into a book, Off The Cobbles, paid for by the Invisible Cities team.
It's outcomes such as this that Alice Sparks hopes to deliver for the volunteers who run the walking tours – whether that's books of poetry published or creating routes into employment.
Sparks, 22, was in her final year at Manchester University studying politics and history when she went on an Invisible Cities Edinburgh tour, which were the first to be established. On returning to Manchester, she contacted Zakia Moulaoui, who had founded the social enterprise in 2016, to see if there was something similar in Manchester that she could get involved with. There wasn't – but Moulaoui invited her to start one.
Sparks says: "Of all the social issues that exist in the world – climate change, migration, gender pay gap, whatever, homelessness is one that is most visible." When she first came to the city to study she was "taken aback" by the level of homelessness in the city. "I was touched by it and felt that I should do something. It was baffling to me that people could just walk past and not do anything."
It took a year for Sparks to develop the kind of relationships with homeless charities and organisations that meant they trusted her with the project, and there were some false starts, such as a recruitment training meeting to which no one turned up.
A year after embarking on the development of the Manchester tours, Sparks had finished her studies and was considering her future, which might have meant giving up on the idea. Then Collins volunteered to be her first guide.
Now Invisible Cities Manchester has celebrated its first year of operation and taken its 1,000th customer on a tour. It won £12,000 this year from a business start-up competition organised by Manchester University. Other recent developments include a gift card scheme, something Sparks hopes will make an ideal last-minute Christmas present.
As well as Edinburgh and Manchester, Invisible Cities tours have started in Glasgow and York, and tours in Cardiff are planned for next year. These operate on a "social franchise model", Sparks explains, where different organisations operate the tours themselves using the branding and expertise of the Invisible Cities team. She hopes that model can be extended to more locations.
In Manchester, a second tour started earlier this year, led by 34-year-old Laura Ashcroft. Hers consists of historical explorations of the city focusing on buildings and people of note, especially women, homeless issues and LGBT history. Her interest in the history of the city began when she was homeless, she explains. "I used to go into Manchester library and watch all the historical films they have in the archive there."
How has Invisible Cities helped her? "Oh my god – in so many ways. It's helped me to open up for the first time about things I didn't really want to talk about because of the mental anguish of it all. It's been a rocky road, I can tell you, but I'm starting to get into a better place."
Ashcroft, who was born male, is now in the process of transitioning and says her interaction with Invisible Cities has given her the confidence to do this.
She's now living in supported accommodation and looking to move into her own flat, and she has many plans for the future, including developing a fashion line and getting into public speaking to support other people going through gender transitioning.
Collins' life too has improved since being with the organisation. Last Christmas was the first time in years that he'd been home to see his sister and his daughters, and the first time that he'd met his grand-daughter. He's also clearly proud to be a part of the organisation, and is pleased to see it expanding. "We're not just a team," he says. "We're a family."
For more information about Invisible Cities visit invisible-cities.org where you can book tours, buy gift vouchers and buy a copy of Danny Collins' book of poetry
Like the Big Issue North on Facebook