"I chose these because they genuinely are my absolute favourite," says Hughie, who sells Big Issue North in Liverpool. "I love roasting them with garlic. They are gorgeous."
Our 2021 vendor calendar is now on sale and this year Mary-Ellen McTague, who runs the Creameries restaurant in Chorlton, has written the 12 recipes that appear on it based on vendors' favourite dishes, including Hughie's.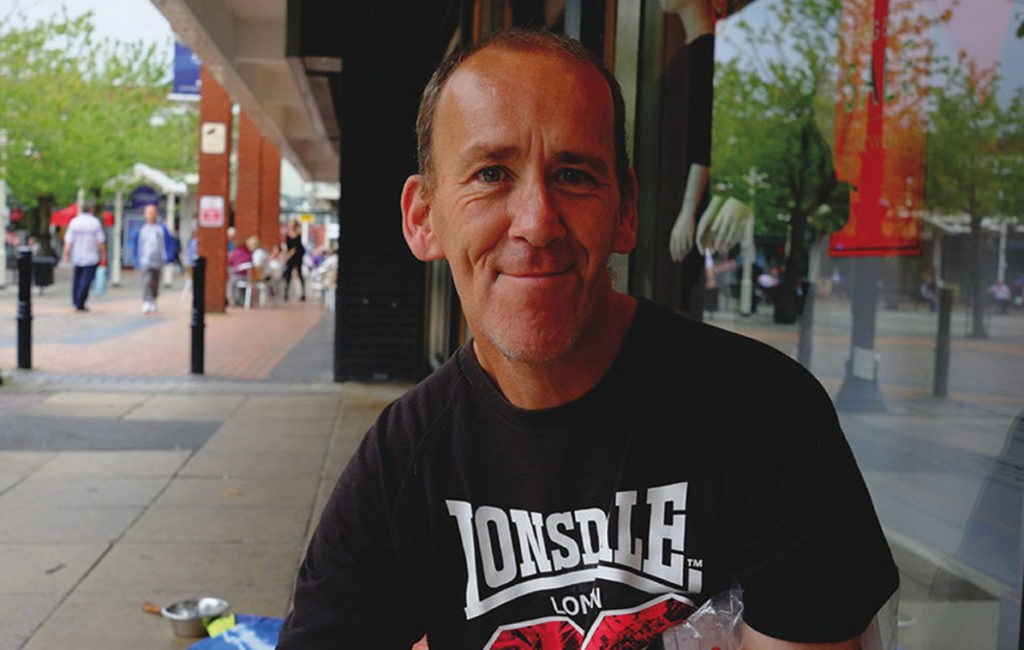 McTague, who also writes a column for Big Issue North's sister magazine The New Issue, was pleased with the variety of dishes vendors selected.
"There was traditional British stuff like steak and chips, and bread and butter pudding, but there were a number of dishes that I'd never cooked before – a few Romanian dishes and a Spanish one as well. It was really nice to learn about those and cook them, knowing that some of the vendors would have really missed them."
The calendars will provide a vital extra income for vendors who buy the calendar for £2.50 and sell it for £5, keeping the profit they make.
We're hugely grateful to McTague, who found the time to work on the calendar while also helping run Eat Well Manchester, a food collective of professionals and volunteers feeding vulnerable people.
You can buy the Big Issue North 2021 calendar from vendors or from shop.bigissuenorth.com. For more info about Eat Well Manchester visit eatwellmcr.org 
Garlic roast potatoes
I always advocate scrubbing potatoes and leaving the skins on because so much of the flavour is in the skin, it reduces waste and it adds a lovely crispy texture, but if you prefer to peel yours, that's fine too.
100-150g potato per person
Vegetable oil, duck fat or a mixture
Fresh thyme
Garlic cloves, whole, skin on, bashed
Scrub the potatoes, then cut into evenly sized chunks – I like to cut mine quite small because more roasted surface area means more flavour, but it's up to you.
Bring a large pan of water to the boil and carefully add the potatoes. Bring back to the boil and then turn down to a simmer. The more cooked the potatoes are at this stage, the fluffier the roasties will be, but there's a fine line between cooked through and mushy, so watch them carefully, stirring and checking every couple of minutes.
While they are cooking, preheat the oven to 185C and prepare the cooking fat. The exact quantity depends on the size and shape of your roasting tins and how many potatoes you're doing, but you want enough to have about a 0.5-1cm layer in each roasting tin. You also need to have a gap between the potatoes so they crisp up evenly, so if it looks like they'll be crowded in one tray, use two.
Warm the fat in a saucepan over a medium heat. Switch off the heat and add a sprig of fresh thyme and a few cloves of garlic – at least 2 per 500g of fat, more if you like it extra garlicky. Leave to infuse.
Once the potatoes are very tender and cooked all the way through, drain through a colander. Give the colander a shake to get rid of any last bits of moisture.
Strain the fat through a fine mesh sieve, or just pick out the garlic and thyme. Pour onto your roasting tray/s and then preheat in the oven for 5 minutes.
Remove from the oven very carefully using gloves and place on a heatproof surface, then add the cooked potatoes to the hot fat. Use tongs or a fish slice to turn the potatoes in the fat, ensuring all are coated well, then return to the oven. Turn the potatoes every 15-20 minutes until a deep, crisp, crunchy golden crust has formed on all sides. Sprinkle with sea salt before serving.
Like the Big Issue North on Facebook