In 2015, Big Issue North picked a list of ten young sportspeople we thought had a chance of making it big, of making themselves known not just to sports nuts, but more casual fans.
This initial list was followed up in the following three years, and now it's back.
The throwing hither and thither of sporting schedules over the last couple of Covid-wracked years has led to a piling up of postponed events, making for a stack of global competitions in 2022. So who do we think might be on the brink of something special? Read on…
FRANCESCA GOLDTHORP, 18, RUGBY LEAGUE
The prodigiously talented Goldthorp is already a name familiar to keen rugby league fans, but the Leeds Rhinos player will surely gain wider recognition in a year when England host rugby league's World Cup across both women's and men's games. Twenty tries in 2021 after converting from wing to centre made her a contender for the 2021 Woman of Steel Award for the English game's outstanding player, losing out to St Helens' Jodie Cunningham. Saints also beat Rhinos to win the Grand Final, but at only 18 Goldthorp could well add to the double her team picked up in 2020.
JOSH BOHANNON, 24, CRICKET
Tipped for test honours by observers including Australian pundit Adam Collins, Bolton-born Bohannon compiled 853 runs in 14 games for Lancashire in 2021, averaging more than 50, with outstanding centuries against Warwickshire and Yorkshire. Bohannon's intelligent batting has won approval from the likes of Paul Farbrace, one of the architects of England's 2019 World Cup triumph, and he was in good touch on the Lions tour of Australia, before the group was unaccountably sent home as the senior team floundered. With England's batting order in dire need of a refresh, surely a test cap will be his sooner rather than later.
JESS PARK, 20, FOOTBALL
Along with the likes of adaptable defender Esme Morgan, striker Park is one of a crop of exciting youngsters supplementing a Manchester City side stacked with talent, looking to repeat the successes of 2019's double-winners and conquer Europe too. A lifelong Blues fan, Park hails from Brough in East Yorkshire, and played at Hull and York City before moving to the Etihad – a move that paid off with Park's crucial assist in a 3-1 FA Cup final victory over Everton. Park has caught the eye on England age group teams, representing the Three Lions all the way up to under-19 level. A senior cap can't be far away.
MARK DONOVAN, 22, CYCLING
Back in the 1980s and 1990s, it was unusual to see a Union flag next to a rider's name in the Tour de France. Not any more. Of course, there's the lavishly-funded Ineos Grenadiers (formerly Team Sky), but such has been the flowering of UK talent in the 21st century there are potential stars everywhere. Penrith-born Donovan has caught the eye as part of a freewheeling Team DSM squad noted for its attacking spirit, proving he can last the pace in the sport's devilishly tough three-week Grand Tours, placing in the top 50 in both 2020's Vuelta a Espana and 2021's Tour de France. A big stage win in 2022 is well within his compass.
RAFFI QUIRKE, 20, RUGBY UNION
A product of South Manchester's Broughton Park club, Quirke has played through the England age groups. His rise has already been dizzying. Making his Sale Sharks debut as recently as February 2021, he has already been called up for senior international honours, gaining minutes on the pitch in a win against Australia in November 2021. With the Six Nations looming and then a World Cup in the southern hemisphere in autumn, 2022 could be a huge year for Quirke and other regional hopefuls, such as Isle of Man-born prop Bevan Rodd. Both are in the Six Nations squad.
IMOGEN ALLISON, 23, NETBALL
Originating from Huddersfield, Allison plays her netball for Team Bath, the university-linked sports set-up being a huge hub for sports, from skeleton bob right through to track and field, and rowing. Allison made her senior international squad debut in the autumn, as the Vitality Roses claimed a first ever test series win over mighty New Zealand, in the Kiwis' own backyard. Allison made the squad for the Quad Series in January, where the Roses lost to Australia's Origin Diamonds in the final, having bested South Africa and New Zealand to get there. Next up: this summer's Commonwealth Games in Birmingham.
ALEX FITZPATRICK, 22, GOLF
The 22-year-old Yorkshireman is the younger brother of Ryder Cup player Matt, for whom Alex caddied in a triumphant showing at the US Amateur Open in 2013. Along with fellow Sheffielder Barclay Brown, Fitzpatrick was part of the England team who took a strong US team all the way to the wire in the 2021 Walker Cup, the sport's top amateur matchplay event. Currently playing his way through the US college system, a well recognised pathway to the top, Fitzgerald has now competed in his first PGA Tour event, qualifying by winning the Valspar Collegiate in March 2021.
EMILE CAIRESS, 24, ATHLETICS
At 24, Yorkshireman Cairess is far from the youngest athlete in this year's list, but his is a sport where champions rarely emerge early, generally hitting their peak in the mid to late twenties – Mo Farah was 29 when he won the 5,000m and 10,000m double at the 2012 Olympics. Cairess, who got into running through his mum and joined Bingley Harriers aged 11, hit the headlines early this year by equalling one of Farah's British records while competing in the Valencia 10km. He took bronze at the 2019 under-23 European Championships and now trains with Leeds City, with training blocks in Kenya.
RACHEL SLATER, 20, CRICKET
Born in New York, promising medium-pacer Slater has just been awarded her first pro contract with Northern Diamonds, which represents the Yorkshire and North East areas in the English women's game. Making her Yorkshire debut against Lancashire in 2019, she has progressed each year, taking five wickets at 14 in the 2021 Charlotte Edwards Cup as the team's youngest member. Slater started playing cricket aged six, and captained Yorkshire at under-15 level. The Diamonds regularly make finals
but are yet to win one – the youthful brio of Slater and wicketkeeper Bess Heath, who came through Derbyshire's system, might make the difference.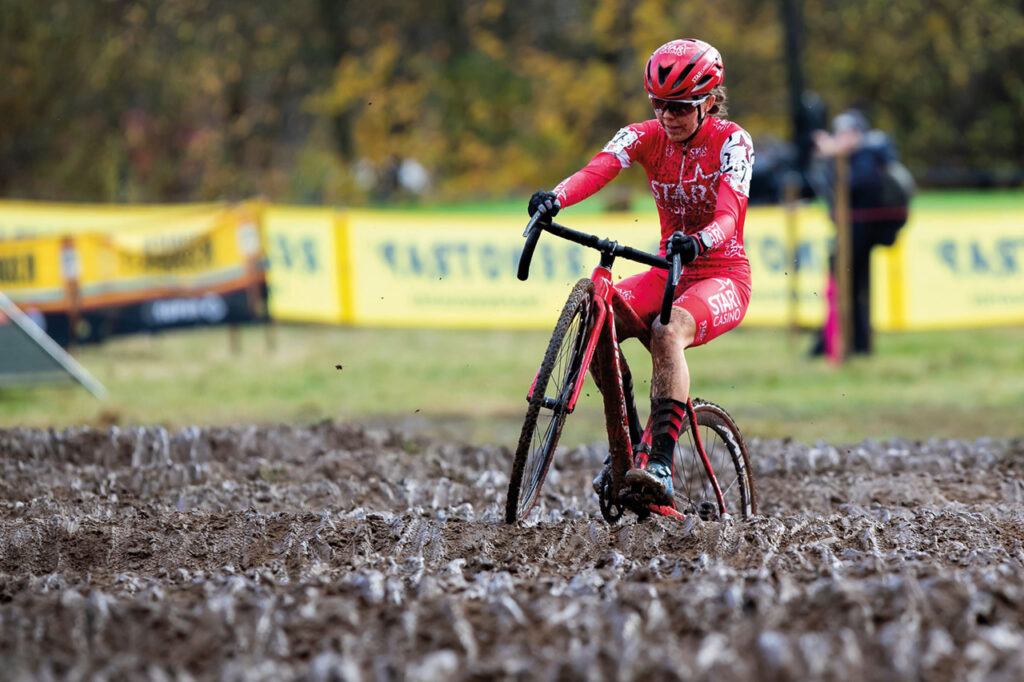 ANNA KAY, 22, CYCLOCROSS
Kay does her best work away from the slick roads and even slicker indoor tracks, in one of cycling's most compelling areas: cyclocross. Although a niche pursuit in the UK, the sport is absolutely huge in Belgium and the Netherlands through the winter months, with riders showing incredible strength and balance to power their machines through hour-long races around circuits made up of grass, mud, sand, steps, tree roots and anything else. Gateshead-born Kay is among a posse of Brits mixing it with the best, along with Yorkshire's Tom Pidcock and Welsh prodigy Zoe Backstedt, winners at the Worlds in the Elite Men and Junior Women races. Kay was sadly ruled out of competing with concussion, but time is on her side.
How does the training differ from road cycling?
"Cyclocross requires so many different sets of skills: running, upper body strength to lift your bike over various obstacles, technical ability and endurance strength but also explosive strength. So my training is very mixed with a lot of running and gym sessions but obviously the most important part of the training is being able to put that strength work off the bike into riding my bike.
What is it about this that appeals to you as a cycling discipline? 
"I have always loved the community in cyclocross. I started racing cyclocross to just have some extra racing through the winter, and I fell in love with everything about it, from the atmosphere to the friends, the different courses, the mud! I really love that you can race a completely different race each weekend – it can be sooo fast and dry, like a road race one week, and then the next weekend be mud, slippy corners, ruts and running, and I love how much variation that brings."
Is cyclocross starting to make a mark in the UK? And do you think it will pick up as the current crop of Brits continue to get results?
"Cyclocross is definitely growing in the UK. And you can see that from the junior categories already, Zoe winning the Worlds and Nathan Smith getting a bronze. It shows that there is a massive crop of younger riders."
Is the infrastructure and support there right now?
"There is a lot going on in British cycling to try and bring the youth and junior riders on. Lots of trips were cancelled this year because of Covid, but there had been plans to take quite a few junior riders over to the World Cup races. And I'm sure with the performances of Tom and Zoe and all the other GB riders at the Worlds this year, there will hopefully be a lot more money put into GB cyclocross, which will help a lot."
What are your plans for 2022?
"I'll be looking at doing a bit of a bigger road season and using this road racing to build strength and power. And my main focus will be the cyclocross season."
Are there any particular riders from past or present you see as inspirations? 
"I always loved watching Lars van der Haar race cyclocross. He was always kind of my inspiration when I was younger and still is."
---

Been up to much? Catching up with past Ones to Watch
Last year saw a rebirth of sorts for the standout of the first edition of this list in 2015, cricketer Haseeb Hameed. After his career hit the wall at Lancashire, Hameed, from Bolton, refound form at Nottinghamshire, regaining a place in England's batting order – not that that's been an enjoyable experience this winter. He's been dropped from the squad to play West Indies next month.
Also in that original list were cycling twins Adam and Simon Yates, both now legitimate Grand Tour contenders. Indeed Simon won the 2018 Vuelta a Espana. Swimmer James Guy (2016), like the Yateses from Bury, won two relay gold medals as GB's swim team won big at the Tokyo Olympics last year. Also winning gold at the Olympics was Oldham cyclist Matt Walls, picked as an 18 year old in 2017's list.
Footballing women have fared particularly well. Man City's Georgia Stanway (2015) has collected armfuls of trophies and England caps, while Beth England has flourished in a powerful Chelsea team, becoming women's footballer of the year for 2020. Katie Zelem, featured in 2016 as a Liverpool youngster, is now captain of Manchester United, a team that didn't even exist at the time of her listing.
In rugby, league player Mark Percival (2016) is now a staple for St Helens, double winners in 2021, while the Curry brothers, Ben and Tom, are part of the Sale and England fittings in union. Scarborough-born and now with Gloucester, Zoe Aldcroft (2017), was World Rugby Player of the Year in 2021 in the women's game.
Hameed is not the only cricketer to have excelled. Lancashire and England spinner Sophie Ecclestone (2018) has now been inked in as the world's number one Twenty20 bowler for a couple of years. Picked more for their promise in the longer format, Yorkshiremen Jack Leaning (2016) and Harry Brook (2018) have both found greater success in T20, Brook being selected in early 2022 for England.
In boxing, Zelfa Barrett (2017) has now compiled a pro record of 27 wins and one defeat, and is fancied for a world title shot this year.
Like the Big Issue North on Facebook