For over a month now, cars and vans have been following satnav directions through the labyrinth of residential streets above the West Yorkshire town of Keighley to finally roll up outside a former Catholic church and presbytery once known as Our Lady of Victories.
Set in large grounds, the stone-built Victorian buildings were given to a local charity for a peppercorn rent when a shortage of priests led to the church's deconsecration. They were renamed the Good Shepherd Centre and turned into a hub for the town's socially disadvantaged people. Since the invasion of Ukraine by Russia, however, the centre's reach has extended far beyond Keighley – more than 1,000 miles in fact – to help the two million-plus refugees, and counting, who have streamed across the border into Poland.
People drive up to the centre in vehicles crammed full of donations. A trickle in the first couple of days of war quickly turned into a flood, then a deluge. They came from the Yorkshire Dales to the north, towns and villages along the Aire Valley to the east, and Lancashire towns to the west. They brought warm clothing, shoes, beds, blankets, duvets, tents and sleeping bags. By no means all of these things had been cleared out from attics and garages; a striking indication of people's generosity is that many goods were new purchases still in their original packaging. They also donated bag upon bag of smaller items ranging from medication and toiletries to chocolate bars and dog chews.
Despite its relatively small size, the Good Shepherd Centre has mounted one of the UK's most impressive humanitarian aid efforts
"It has been overwhelming," says the centre's manager Dorota Plata, a former teaching assistant from Poland. "That first week was crazy, with vehicles forming long queues in the neighbourhood to bring donations and parking wherever they could find a space. I think our garden may have been wrecked."
Despite its relatively small size, the Good Shepherd Centre has mounted one of the UK's most impressive humanitarian aid efforts, and by last week it had already sent over 40 tons of goods to Poland. Workers there saw their decision to roll up their collective sleeves and help on the first day of the invasion as a logical extension to the work the centre had already been doing to assist refugees who arrived in Yorkshire after escaping other conflicts in the world.
The Good Shepherd's work is a classic example of people from all faiths and backgrounds coming together to help with the Ukrainian refugee crisis. Much of the early impetus, understandably, came from Keighley's own Ukrainian community, one of many established in Britain in the aftermath of the Second World War when 21,000 people arrived from Ukraine as "displaced persons".
A sizeable portion of them found work in northern mill towns like Keighley, where the number of people with Ukrainian heritage is well into three figures. There are also active branches of the British Association of Ukrainians in Bradford, Bury, Doncaster, Halifax, Huddersfield, Leeds, Manchester, Rochdale and Stockport. The Good Shepherd Centre's humanitarian aid effort soon expanded to involve other communities, including many East European immigrants who have settled in Keighley in the past 20 years. Its usual day-to-day work is helping all immigrants to resettle.
Almost 30 nationalities have passed through the centre since it opened in 2009, including recent waves of refugees from the Middle East and Africa, and they have become a ready-made pool of volunteers willing to lend a hand with the Ukraine effort, some of them working for 14 hours a day.
Among the first to turn up at the centre with a car-load of donations were local businesswoman Lorraine Couch and her daughter Leanne. Stunned to find that the buildings were almost bursting at the seams after just a few days they immediately offered space in their hydraulics company's vast warehouse, less than a mile away. This is where all donated goods are now transferred for sorting, boxing and palleting prior to being loaded onto articulated lorries.
These are also being provided free of charge. The Leo Group, a waste recycling company in Halifax owned by Danny Sawrij, who is half Ukrainian, responded to an appeal for help from a prominent member of Keighley's Ukrainian community, Nick Lajszczuk, now retired from running an architectural practice, who has known Sawrij for years.
Lajszczuk says: "I phoned Danny and he just listened to me then asked without hesitation how many trucks did we want? I told him we hadn't any money to pay for them but he said no problem – any trucks you need I will fund".
Helping to sort donations in the warehouse last week was Irene Cyhanko, who chairs the Ukrainian Women's Association in Keighley. Her father had come from the city of Lviv in western Ukraine after the Second World War, she says, and her mother had been an orphan with Belarussian parents. Brushing back tears, she talks of taking part in a Zoom meeting of 63 other Ukrainian associations in the UK, and they had all found the generosity of local people to be overwhelming.
Chris Bown, a Rotarian in Keighley, was busy splitting donated toiletries into different categories: shampoos into one box, shower gels into another, then different boxes for soaps, toothpaste, surgical dressings and medicines. Each box has to be clearly numbered and their contents described in Polish as well as English. "This may be humanitarian aid but there still has to be a customs declaration for every box," she says. "It's a mammoth task dealing with the red tape."
At one point over 40 people were lending a hand at the warehouse. So far around 6,000 large boxes have been filled and sent on the long journey to a distribution centre established in the southern Polish region of Opolskie, about an hour's drive from the border with Ukraine. Being both Polish themselves, Plata and her assistant Eweline Jankowska were able to smoothly set up that side of the operation to ensure that the aid being sent from Keighley goes to those who are most in need. From Opolskie, the medical supplies are being sent into Ukraine.
One report told of a three year old with just a teddy bear and bag of clothes being asked whether he had a military background or any prior convictions
But with donations now coming in for what will be their fourth truck heading to Poland they are also now preparing for an expected influx to the town of refugees from the war. Getting into the UK is not easy, however. The UK government has been criticised for its apparent reluctance to open doors to Ukrainian refugees. While EU countries have waived the necessity for visas, the Foreign Office is still insisting on the requirement. And in Poland UK volunteers who have been helping to process visa applications have complained that the questions they are forced to ask refugees are unreasonable.
One report told of a three year old with just a teddy bear and bag of clothes being asked whether he had a military background or any prior convictions. Also, adults were unable to proceed with their UK visa applications unless they produced mortgage deeds, which they were unlikely to have packed in their haste to escape the war.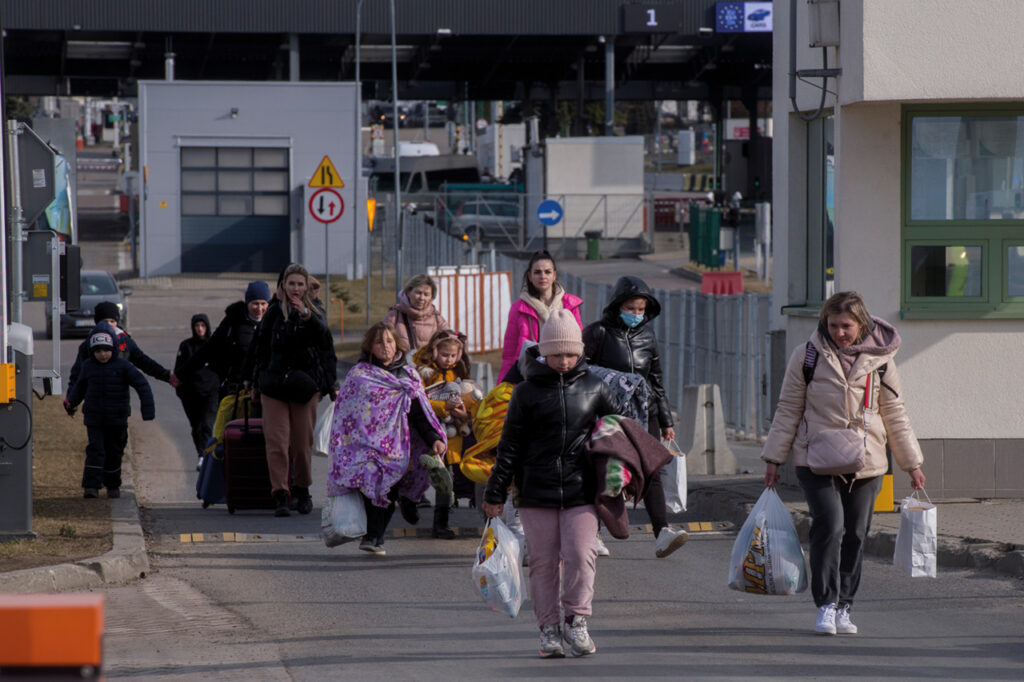 There are two visa schemes being operated by the government, one of them for Ukrainians who have an immediate or extended family in the UK. As of the middle of last week, of 33,500 applications submitted less than half had been told their visas would be granted. The other scheme is called "Homes for Ukraine" and allows UK residents and organisations to sponsor refugees with whom they have no family ties. At the time of writing no visas had been issued under this scheme and charities have warned that the applications process is "too convoluted".
In Keighley the Ukrainian community in the town is ready to help, although Lajszczuk believes the bureaucracy attached to visa applications is "ridiculous", providing too many hoops for refugees to jump through.
"I'm also concerned that the local Bradford council hasn't yet got a system in place for dealing with the problem. One necessity is for criminal records checks to be done on those offering to accommodate refugees to make sure unscrupulous people don't engage in people trafficking, so that people who have gone through the trauma of war don't come to another hell."
At the Good Shepherd Centre, Plata has been learning to speak Ukrainian with some help from Lajszczuk. The skills that were used to help resettle recent refugees from places like Syria and Eritrea, she says, will be deployed to help those now coming from the camps in eastern Europe.
Like the Big Issue North on Facebook