At 7.45am, when many people are just beginning the morning commute, ballet student Eleanor Ferguson has already arrived at London's Central School of Ballet and is beginning a day of dance and study with a mandatory half an hour warm-up. A crucial start to the day, the warm-up cannot be omitted for risk of injury and no body part or muscle group can be missed, ensuring that the body is warm and flexible enough to last the hours of dance ahead.
Ferguson began dancing ballet at the age of five at the Madeley School of Dance in Didsbury. That means, at the age of 17, she already has 12 years of ballet training under her belt. At 10, she had progressed from weekend classes to daily training at Centre Pointe in Denton and the next year was boarding in London.
"I didn't like ballet at first," says Ferguson. "I stopped and started three times but the third time round something changed and I started to enjoy it. After joining Centre Pointe, I showed interest in joining the Royal Ballet Lower School in London and after auditioning I was accepted to White Lodge Lower School.
"After that I set my sights on Central. By that point, I had a better idea of the level of competition I was up against. When I auditioned for White Lodge I was unaware how many dancers would apply – upward of 400 – so I dealt with the pressure well. When I applied for Central I was extremely nervous because I had my heart set on going to that school so there was a lot at stake for me personally.
"When I was accepted to Central I was absolutely ecstatic. The prospect of studying ballet full time, five and a half days a week was so exciting."
With not only natural talent and a strong work ethic, Ferguson has been gifted with the physical facilities that all dancers covet – a lithe, flexible body, long legs, a long neck, a small head and of course the beautifully arched feet that allow dancers to dance on pointe.
Her biggest supporters are her parents. "It must have been difficult for them when their 11-year-old daughter went away to live in London, but they have always been supportive of my ambitions and understood that I would have to move away at some point to continue training."
Now in her second year at Central, Ferguson has her sights set on graduating and finding herself a highly coveted spot in a professional company. She dreams of one day dancing for a company outside Europe or one that tours the world. And like many teenagers she still has ambitions to see the world and other cultures.
Dance school is not how it is represented in the media, she says. "The school is a lovely place to learn and dance. The teachers are all so inspiring. As ex-professional dancers themselves they have so much knowledge and there is so much to learn from them. Despite what some people may believe, the atmosphere here is so friendly, the school is quite small so everybody knows each other and we all feel comfortable.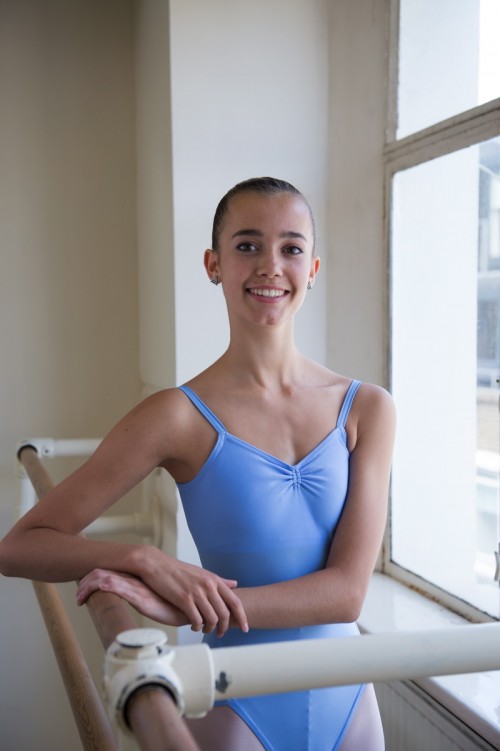 "There is not the competitive atmosphere that some people expect and everyone is recognised as an individual with their own dancing style. My classmates are very motivated and driven so the atmosphere here is encouraging".
Central has a similar set-up to a university – students attend for three years and at the end they leave with a degree or qualification. When Ferguson graduates she will hopes to achieve a BA Hons in professional dance and performance. The school has seen a lot of graduates secure roles in prestigious companies such as the Birmingham Royal Ballet and Matthew Bourne's New Adventures dance company.
Dancers work extremely hard. Classes begin at 8.45am and usually end at 5pm or 6pm. Until 10.45am, Ferguson has a normal ballet class consisting of basics like barre and centre, and after that her day varies. Depending on the time of year and rehearsal schedules, the day will be filled with a mix of pas de deux, contemporary, Spanish, jazz, pointe, repertoire, rehearsals or Pilates classes. In their spare time, students are expected to strengthen, stretch and, of course, practice, practice, practice.
"Ever since I decided I wanted to dance professionally that was it for me – there was nothing else I wanted to do," she says. "When I sit back for a second and reflect on my achievements so far and my lifestyle I suppose it does take a certain element of commitment and, to the outside world, it must look like a lot of effort but for me it's not. It feels normal.
"Obviously, being accepted first into White Lodge and then Central were two huge confidence boosts for me and they gave me even more motivation because it felt like I was on my way. It is strange to think that I have always known what I've wanted to do and it is a fantastic feeling to know I am on the right path to the career I truly want.
"On a daily basis, I make sure I always have short-term goals to challenge myself and stay motivated. I enjoy having a challenge as it keeps me pushing forward and improving. I will take a correction from class and work on it until I get it right."
"If you enjoy something then do it."
As for advice to similarly ambitious students she says: "If you enjoy something then do it. Don't do something because somebody tells you to and never give up something you love because someone tells you not to do it. I was told by one of my ballet teachers that the hard workers will always excel, talent alone can only take you so far but continuous hard work will always pay off".
Finally, when asked to pick a city – Manchester or London – Ferguson says: "I still love Manchester. I love the people and I miss the city, my family and friends. I will always be a northerner but I have to say for a dancer, London is a much better place to live. There is so much more opportunity here and there's more going on. I go and watch ballet every week and see performers from all over the world. Unfortunately, it's not the same up north.
"The people up north are better, obviously".
Special ticket offer for Big Issue North readers
Ballet Central is performing at the Lowry on 29 June – and we can offer readers a special discount on tickets.
Ballet Central 2015 features a dazzling programme of ballet, neoclassical, contemporary and narrative dance. The company's young and dynamic dancers will showcase their talent with a diverse performance of newly commissioned works and celebrated revivals.
Tickets are usually priced £15-£16.50. To book tickets for £10, readers should use the promo code BIGISSUE10 when booking on the phone or online. Tickets can be booked at www.thelowry.com or by calling 0843 208 6010.
Like the Big Issue North on Facebook