Clangers are back. The loveable space mice-type characters living on a weird planet were a big favourite on children's TV in the 1970s, and have been given a makeover for a new series on CBeebies. Buy Big Issue North, issue 1085, for the full story on the Altrincham animation company and puppet-makers that made it. Here's a review by our TV critic Dan Whitehead and, below, Q&A interviews with those involved. And find out how to knit your own Clanger.
Nostalgia is big business, even in the world of kids TV, it seems. Thunderbirds is back on the air, both the Teletubbies and Dangermouse are making a comeback in the near future, and now here are the Clangers, slide-whistling their way back into our hearts.
Whatever cynicism you might have regarding such revivals, which no doubt have their roots in some media boardroom discussion during which the words "brand leverage" may have been used, there's something about the sight of pink woollen moon mice that bypasses your crusty old shell and leaves you feeling warm and squidgy inside.
This certainly isn't a reboot, remake or any other marketing-driven buzzword. It is, quite simply, Clangers, almost exactly as you remember them when they last appeared on our screens in 1974. Just look at what time this revival goes out – early evening, when parents are just as likely to be settling down on the sofa with their little ones, ready to snuggle into a shared experience that spans four decades.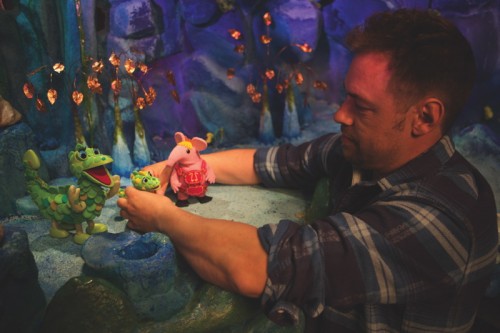 Michael Palin takes over on narration duties, and proves to be an inspired choice. He has the avuncular tone needed to step into Oliver Postgate's shoes, but also the sort of dry wit that underlines the playful surrealism of the show. The Soup Dragon, the Iron Chicken – every bizarre random detail returns, and is as blissfully unexplained as ever before. The storylines – many written by Postgate's son, Daniel – are also true to form. Gentle life lessons are learned, while curiosity is invoked and comradeship is reinforced. It's whimsical, but never twee.
The big difference is that the show now exists in the era of large high-definition tellies, and the result is revelatory. Still crafted by hand, using physical models and puppets, the show absolutely pops off the screen with its bright but tasteful colour palette. Best of all, you really get a sense for the tactile nature of this world, able to see the fibres and textures that have come together to create this craft table fantasy land.
It remains to be seen if this new iteration will be as cheeky and mischievous as before. The original Clanger scripts famously had swearing – masked by their whistling language in the performance – and the last ever episode, broadcast on the eve of the 1974 general Eeection, was a straight-up political satire. Even though they've lost some of their subversive intent, it's good to have them back.
Cbeebies, Monday 15 June, 5.30pm
Peter Firmin
Alongside Oliver Postgate, Peter Firmin was co-creator, puppet and model maker and illustrator of the original Clangers series. His other credits include Bagpuss, Noggin the Nog and Ivor the Engine. He is an executive producer on the current Clangers series.
Why did you want to get involved in the remake?
I still feel these puppets are part of the family. I needed to look after them.
What do you think makes Clangers so special and enduring?
We found that they lived a gentle life on their planet. They were friendly to all the strange creatures that they met, of whatever strange form or unusual colour.
What design input did you have in the new series?
I did sketches for the cross-section of the planet and the new set of Mother Clanger's garden, which provided a guide for the set-builders. On a smaller scale, I sketched a knitting machine, egg-bots, a space vehicle, and some singing flowers. These sketches only provide a starting point for the model makers who improve them by adding their own interpretation.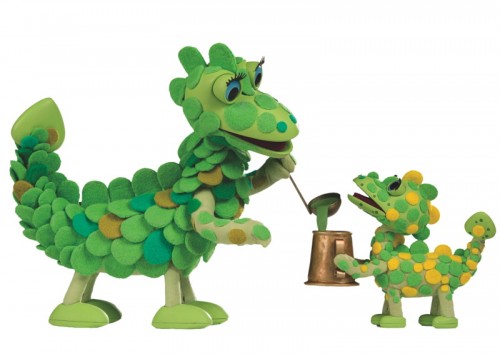 Is there anything from the original series that you couldn't do because of limitations of technology that you are now able to see to fruition in this series?
Oliver found it difficult to make things fly and jump. Now, with digital technology, all the armatures and rods can be erased and digital editing is possible.
What has it been like making this new series without Oliver Postgate and what do you think he would have made of it all?
We all miss Oliver's writing, his imagination and his voice… He would have embraced the new technology with enthusiasm although he would have found it difficult to work with such a large team. He preferred working alone.
The original series was quite psychedelic and you and Oliver were often asked what you were on.
When Oliver heard that question he said "Joan's tea and chocolate biscuits".
How did the surreal aspect of Clangers evolve?
Oliver and I always claimed that there was a sort of Clangers logic. For example, a small planet spins faster than ours, so there are fewer hours in the day. And at the centre the gravity is all messed up so the Froglets live in a sideways lake. I like the fact that you can see the music and the pattern it makes as it rises from the Gladstone Bag. In space anything is possible.
Michael Palin
Originally done by Oliver Postgate, narration in Clangers is all-important and Michael Palin says he felt he had big boots to fill. The job is to watch the little world from afar, while being part of the action, explaining what the Clangers are talking about and making sense of their adventures on the Blue Planet.
What was it about the narrator role that appealed to you?
My son Tom was about two or three when Clangers was in its heyday. I found it a lovely thing to watch and enjoy together because there was a gentle, relaxing pace to it. Strange and surreal things were happening, but it was never noisy or shouty. It could be instructional, but the message was never heavy. I thought that Oliver Postgate's narration was such an important part of it too. I felt comforted in a busy world to hear that lovely pace to the voice and the tone of curiosity and often puzzlement.
It's a classic, you know. For children's shows, it's like Hamlet
So you had no hesitation about saying yes to the role?
No hesitation in saying yes – it's one of the best things I've ever been offered. It's a classic, you know. For children's shows, it's like Hamlet.
Did you have any reservations about filling Postgate's shoes?
Yes – they were very big boots to fill and I needed to be reassured that they were absolutely happy that I was right for it. I met up with Daniel Postgate and Peter Firmin, who were rightly very protective of the show and I knew they would be honest and straightforward if it wasn't right. I was greatly relieved when the early recordings seemed to hit the right note.
How did you make the narration your own?
Well, I very much based my delivery on Oliver Postgate's original, but without wanting to replicate it completely. I thought his tone was always just right and his voice had a lovely sort of modulation – very soft and up and down, kind of caressing the words. I couldn't get it exactly like his but I was very much led by the work he had done.
Why do you think it will appeal to a new generation?
I think that children always like a story, and they will also like sounds – the soundtrack is very rich. There's humour there too but I think it's just about taking the children into a little world, on an adventure in a place that seems quite secure for them. It's something that, rather than making them excited and hyper, will actually calm them and I think that's a very strong appeal of the show.
What is your favourite Clanger phrase?
There are lots of "oh dears" in there and that's when things are about to go a little bit wrong. In every episode, although it turns out well in the end, there's always a crisis and that is usually signalled by the narrator saying "oh dear". When it comes along it always makes me smile.
Dan Postgate
Owner of Smallfilms and son of original creator Oliver Postgate, Dan Postgate is an executive producer on the show, as well as a scriptwriter and the voice of the Iron Chicken, Soup Dragon and Baby Soup Dragon.
What does it mean to you to be involved in this new series?
It's a great thrill and honour to be doing this, I can't think of anything I'd want to do more. Oliver gave me his blessing to carry on the Smallfilms legacy as I saw fit – to keep the family business going, as long as Peter was happy about it too.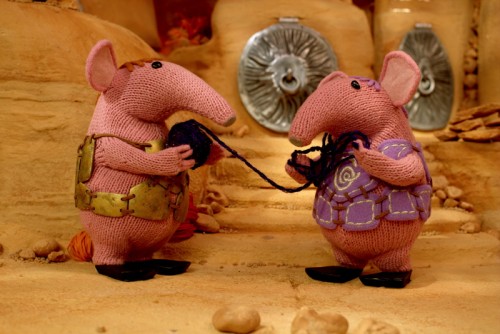 Are any of the characters based on your own family growing up?
I think all the Smallfilms shows had a kind of idealised family at its centre, or at least the ideals of a good family. The Clangers is about family life, albeit in a rather strange setting. Major Clanger, especially in the new series, bears a remarkable similarity to Oliver. He was a keen inventor and always liked to keep busy, and sometimes his inventions didn't quite go to plan.
What do you think gives Clangers its enduring magic?
I think it's because it's so realistic compared to the fantasy life we have down here on Earth. Clangers has a conceptual integrity, which allows the viewer to happily believe in the characters, as outlandish as they are, and invest in the "reality" of their daily lives. There's a sense that even when the cameras stop rolling the Clangers would continue going about their business.
Did you realise as a child that your father's and Peter's programmes would become classics of children's television?
In a word – no. I don't think anyone involved thought the worlds they created would necessarily endure. Oliver and Peter had big families to support and their only hope was to keep working and keep bringing home the bacon.
What do you think your father would think about this new series?
It's hard to say with absolute conviction. Oliver's opinions were never easy to predict as he was very much an original and individual thinker in all parts of his life. But I would guess that he would have liked it.
You have written many of the episodes for the new series. What has inspired your storylines?
The original series has been a great inspiration – in fact, it's so ingrained in my being that if you were to cut me I would bleed pink. I won't pretend that story ideas are easy. They rarely are – you have to think and think and think. Having said that, sometimes an idea will pop up at a most unexpected moment. It's a great feeling, like you've been fishing for hours with no luck, then while you're snoozing with your rod safely tucked away, a great big glistening fish leaps into your boat and flaps about at your feet.
What made your father's narration so unique and was it a conscious effort to make it a certain way?
Oliver narrated as himself, as he really was – remarking on the events as if they were really happening in front of a slightly posh 48-year-old man. He never spoke down to the kids or behaved towards the characters as if they were anything other than completely real.
Want to knit your own Clanger? Go to http://bbc.in/1MyBexo
Like the Big Issue North on Facebook