Every few years a young model is thrust from the catwalk or fashion magazine to the wider public sphere. The It Girl is not just the face of a beauty product, a fashion line or a perfume but of a culture, an era or a generation.
In 1999 16-year-old Laura Hollins, the middle child of divorced parents, worked in a fish and chip shop in Rossendale, where her family had relocated from Rochdale, but her rebellious punk style set her apart. She had her first taste of making a career out of it when she entered the local paper's modelling competition. She won, and was named the Face of '99 – but that face would go on to represent much more than the former Lancashire mill town.
On the advice of a numerologist, a friend of her nurse-cum-Reiki healer mother's, Hollins changed her name. Agyness Deyn was born and her star rose quickly.
Deyn moved to London with her best friend, aspiring fashion designer Henry Holland, by her side, and signed with Select model management. By 2007 she was gracing the cover of American Vogue among a crop of other new supermodels and was soon fronting campaigns for Burberry, Hugo Boss, Armani, Vivienne Westwood and more.
Deyn embodied the moment – the start of the financial crash sent the country on a nostalgia trip and, with her blonde cropped hair, she channelled It Girls before her like Twiggy and Edie Sedgewick.
She was punky when we were mad at the establishment. She was androgynous when we were mad at the beauty industry. She was effortless, beautiful but real.
In 2010 Deyn turned her attention to acting, landing a couple of roles appropriate for a woman who had forged a career from her good looks – Aphrodite in Clash of the Titans and a strong-minded stripper in 2012's Pusher. The same year, in an apparent U-turn on her former party-girl reputation and after just a few weeks dating, Deyn married Friends actor Giovanni Ribisi. In 2013 she took the lead role in Electricity, an independent adaptation of the Ray Robinson novel about a young woman with epilepsy. She wowed the critics as Lily and her career as a serious actor was born.
Now living in LA, Deyn and her younger sister Emily along with designer Tracy Moore quietly launched Title A, a women's fashion brand with integrity and a grown-up take on Deyn's gender-neutral style with classic and quality tailoring.
Now 32, she has traded in her rebellious look for one more conventional – her hair is natural in colour and, for the first time in 20 years, long. Despite living in the celebrity capital of the world, Deyn, newly divorced, lives a quieter life than ever, away from the paparazzi lens. In a rare interview, she welcomes the opportunity to talk to Big Issue North and tells us she's still in touch with her roots in Manchester.
What is Los Angeles life like?
I've been living in LA now for five years after moving here from a five-year stint in NYC. My life is very different now – early nights and up with the sun, hikes, beach vibes, dinners and visiting friends. And work, a lot of work between filming and Title A. I love it here even though it is the opposite in every way from my roots of Manchester.
Do you miss the north of England, where you grew up?
I miss the north terribly. You can take the girl out of Manchester but you can't take Manchester out of the girl. I'm so proud of where I'm from. I miss the people and the countryside the most. I go home as much as I can as my parents still live there. I go to the Lake District hiking to get my fix of good old northern air. I always feel revitalised… I'm not conscious of holding on to my northerness because it isn't possible to lose it.
Henry Holland has been by your side throughout your career. Are you still close?
Henry is and will always be my best friend and soul mate. Henry and our other best friends Jessica [Fletcher] and Rebecca [Mahallati] will always share a bond that is everlasting. As we are all northerners there is an unspoken bond which will be present till we're old and grey.
Why did you decide to leave modelling and are you more fulfilled as a designer and actor?
I modelled for 12 glorious years. I worked hard and played hard. I travelled and experienced life in a way I could never imagine. I decided to challenge myself creatively and throw myself into the adventure of new territory. Acting is a profound journey of personal growth for me. I'm trying to understand the human condition, which then breeds greater understanding of myself. I love expressing myself through the aesthetics of makeup and wardrobe. Designing fulfils this need and I get to work with my sister [Emily Deyn] and best friend [Tracy Moore] to grow and build a company we are all so proud of.
How did you prepare to play Lily – the epileptic young woman in Electricity?
I loved playing Lily – a strong soulful woman who fights for life. I worked with many wonderful people to help me create her. My friend Alanna, who has epilepsy and a team of specialists, walked me through learning and understanding epilepsy in regards to the body, mind and soul. People who live with epilepsy inspired me with their strength and uniqueness. Raising awareness is very important to me.
How did you cope with the physical demands of playing an epileptic in Electricity?
What I experienced physically was a speck of dust compared to what it is physically like to live with epilepsy. I had a few bruises but it was all worth it.
What's next in your acting career?
Sunset Song is due out this year, directed by the wonderful Terence Davies. I play a young woman called Chris Guthrie. Based in the early 20th century she lives a hard life in the Mearns in Scotland, on a farm with her dysfunctional family. She is strong and unwavering through her heroic journey.
How did being called an icon and an It Girl affect you?
Coming from a small town in the north, as you can imagine, these titles seemed very strange. I loved what I did, had fun and never took life too seriously. Looking back it was very unreal but an honour I can only hope to live up to. I prefer to live a more mellow life. I'm from Manchester – it's in our blood.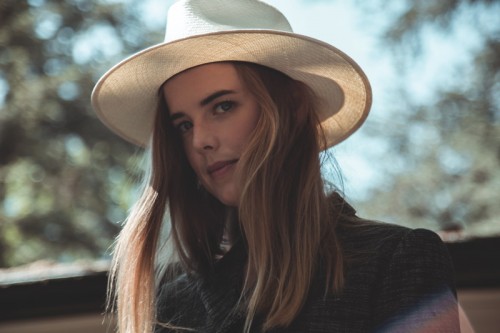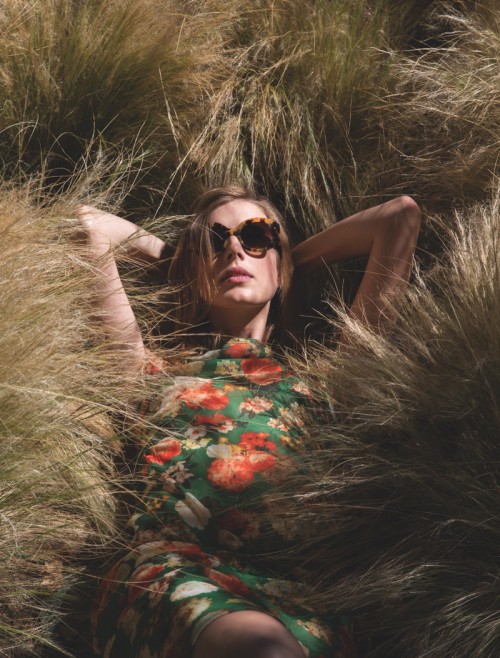 Which do you prefer – your twenties or thirties?
I loved my twenties. It was exciting and fast with a sense of invincibility. I lived to the max. Now I'm in my thirties I feel more peaceful within myself. I enjoy every year I get older. I love living and growing – the rough and the smooth.
How have you been since your divorce?
I'm good, thank you. I believe in love and everything that comes with it. I now have a friend forever.
Would you ever consider settling down in the north?
I will never say never but the California sunshine is a persuasive mistress.
When was Title A conceived and born?
Near the end of my collaboration with Doc Martens I couldn't shake the idea to make a brand that always had what I was looking for. This all started in 2013, and our first collection was shown in February 2014 in a hotel room in New York. It took trust, perseverance, priceless help from close friends and a solid team.
Title A makes menswear-quality tailoring for women. Is this a market women have been excluded from?
I think it's just part of the evolution of style and dressing for women. There's always been suiting available to women – the eighties were full of it – but maybe it retreated into office-wear for so long. I like the idea of pushing it out into something you can wear on the weekends and feel flawless in.
Have you made a conscious decision to use unconventional models in your campaigns for Title A?
Yes and no. We simply want to include people we love and admire. So whether they're models or photographers or lawyers or veterinarians, we feel like there's no reason not to have them in our campaigns.
How did you want to set yourself apart from other major labels with Title A?
There are a lot of amazing brands out there creating wonderful clothes. We hope to resonate with women who are looking for a wardrobe full of laid-back, slightly offbeat, well made clothes. We're always pushing to have the best construction quality possible, without tipping it into a luxury price point.
What are your hopes for the future of the brand?
For it to grow at a steady pace. It would be nice to have a bricks and mortar store and see our customers in person.
As a former model has your opinion of fashion designers changed since launching your own label?
I had been familiar with the pressures a fashion designer faces, just like I'm familiar with sky-diving to the degree that I've watched videos. Now that I'm the one jumping out it's definitely intense but satisfying.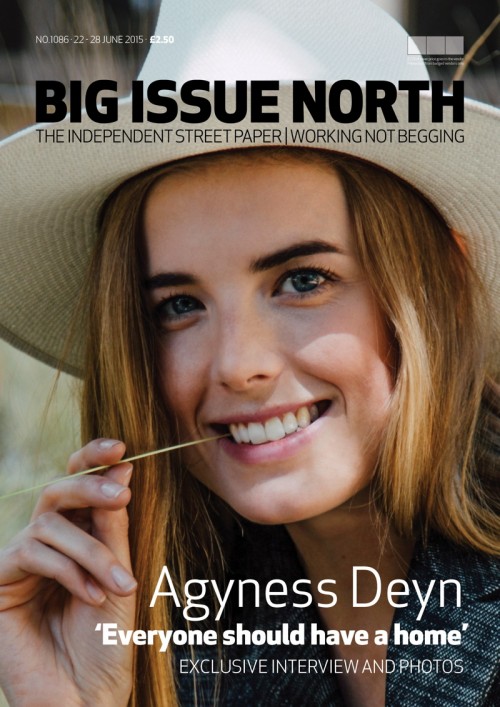 And what do you think about Big Issue North?
"Those words called out – 'Big Issue! Big Issue!' – have been part of my life for as long as I can remember. As a child I was inquisitive and perplexed that someone could not have a home. Everyone should have a home. Big Issue North is not only helping people to find their feet again, it is an amazingly interesting, creative and wonderful magazine. I buy it. I gravitate to those calls – 'Big Issue! Big Issue!'"
Exclusive photos shot for Big Issue North: Evan Walker. All clothing: Title A. Sunglasses: Barton Perreira, Hat: Scala
Like the Big Issue North on Facebook