BBC Radio 3 and the Arts and Humanities Research Council have announced the names of 10 academics who will be their latest New Generation Thinkers. The scheme, which was launched in 2010, aims to find the brightest minds of the future – people who have the ability to turn groundbreaking academic ideas into accessible and entertaining radio and television programmes. The 10 thinkers will spend a year working with presenters and producers to develop their ideas into radio broadcasts and short films for TV. Three of them – Catherine Fletcher, Nadine Muller and Sandeep Parmar – are based in the north. Here is a brief introduction to them and their ideas.
Name: Catherine Fletcher
Age: 40
Field of study: Politics and diplomacy in Renaissance and early modern Europe
Location: Sheffield University
Catherine Fletcher became fascinated with Renaissance history after a holiday in Florence when was she in her mid-twenties. She was working for the BBC's Political Unit and BBC Parliament as a researcher and TV producer, spending most of her days in Westminster. When she returned home to London, she enrolled on an evening course in Renaissance history. Her fascination deepened and she ended up studying part time for a masters degree in Renaissance and modern history at Royal Holloway University.
Fletcher, who grew up in Wirral and did her undergraduate degree in Liverpool, went on to complete a PhD at Royal Holloway looking at the diplomacy around Henry VIII's first divorce. Her research was later published as a book, Our Man In Rome. "It has an academic angle but it's also something that interests a broader public," she says. "It's important to find ways to link to the public mind, ways of communicating more effectively. Public money is spent on research so we have a responsibility to tell the public what we are doing."
Fletcher now works as a lecturer in public history at Sheffield University, where she has spent the past few years researching Alessandro de' Medici, the ruler of Florence between 1530 and 1537. "He is a fascinating historical character who is said to have been the illegitimate son of an African slave, although that's not entirely clear cut. It's a wonderful tale of bloody rivalry, Shakespearean in style. We don't necessarily associate Renaissance history with slavery, but this is a reminder that it existed in Europe too."
She sees the New Generation Thinkers programme as an opportunity to draw parallels between the politics of Renaissance Rome and modern Europe. "Five hundred years ago, Rome was the diplomatic centre of Europe, like Brussels is now. We had a structured diplomatic centre in Europe which, like Brussels now, suffered a lot of criticism and allegations of bureaucracy. So there is a parallel. It's not a straight parallel, but it is an interesting meeting point."
Name: Nadine Muller
Age: 31
Field of study: The widow in British literature and culture
Location: Liverpool John Moores University
Nadine Muller was born in Germany and moved to the UK in 2005 to study English literature and language at Salford University. "I always knew I wanted to be in the north and not the south," she says. "From the reading I had done, I just felt more of an affiliation with it." She now lives in New Mills and works as a lecturer in English literature and cultural history at Liverpool John Moores University.
Muller first became interested in the history of the widow when she was completing her PhD in Victorian fiction at Hull University. "I started to think about what is special about widows. Victorian widows were some of the first women to own property. A lot of people were quite worried by the idea that these women were single and independent and didn't need a chaperone. They were seen as quite threatening and dangerous."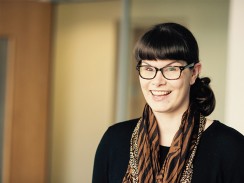 Her research has explored issues such as how war widows' pensions have changed over the years. "Financially, things took a long time to change. Up to the late 1970s there was still a tax on war widows' pensions. People who are still alive today remember having no food when they were children because their mothers were struggling to make ends meet. Many of them were forced to go to work, so they were deemed bad mothers – or they remarried. And people knew they might be desperate to remarry, so they were also seen as a threat."
Muller has been working with the War Widows' Association of Great Britain, which was created to campaign for the removal of tax on war widows' pensions. She says many of the association's members are older women with fascinating stories to tell. "For some reason, media requirements tend to focus on young widows, so the stories of these elderly women are never really heard. They have only recently been made part of the war commemorations. This could be one of our last chances to recover and record their experiences and I'm really excited to bring these stories to a wider audience."
Name: Sandeep Parmar
Age: 36
Field of study: Modernist women writers
Location: Liverpool University
Sandeep Parmar is an academic, poet and novelist. Born in Nottingham, she studied at UCLA in California before moving back to England in 2002. In her day job as a lecturer in English literature at Liverpool University, her research focuses on less well known women poets of the early 20th century including Nancy Cunard, Hope Mirrlees and Mina Loy.
Over the past year, Parmar has been taking advantage of public interest in Nancy Cunard thanks to the 175th anniversary of the Cunard shipping line, which took the first commercial passengers from Liverpool to the shores of America (Nancy was the heiress to the Cunard fortune). "Nancy Cunard is interesting because she was also an activist," Parmar says. "She was an anti-racist campaigner, disinherited because of her relationship with a black jazz musician, and she also published campaigning pamphlets during the Spanish Civil War. I want to make people aware of her social activism."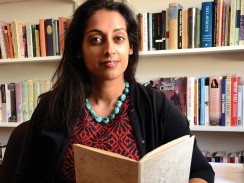 Parmar has also published two books of her own poetry, The Marble Orchard and Eidolon, a 21st-century retelling of the Helen of Troy myth. She's interested in exploring the under-representation of black and Asian authors in British poetry. "It doesn't necessarily represent multicultural Britain," she says. "In prose there seems to be a real passion for multiculturalism, but not in poetry."
Earlier this year, Parmar received funding from the British Council to spend time in Punjab, northern India, researching a novel set during the Green Revolution in agricultural production of the 1960s. Her parents were born in Punjab and the novel will be loosely based on her family's own story. "My grandfather used to work for the Board of Agriculture and one day he took some hybridised wheat seeds from work and planted them at home," she says. "That year, his wheat crop was better than everyone else's in the village. It's an interesting metaphor, because it also scattered the seed of the family all over the world. After the Green Revolution, their fortunes changed: they were able to send my father to university, they shifted class and were able to emigrate. It was an important moment in Indian history."
Main photo: Catherine Fletcher
Like the Big Issue North on Facebook