"It's a girl," declares Jane Eyre's father blissfully while Manchester actor Nadia Clifford emulates the wails of a newborn, thus setting the stage for an arresting stage adaptation of Charlotte Brontë's Victorian classic by the National Theatre.
The small cast, with its simple palette wood set, proves that a big budget professional theatre production does not require stage trickery. From those first wails from Clifford the cast requires its audience at the Lowry theatre to suspend its disbelief. When characters die, which shouldn't come as a spoiler to anyone familiar with the Brontës, they boldly walk off stage. The windy moors are conveyed by cast members manipulating the fabric of Clifford's skirt. And when costume changes are required, it's done in plain sight and even becomes part of the narrative, as we watch Jane grow from babyhood into a tormented child of 1o and then a young, passionate and ambitious woman.
This movement through time and Jane's wanderlust are represented through dramatic physical movement. Actual journeys between the tyrannical Mrs Reed's (Lynda Rooke) house at Gateshead, Lowood Institution for girls, run by the pious Mr Brocklehurst (Paul Mundell) and Thornfield Hall, where Mr Rochester (Tim Delap) resides, are depicted by running on the spot and transformed into perfectly convincing carriage rides across unforgiving terrain by the trio of musicians, who feature centre stage throughout the production.
With acoustic guitar, piano, double bass, accordion and more, Matthew Churcher, Alex Heane and David Ridley provide a dramatic soundscape that is gothic, Celtic and jazz influenced, evoking by turn the 19th century English countryside, the devout religious mood of the time and the exoticism of far-off lands alluded to by Mr Rochester's past.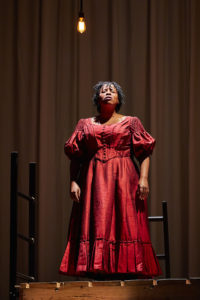 Melanie Marshall commands the stage when she provides a lyrical accompaniment to the three-piece band. Her libretto provides narration in keeping with Brontë's original text but a modern cover of Mad About The Boy closes the first half of the three hour-long play and a stripped-back version of Gnarls Barkley's Crazy provides a haunting monologue for Bertha Mason, played by Marshall, in the second half.
The National Theatre is largely true to the original tale – Brontë's timeless language requires no deciphering – and while parts of the epic narrative are condensed nothing is lost. But in giving the haunted character of Bertha this spotlight the National Theatre changes the conversation about the "mad woman" who's largely depicted by Brontë as a fearful hag rather than a tortured soul.
Hannah Bristow, Evelyn Miller, Lynda Rooke and Paul Mundell move effortlessly between a range of characters. Mundell deserves particular praise for his comic depiction of Pilot – Mr Rochester's dog – as does Bristow for her convincing and contrasting roles as children: the meek Helen Burns and excitable Adele.
But it's not just the acting that elevates this production. Lighting, soundscapes and costume are understated but meticulously executed under the masterful direction of Sally Cooke.
Jane Eyre remains one of the greatest and most perennially popular works of English fiction and the National Theatre has created a fitting tribute to the adventurous heroine by venturing away from its home on the South Bank. It is heartening to see a northern actor in the lead role and it's a thrill to see such productions brought to northern stages rather than live-streamed onto our cinema screens. Like the heroine herself the stage show is unadorned but there is nothing plain Jane about it.
Jane Eyre is at the Lowry Theatre until 15 April, then touring, visiting Sheffield, York, Leeds and Hull in the north
Like the Big Issue North on Facebook