It's the election in which the young are supposed to hold the key. First, they went AWOL at the EU referendum and allowed older people take them out of Europe, it is said. Second, the Labour manifesto commitment to abolishing university tuition fees is widely held to be an offer they can't refuse and will get them voting in record numbers.
As claims emerged that students at Keele University were being turned away from voting in a Labour marginal seat and with exit polls predicting the Conservatives might fail to win a majority, how did students vote in a constituency with one of the highest student populations in the UK?
Leeds North West has over a quarter of its population in full time higher education, and in 2015 elected Liberal Democrat Greg Mulholland as MP with a majority of just under 3,000. This time round, will the student vote see him replaced by nearest rival, Labour's Alex Sobel?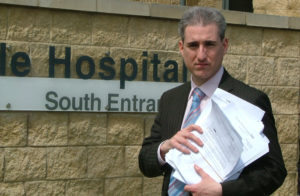 The omens weren't good for Mulholland. A few days before polling day it was revealed that voters on the constituency's electoral role had increased by 16 per cent compared with two years ago, and it was suggested that this reflected a rush by students to register in order to back Labour's scrapping of tuition fees.
When Big Issue North visited a polling station in Headingley, heartland of student flats and halls of residence, an admittedly unscientific vox pop of students leaving the polling booths painted a somewhat mixed picture.
"I think Labour's policy is definitely helping many young people like myself to get out and vote for them," said Faisal Shamallakh (pictured). "At first I wasn't very convinced when they came out with abolishing fees because at the last election they said they'd reduce them to about £6,000.
"It seemed incredible that they were now prepared to go the whole way, but the policy really caught on with students. It's bringing out people to vote for them."
However, Alicia Peel was less convinced. "I feel that a lot of people will just go to university for the sake of it if it doesn't cost anything," she said. "I know people who have gone to university and chosen the wrong course and left. No fees will just make people think less about what they really want to study. My parents are able to pay mine and I don't agree they should be free. That's quite controversial, isn't it?"
Well, actually, others we interviewed concurred. "It's unrealistic," said Ellie Barrow. "I think that higher eduction shouldn't be free, although it should be cheaper."
She was supported by Simon Foster. "I don't agree with Labour's policy," he said. "I don't think ordinary workers should be subsidising the academic elite."
But most of the students we interviewed were on the side of Labour's tuition fees policy, though not necessarily supporters of the party leader.
"I voted Labour because of their plans for fees," said Eve Harding. "I didn't vote for Jeremy Corbyn, but rather for the party's policies."
The interviews were conducted in late afternoon, and a more mature voter interviewed outside the polling station thought we were there too early. "I'm worried the students around here are all still in bed," said Rukhshanda Hussain, who is a barrister in Leeds. "They'll just be waking up and wondering what day it is," she laughed.
"But," she turned serious, "I hope the young vote is going to change the nature of this election. At the moment Theresa May is ahead, according to the final opinion polls, but perhaps the young ones will come out later and make a difference. It's in their interests to vote, and I just hope they realise that."
Photo: Faisal Shamallakh says student fees were an important issue (Roger Ratcliffe)
Like the Big Issue North on Facebook