Standing on a floating platform in the middle of a canal basin in Hull, watching three actors thrash about in torrential rain is not how a lot of television is made – but Flood is not like a lot of television.
A strand of programming on BBC Two called Performance Live is bringing the best of different types of live theatre to a primetime national audience for the next two years. It began in 2016 with Kate Tempest, and there was Paul Mason who performed Why It's Kicking Off Everywhere at the Young Vic. Later this year Manchester's mighty Egg's Collective is up. But next in the BBC's Performance Live series is us at Slung Low with Flood: To the Sea, the third instalment of our Flood project.
Flood is a year-long project commissioned by Hull UK City of Culture 2017 and written by James Phillips. We've left our Holbeck base in Leeds for the year to tell the story of an apocalyptic flood – first of people and then a mighty wave. The wave destroys the nation and the second half of the year is the telling of how those who survive try to rebuild the world.
The story has so far been told through short films on the internet and in live shows of sinking, fire-covered sets watched by crowds of people wearing headphones to fully immerse themselves in the action.
But the third part has been made especially for Performance Live on BBC Two. It's a part of the story that connects to the whole project but can be enjoyed by those who haven't seen anything that came before.
And that's why the whole Slung Low team, along with a BBC television crew, are standing in the middle of Hull's Victoria Dock on the wettest June day I can remember.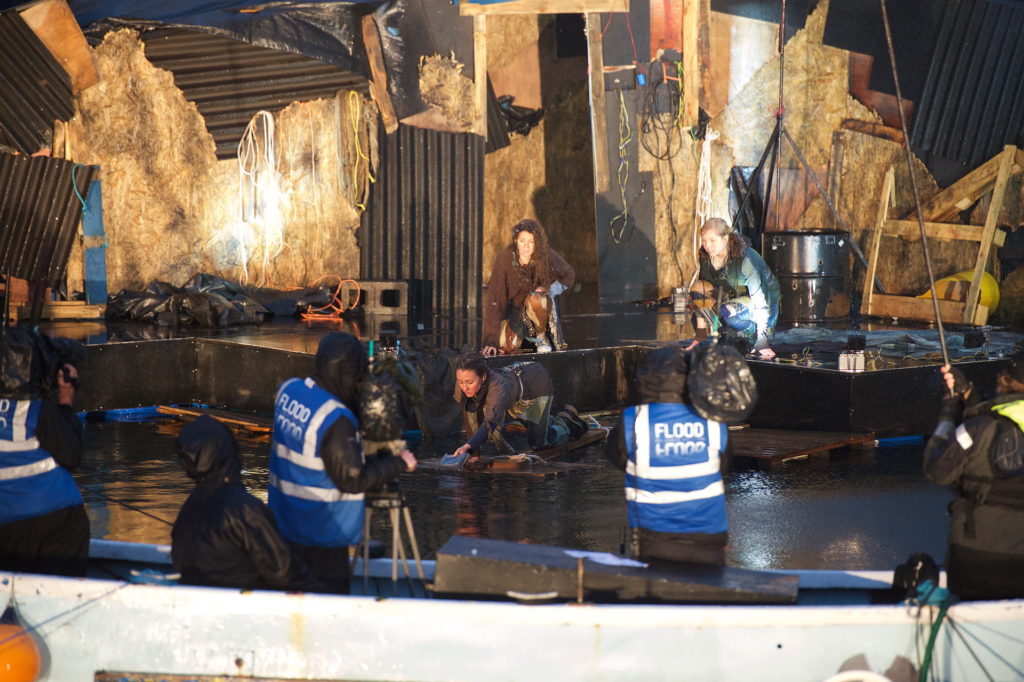 The action takes place at the height of the flood, and three characters are trapped in the water struggling for survival: that's the premise of the programme and so we prepare with a mighty rain machine and a set that floats and sinks – amongst dozens of other effects. We needn't have bothered with the rain machine because it rained so hard for two solid days. Our biggest problem wasn't making it look apocalyptic but making sure the microphones work as they got drenched through!
It's a different process making this for Performance Live. At Slung Low we're used to being one team that starts and ends a thing together, always working to the moment when an audience arrives to see it and lets us know what they think. This is a world apart from making television, which sees us working with executive producers, editors and a TV crew. As I write this, an audience hasn't even seen Flood: To the Sea yet but we have already moved on to preparing for the next instalment.
The potential rewards of Performance Live are huge; obviously for us, but hopefully for audiences too and especially those who have never even heard of Slung Low. When the piece goes out on Saturday 12 August, it will have a larger audience than all our live shows in the last decade combined. The opportunity to tell this story to many more people through the reach of BBC Two is incredibly exciting.
The discrepancy in arts funding and press attention between London and everywhere else is much discussed – and it has a real impact on art made in the north in terms of reach and audience experience. But there is a real shift afoot. It's partly happening through schemes like the one that saw Hull become UK City of Culture 2017. The amount of talent, energy, attention and funding that has been invested in Hull has meant that its citizens have been enjoying a quality and quantity of arts that they haven't experienced before. And now BBC Arts (along with its partners, Battersea Arts Centre and Arts Council England) has committed to sharing its live theatre with the rest of the nation. That's good news for everyone.
Performance Live and Hull UK City of Culture 2017 are the latest in the slow but steady trend that extends the range of where the nation gets its culture, how it experiences that culture and where it's experienced in the country.
Flood is a small, rain-soaked piece in a long process of change taking hold in the smarter decision-making rooms of British culture – a process that says that a canal basin in Hull is a stage as worthy as any other for a piece of theatre to be shared with the nation.
Flood: To the Sea will air on BBC Two on Saturday 12 August at 10pm
Like the Big Issue North on Facebook