On Friday 15 March, Christchurch, New Zealand fell victim to the eighth largest mass shooting in the world and the largest the country has witnessed in modern history. The shooter chose the Muslim day of worship for his attack and stormed into two crowded mosques killing 50 people and leaving another 48 in hospital. The reaction from politicians, the public and public figures resounded in harmony: this doesn't happen in New Zealand.
"The first time I realised that it was so serious was when a little girl came to the door, and she came through upside down, floppy. She looked dead. And then it hit me: children are coming in, this is really, really bad," a Christchurch doctor, who asked to remain anonymous, told Big Issue North.
It's been a difficult decade for Christchurch, the city that tragically lost 185 lives in the 2011 earthquake, and some have argued that of all the cities in New Zealand it is best prepared for such emergency procedures.
"It was crazy because it felt so disorganised but at the same time, it was completely organised," said the doctor, who received casualties at Christchurch hospital that day. "All these people started appearing. Every time we needed blood, it would arrive. If I needed a chest drain that would just appear. Things very much did [run like clockwork] and I have no idea how."
But whilst Christchurch may be better prepared for mass trauma following the natural disaster, it has been argued that more should have been done to tackle the cultural fault line. As the shock of Friday's violence subsides, many are questioning why a city previously dubbed New Zealand's home of white supremacy didn't do more to prevent an attack of this nature.
Professor Paul Spoonley, Massey University, has been researching New Zealand identity politics and far-right movements globally for almost 40 years. He spent much of the 90s talking to 70 extremist groups in the country.
"Last year I did a lot more work on hate speech," Spoonley said. "It struck
me that I hadn't quite realised how extensive Islamophobic hate speech is and the way in which it's spiked in the last three to five years, including in New Zealand."
Spoonley has been drawing government attention to his research for years but believes it has remained naïve about the extent of the threat.
"We tend to say, well, it's such a small problem, and such a small group of extreme activists, that we shouldn't really pay too much attention. But of course, it's not the size of the group. It's the fact they are prepared to do this at whatever point."
Impending danger
Pakeeza Rasheed, chairperson of the Khadija Leadership Network, a social enterprise empowering Muslim women, also tried to raise the alarm about the growing sense of impending danger within New Zealand's Muslim community.
"We saw a change in rhetoric, and seeing the global rise of the possibility [of attack]… that the rhetoric started to move into mainstream media here as well," she explained. Rasheed also feels that law changes, including increased surveillance, were publicly seen to be targeting the Muslim community. "[It was] normalising the fear and suspicion of Muslims. Our community as a whole was becoming more and more fearful."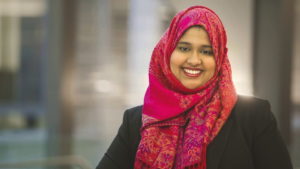 Anti-Defamation League research has shown white supremacist propaganda in the US increased by 182 per cent between 2017 and 2018 and Home Office data revealed a 40 per cent rise in religiously motivated hate crime in the UK during the same period.
Rasheed believes the outward image of New Zealand as a safe place is dangerous and the "this doesn't happen here" rhetoric is a damaging one. "It's disrespectful to the victims, we don't honour their memory by not asking these questions. [New Zealand is] suffering the effects of colonisation… there is a history of violence and othering so it is a natural progression to move on to the next scape-goat and that has globally been the Muslim community."
Protest and debate
The spread of extremist attitudes has largely been attributed to the internet. Facebook has become home to a web of groups in New Zealand claiming their duty is to "protect our lands, our national security and our sovereignty". However, a quick search on these pages reveals the types of fake news, racism and scare mongering that thrive there.
The web is not only where those with extremist ideas congregate and proliferate, but it was also the medium chosen by the shooter to launch his manifesto and livestream his actions, and where this disturbing video still circulates. Currently, these online groups remain small but online conversations are beginning to stir movement in the real world.
In 2018 far-right Canadian activists Stefan Molyneux and Lauren Southern, the latter of whom is banned from the UK for distributing racist material, were set to tour New Zealand. Ahead of the visit, they were banned from Auckland Council venues on the grounds that the spaces "shouldn't be used to stir up ethnic or religious tensions". What followed were a series of rallies in Auckland, Wellington and Christchurch to protest the suppression of free speech and a crowdfunding campaign that raised $50,000 in just 24 hours to take Auckland Council to court. The protestors also carried banners reading "Beware Sharia Law".
The protests sparked debate, echoing those in modern politics around the world, about where the line lay between free speech and hate speech. Hate crime is not currently a criminal offence in New Zealand, although provision is made under the Human Rights Act. Spoonley believes that the tragic events on 15 March will be the motivation needed to make a change to the law.
"This is a huge game changer, one which alters the way in which New Zealanders see themselves and the way in which others see us," he explained. "If we denied that this extreme right existed before, we can no longer. Everybody, from the prime minister, the government, government agencies through to the community are not going to want to ignore this any longer."
However, Rasheed says that although we should discuss new legislation around hate crimes, we shouldn't rush into implementing changes.
Long-awaited action
"We have colonial power structures in place geared towards the marginalisation of minorities so if you're passing legislation, who is more likely to get ensnared in it? People of colour.
"Everybody needs to take a good, hard look at themselves. There needs to be a deeper understanding and they need to take responsibility. Not just the state but in combination with the media. We're not afforded the same opportunity to express our individuality and to show our diversity and show Muslim voices. There's a whole package that needs to be done here."
Following the attack, New Zealand's Prime Minister Jacinda Ardern swiftly announced her commitment to changing gun laws which allowed the 28-year-old Australian to amass a number of semi-automatic weapons during his two years in the country. This quick action has been welcomed unanimously by the cabinet and largely across New Zealand but looks to be just the start of long-awaited action.
Like the Big Issue North on Facebook