The first set of data collected on female genital mutilation is the "tip of the iceberg", according to a Manchester expert.
Nestac's Peggy Mulongo, a mental health practitioner whose work with African communities has enabled her to challenge female genital mutilation (FGM) locally, said the data collected by health professionals in the last 12 months is "just the first step".
There were 5,700 newly recorded cases of FGM in England in 2015-16, according to the first annual publication of statistics by the Health and Social Care Information Centre (HSCIC).
Some 385 of these cases were in the north and majority of those – 65 per cent – in Greater Manchester. Mulongo told Big Issue North she has dealt with 200 cases besides the 250 recorded in Manchester in the same period.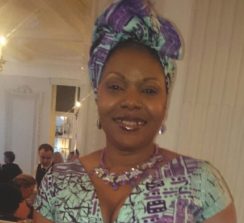 "It's a very good initiative and we needed to start somewhere but the difficulty is how we capture data. The focus is mainly around health professionals, mental health and GPs, but we need other sources for it to be representative," she said. "I'm sure that, in a year, if we have other sources of collection like charities, then we'll be realising it's nearly nothing that we are seeing now."
The FGM statistics, published today (21 July), showed that there were 8,660 total attendances at NHS trusts by victims of FGM for the period April 2015 to March 2016. Nearly all – 99.6 per cent – of the women and girls live in urban areas.
The data is the first of its kind since it became mandatory for all acute trusts to record cases in October last year, providing insight into the practice and prevalence of FGM in England. But as reporting only became mandatory part way through the year in question, the data is incomplete, and it only illustrates the number of women and girls receiving gynaecological attention, rather than how widely FGM is practised.
Women and girls born in Somalia account for more than a third of newly recorded cases, while 43 cases involved women and girls born in the UK. It has been illegal to perform FGM in the UK since 1985 and to travel from the UK to undergo the practice abroad since 2003, but in 18 cases FGM was undertaken in the UK.
FGM is a cultural practice that has existed for millennia. Concentrated in African countries, it is typically carried out on children between birth and puberty, and involves the partial or total removal of the external female genitalia for non-medical reasons. The procedure is usually carried out by a traditional female circumciser with no medical background who uses a blade or razor – often without anaesthesia.
There are four types of FGM, varying from partial or total removal of the clitoris and labia minora (type two) to all harmful procedures to female genitalia including piercing (type four). Type one FGM (partial or total removal of the clitoris and/or the prepuce) was the most commonly identified type, with 893 cases recorded. But the type was unknown for the majority of the 2015-16 cases (3,039) suggesting many health professionals don't fully understand FGM.
Naana Otoo-Oyortey, executive director of Forward – an organisation working in the UK to end FGM – has called for better training for health professionals so they can "support women better".
"The data will support the Department of Health's FGM prevention programme."
Mulongo praised St Mary's Hospital in Manchester – where Nestac runs a clinic for FGM victims – saying it has worked very hard and pointing out that its data collection model has been adopted by others.
Peter Knighton, HSCIC statistician, said: "The data will support the Department of Health's FGM prevention programme and improve the NHS response to FGM by raising awareness, enabling the provision of services and management of FGM, and safeguarding girls at risk."
Of the cases recorded by the HSCIC the most common age group in which FGM was undertaken was between five and nine years old. Some 106 girls were under 18 at the time they were seen. But Mulongo said there is a huge gap in the data for girls.
"Some of the 450 women we've seen in a year will be included in the report because we get referrals from the hospital. But some of them are not included – for example, young people who have been through the procedure but are not in touch with health organisations, because they are not pregnant. So all that data is missing."
The majority of cases were identified as a result of pregnancy – 87 per cent – suggesting women are not seeking medical attention as a direct result of FGM in large numbers. FGM, however, can lead to infertility, suggesting further cases will go unidentified. Some 145 cases of deinfibulation had to be performed over the 12 months to assist childbirth. This involves cutting open the stitched outer labia – performed in type three FGM ­– to facilitate delivery.
Mulongo acknowledged there is a possibility that some women will be deterred by the recording of cases but said victims are more likely to avoid seeking medical attention due to a fear of talking about FGM. She called for more emotional support for those feeling affected by it.
Otoo-Oyortey welcomed the publication of the data but called for Wales, Scotland and Northern Ireland to join England in collecting it.
She asked what investigations had been carried out into the 18 cases of FGM undertaken in the UK, and any since 2003 of girls being taken out of the country for FGM, when that became illegal.
She said: "We feel this data validates the tireless call by Forward that communities affected by FGM in the UK need to be engaged better by the government and professionals to effectively and permanently prevent FGM in the UK."
Main photo: Forward volunteers working with the community
Like the Big Issue North on Facebook