The story of South Yorkshire's coal mining industry looms large in Doncaster, a town that has been hit by unemployment and economic decline since the last pits closed in 2015. But a new group with roots in the women's movement that emerged during the 1984-85 Miners' Strike has emerged to fight the closure of the town's Women's Aid Centre and austerity cuts that are harming women.
Reliant on Big Lottery funding after the town's Labour-run council cut its budget in 2013, Doncaster Women's Aid faced closure last April after the money dried up. The idea of losing it was "unthinkable", according one of its former employees, Louise Harrison, not only because it would leave women in the area without a service for support and advice, but also would be the latest in a long line of closures and cuts.
"It was so devastating, the idea that we were going to be closing, and on top of every other service that was closing," said Harrison. "And when you think my dad was involved in the Miners' Strike and they lost, my mum was a library worker and it shut down."
Reduced service
Determination that Doncaster would not lose another vital service propelled Harrison to draw together a diverse group of women, including some who had been part of the women's movement that fought pit closures during the Miners Strike and the peace camp at Greenham Common. Calling themselves Women's Lives Matter, they staged a high visibility campaign calling on councillors to save a service that had helped thousands of domestic abuse survivors over its 40-year history. Ultimately, the Women's Aid centre did close, but only after the council agreed a £30,000 grant for a new independent service that opened in the town last month.
The new grassroots service is greatly reduced, offering only a fraction of the courses and services that were available through Women's Aid – this in a town that has some of the highest levels of domestic violence. There were 6,700 reported cases in 2012, and numbers have continued to rise. In two months during 2015, a total of 2,057 incidents were reported in Doncaster. Across the whole of South Yorkshire there were 13,000 domestic abuse incidents reported between April 2014 and October the following year.
"I just couldn't imagine not doing the job, not when you know how much it's needed," said Harrison, who added that while the new service will primarily serve Doncaster, the decision to call it South Yorkshire Women's Aid was a "political" one. "There are no other Women's Aids in the whole of South Yorkshire, which is quite something if you think of Barnsley, think of Rotherham, as well as Doncaster," she said.
The Miners' Strike proved to be a turning point for many women, who became politically active during that time. One of them, Joyce Sheppard, Harrison's mother, said the campaign to save the Women's Aid Centre was another significant moment for Doncaster, not least because it highlighted an issue that for many years was not spoken openly about.
Tradition of resistance
"I think it's always been there, but people just didn't speak about it. In some ways, it was seen as a normal thing – that people would get drunk, women had to know their place," said Sheppard. "Being on the streets, people were coming up to us and saying: 'This happened to me.' We realised that we were giving women an outlet to open up."
Sheppard had always been "politically aware", she said, but her involvement in the strike altered her expectations of herself and her life. Within three years of the strike ending she was divorced and entered further education.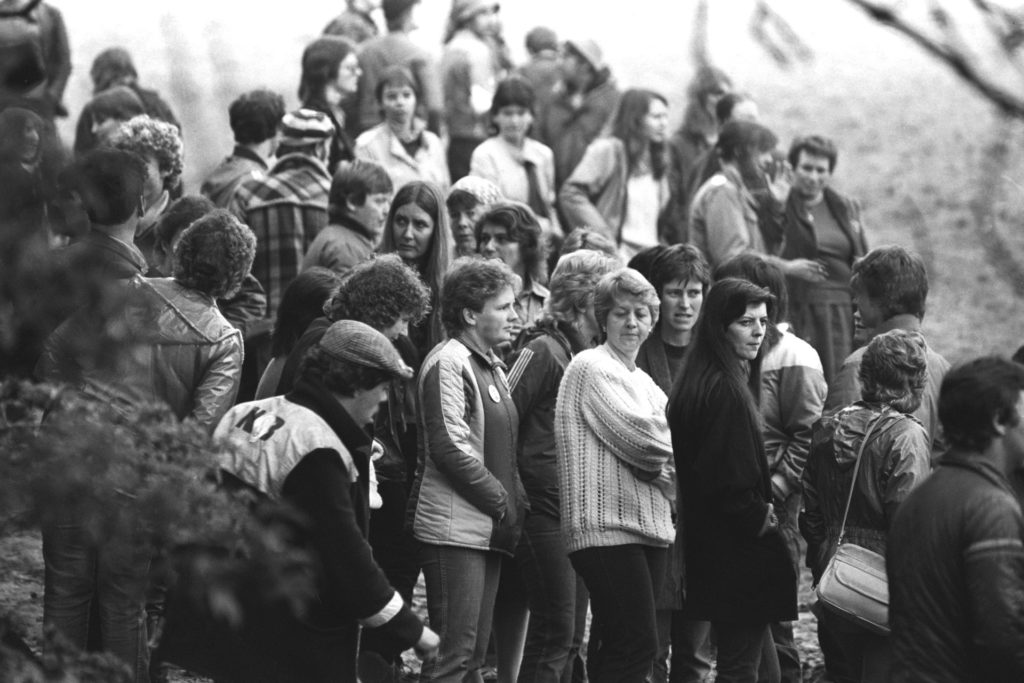 "It all started out that women were just in the kitchen doing the meals. It was get your pinny on and get your mash and shepherd's pie done, and the custard," she said. "That's what it started off as, but as it gathered pace, some women wanted to do more and we went picketing. Some of the men didn't want the women to do any more. I'd thought they would be pleased, but that's the naivety, isn't it? But the men wanted to hold onto power, although we didn't take any notice."
Although the tradition of resistance is strong in Doncaster, Women's Lives Matter has also been inspired by the tactics of a new generation of campaigners. Sisters Uncut made the headlines after a 2015 protest on the red carpet at the London premiere of the film Suffragette. Harrison got in touch.
"Being a fan of Marvel, I saw Sisters Uncut in terms of being these young, absolutely amazing group of women who could save us. I mean, who goes onto the streets and shouts about domestic violence and women dying? Who has ever done that in the centuries of women being murdered and abused?"
Perfect storm
But instead of coming to Doncaster to "do their stunts", as Harrison first hoped, Sisters Uncut encouraged staff and the town's network of activists to stage their own campaign.
"What was so fantastic was the fact that they actually looked to us and thought wow, there is a community here that actually wants to save it," said Harrison.
The future of the centre in the town has been secured for a year, but Women's Lives Matter is under no illusion about the scale of the task ahead to make even a reduced service sustainable. A crowdfunding campaign is underway to raise £11,500 for a phone line for the new South Yorkshire Women's Aid service.
While the work setting up the new centre and securing funds goes on, Women's Lives Matter members are also focused on highlighting the impact that cuts to services, such as the closing of women's refuges, changes to welfare and austerity are having on women's lives. A particular focus in the coming year will be opposing benefits sanctions for women who have experienced domestic violence.
"We're starting a new campaign demonstrating outside the dole office around the sanctioning of women who are suffering domestic violence," said Harrison. "We're standing outside, with a megaphone and a big banner that says domestic violence kills women. Benefits sanctions kill women. We want the management to speak to us and promise that they won't sanction women who are suffering domestic violence."
Behind the sanctions campaign is concern that changes to the benefits system, together with cuts at both national and local level, are unleashing a perfect storm for women – creating hardship while dismantling the structures that they might look to for support.
"Clearly the number one thing is the violence itself," said Ian Davies, one of a handful of men who are members of Women's Lives Matter. "But linked into it are issues around housing, secure accommodation, there are often children involved, and there are issues to do with money. If you fall down on any one of those, the person is likely to deepen their problems."
Women's Lives Matter is also linking up with other campaigns in the area, such as strike action last year by teaching assistants in Durham who were facing a 20 per cent pay cut and the Fast Food campaign for a living wage in Sheffield's fast food chains. Both are sectors with a large proportion of female workers, a reality that requires a shift in the way the labour movement organises, Women's Lives Matter argue.
"There is a massive attack on women going on," said Harrison. "In a meeting I said to Len McCluskey [general secretary of the Unite union], that in the 1970s and 1980s we all got behind working-class men. It is now time for the unions to do that for women. If not, they are absolutely going to destroy us."
Main image: Neil Terry
Like the Big Issue North on Facebook