Big Issue North closed its Manchester office at 1pm this afternoon as police urged people to stay away from the city centre and allow the emergency services to complete their work following the Manchester Arena bomb that has killed 22 people and left scores with life-threatening injuries.
A 23-year-old man has been arrested in Chorlton in connection with the incident and police also raided addresses in Fallowfield and Whalley Range.
Big Issue North staff have contacted all bar one of the vendors who sell the magazine near Manchester Arena and are assured of their safety. Efforts are continuing to contact the remaining vendor, who is believed not to have been actively selling the magazine recently.
Manchester Metrolink officials said Victoria Station was likely to remain closed for at least 24 hours following the suspected suicide attack at a concert by US pop star Ariana Grande on Monday night.
They said tram services during the evening rush hour would be affected and no trams would run through Market Street, Shudehill or Victoria.
The Arndale shopping centre was evacuated in the morning and a man arrested, but police later said it was not in connection with the Manchester Arena attack. The shopping centre was reopened shortly after.
Before travelling to Greater Manchester Police HQ with home secretary Amber Rudd, Theresa May said the name of the suspect in the attack was known to security services.
A Greater Manchester Police spokesperson said: "Police have executed warrants, one in Whalley Range, and one in Fallowfield, where a controlled explosion took place, as part of the investigation into last night's horrific attack at the Manchester arena."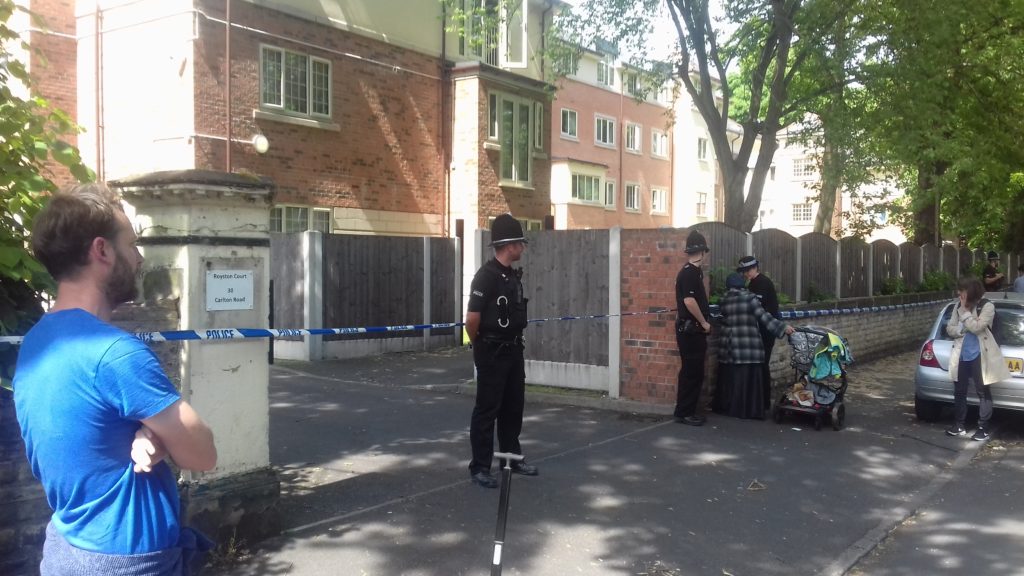 Armed police were reported to still be in the Whalley Range address at 3pm following a raid at around noon, and officers guarded the entrance.
Mussab Amari, who was staying nearby, said he opened a window after hearing loud noises. "I saw the police – everyone was armed. They broke down the door," said 22-year-old Amari.
"I came downstairs and asked them what was happening. They said they couldn't tell me but told me I had to stay outside for my own safety.
"I said I had to go inside to get my clothes for college but they said I had to stay outside."
Daniel Achim, Big Issue North regional manager, said: "Our thoughts are with the family and friends of the victims of last night's attack.
"We took the decision to close the office early with the safety of our vendors in mind and in respect of the police call for people not come into the city centre unnecessarily."
A vigil for the victims is due to be held in Albert Square at 6pm on Tuesday evening.
Police have issued emergency numbers for those affected – 0161 856 9400 or 0161 856 9900.
The Big Issue North office will re-open at the normal time of 8am tomorrow.
Like the Big Issue North on Facebook