Farmers hailing from Lancashire, Cumbria and Cheshire are among those honoured at the prestigious British Farming Awards.
The awards have been made at an uncertain time for British farming, following a hot summer that threatened crops and ahead of Brexit and changes to the Common Agricultural Policy.
Tom and Karen Halton, from Chance Hall Farm near Congleton in Cheshire, won a silver award for dairy innovator of the year.
They have 530 cows, producing an average of over 10,000 litres of milk a year. A further 300 heifers are waiting to enter the herd.
As well as selling milk on contract, the Haltons have an on-site vending machine where they sell raw milk, cheese produced with their own milk, and eggs from a flock of rescued battery hens.
Aiming to be in the top 1 per cent of profitable dairy farms in the country, they have focused on maintaining excellent cow health and fertility and run social media groups to share best practice in cow management.
"It's quite humbling for us for someone to acknowledge that we are innovators," said Tom Halton. "And it's such a big industry, for somebody to have singled us out and for us to then get into the final six is massive really. We were really chuffed."
The couple host school visits to educate children about what it takes to run a dairy farm
The dairy industry has been criticised over animal welfare recently, with campaigners singling out practices such as the forced insemination of cows so they can produce milk, and the subsequent early separation of calves from their mothers. But the Haltons are determined to fight those perceptions.
The couple host school visits to educate children about what it takes to run a dairy farm, while the farm shop and milk vending machines – installed two years ago – give them a further opportunity to connect with the public.
Tom believes the public are becoming more aware of farming practices and how food gets to their plates.
"We feel like we're really sharing knowledge with the public, putting over a good case for dairy farming," he said. "It's not as bad as it's painted. We we're trying to spread the good word about dairy farming."
Thomas Pemberton is another northern award winner, winning gold in the digital innovator of the year category.
Pemberton Dairies near Lytham, Lancashire, diversified into raw milk in 2016, prompting him to begin promoting the business online and educating the public about farming.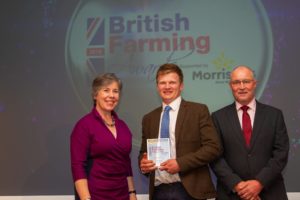 After a video he made instructing customers how to use the farm's new raw milk vending machine garnered over 11,000 views, he was encouraged to start a YouTube channel that now has 25,000 subscribers.
"I found out that people wanted to know about the cows and the calves and how we did the machinery stuff, so we did that," said Pemberton. "Then it kind of just exploded.
"It was a total accident. I didn't think: 'Oh, I'm going to become a YouTuber.' I just said I'm going to do these videos to promote the farm shop and grow the farm shop.
"I want to bring farming into a good light. I think there's a bit of bad press about farming. We need to push the good stuff and we need to be a bit more transparent. I don't think we do that enough.
"People need to see what we're doing and know what we're doing so they know the amount of good we do for the landscape and the wildlife."
The judges said: "Recognising the potential of digital media, Tom's enthusiasm for the farming industry is infectious and makes him a stand-out character who will continue to appeal for a long time to come."
The other winners from the north were: James Duerden, from Cumbria, who won gold in the beef innovator of the year category; Steven Holmes, from Lancashire, winning gold in diversification innovator of the year for small/medium business; the Webster family from Lancashire, silver in the family farming business of the year; Cheshire's Kathryn Mitchell, gold in diversification innovator of the year for a large business; and Lesley Tait, also from Cheshire, who won silver in the farm worker of the year category.
If the CAP doesn't fit
With Brexit on the horizon, many farmers are worried about what will replace Common Agricultural Policy payments following the UK's withdrawal on 9 March next year.
UK farmers currently receive £3 billion under the Common Agricultural Policy (CAP).
Environment secretary Michael Gove has pledged to maintain those payments until 2021 but then a new system will come into place based less on the amount of land a farmer owns and more on the way they manage their environment.
Gove claimed the CAP unjustly rewarded the wealthiest landowners, whereas the new system would pay farmers for public goods, such as promoting access to the countryside and planting meadows.
But Tom and Karen Halton, who won second place in the dairy farmer of the year category at the British Farming Awards, are concerned about the change and what it may hold for their business.
Tom said livestock farmers should also be recognised for their contribution to animal wellbeing.
"It's like anything politicians do, isn't it? From their ivory tower, it's very different."
"There should be something towards the environment but if you're a big arable farmer, you're only having an effect on the environment, whereas we're having an effect on animal welfare," he said.
Karen Halton believes policymakers have not consulted sufficiently with farmers in drawing up the new system.
"I don't know many of them that have ever put some wellies on and actually worked on a farm and done a day there and realised what's actually going on.
"It's like anything they do, isn't it? From their ivory tower, it's very different."
Farmers are also concerned about the effect of Brexit on trade. They fear exports might become harder in the event of a bad deal or no deal, and are also concerned that the UK may lower animal welfare standards for imports if ministers strike new deals with countries such as the US.
In June the All-Party Parliamentary Group on Agroecology also warned that an increase in foreign direct investment into the UK could force farmers to adopt less sustainable farming systems.
Like Big Issue North on Facebook