A sports coach who recently featured in a BBC documentary about the UK's first all-Asian girls cricket team has called on the wider Asian community to no longer consider girls playing sport a taboo subject.
Hami Shahzad came across the Bradford teens when they were practising in his local community centre in Keighley after struggling to find anywhere that would let them train closer to home.
Impressed with the knowledge and passion expressed by the Muslim schoolgirls, who were then pupils at Carlton Bolling High School, Shahzad offered to sponsor their training and travelling as they took on other school teams from across the country, usually playing against white pupils from elite schools and eventually becoming one of the top school teams in the country.
Discrimination from rivals
Not only did the girls meet discrimination from rival teams, with one recalling
how some players refused to shake their hands, they also met it in their own community, with boys from a nearby high school telling them playing sport made them look like boys, while some family members were keen for them for them to focus less on cricket and
more on their GCSEs.
Shahzad, who worked with the team for two years, says he wanted to help the girls realise their potential on the field after he felt inspired by their interest and enthusiasm for the sport.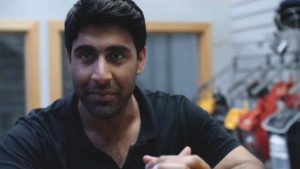 "The first time I saw the girls I was really impressed – I was inspired," said Shahzad. "I've got an 11-year-old daughter I brought to see them play because a lot of girls have insecurities about sport.
"I did want to help. It was really important for me to push it because it gives a chance for the next generation of girls to be less self-conscious about getting out there. There's no reason why they shouldn't."
Highs and lows
The documentary, Bats, Balls and Bradford Girls, is now available on BBC iPlayer and shows the highs and lows experienced by the team as they juggle training with their
GCSEs and family commitments.
According to a 2010 report by charity Women In Sport, participation in sport among ethnic minority communities is well below the national average, with only 12.5 per cent of Asian women doing enough exercise each week to benefit their health, compared with 18.8 per cent of white women.
"It's nothing to look down on"
Shahzad told Big Issue North how he hopes the programme will inspire other young Asian girls to pursue sport, while calling on the Asian community to encourage physical activity among young females.
"As long as there is a safe environment for them to play and train it is good," he said. "It's a positive thing and it needs to be promoted. It's not something that should be frowned upon or seen as a taboo. It's only fair that they get their chance.
"I think it is something that should be pushed. It's nothing to be looked down on. I know there's a big issue with the mingling of girls and boys in the community, I've grown up with it, but as long as it's safe there's nothing wrong with it. There are boundaries that the community is unsure of still, but hopefully the girls will pave the way.
"There is nobody like them"
"We call them trailblazers because there is nobody like them. There was nobody before them. I don't know about right now, but after this documentary there will be a lot more Asian girls being more confident to push for sport.
"Hopefully the programme will give the community and young ladies the chance to see that there is something out there for them to achieve in sport. It's not just about their academic achievements. It's important for health, wellbeing, important for their sanity to get out and get fit, so hopefully that's the message that comes across."
Like Big Issue North on Facebook