Craftivists in Blackpool are making their feelings about visitors to the town this week known via a patchwork quilt that will be displayed near the Conservative Party Conference.
On 18-19 March senior party members including the prime minister and cabinet members are returning to the town for their spring conference for the first time since 2007, following the development of a new £28 million conference centre within the historic Winter Gardens. Local craft group Knittaz With Attitude will display its Discomfort Blanket in the shop window of Charabanc, part of the Winter Gardens building.
Made up of nearly 50 squares, each made by local crafters, the Discomfort Blanket addresses concerns about how Conservative policy making has affected the town, as well as broader political concerns.
Multiple deprivation
"The spotlight will be on Blackpool. The national press will be focusing their attention on our seaside town and we thought that this would be a brilliant chance to tell our stories, highlighting our needs and the effect of current policy decisions," said Joe Booth from arts organisation Aunty Social, which runs Knittaz With Attitude. He added that while the brief for the textile squares wasn't to specifically target the Tory Party, many of them do.
The pieces cover a variety of concerns such as NHS cuts, the levelling-up agenda, fuel and food poverty, and the hostile environment faced by refugees. Others look at poor health, low life expectancy, lack of social care, pay gaps and state pension inequality.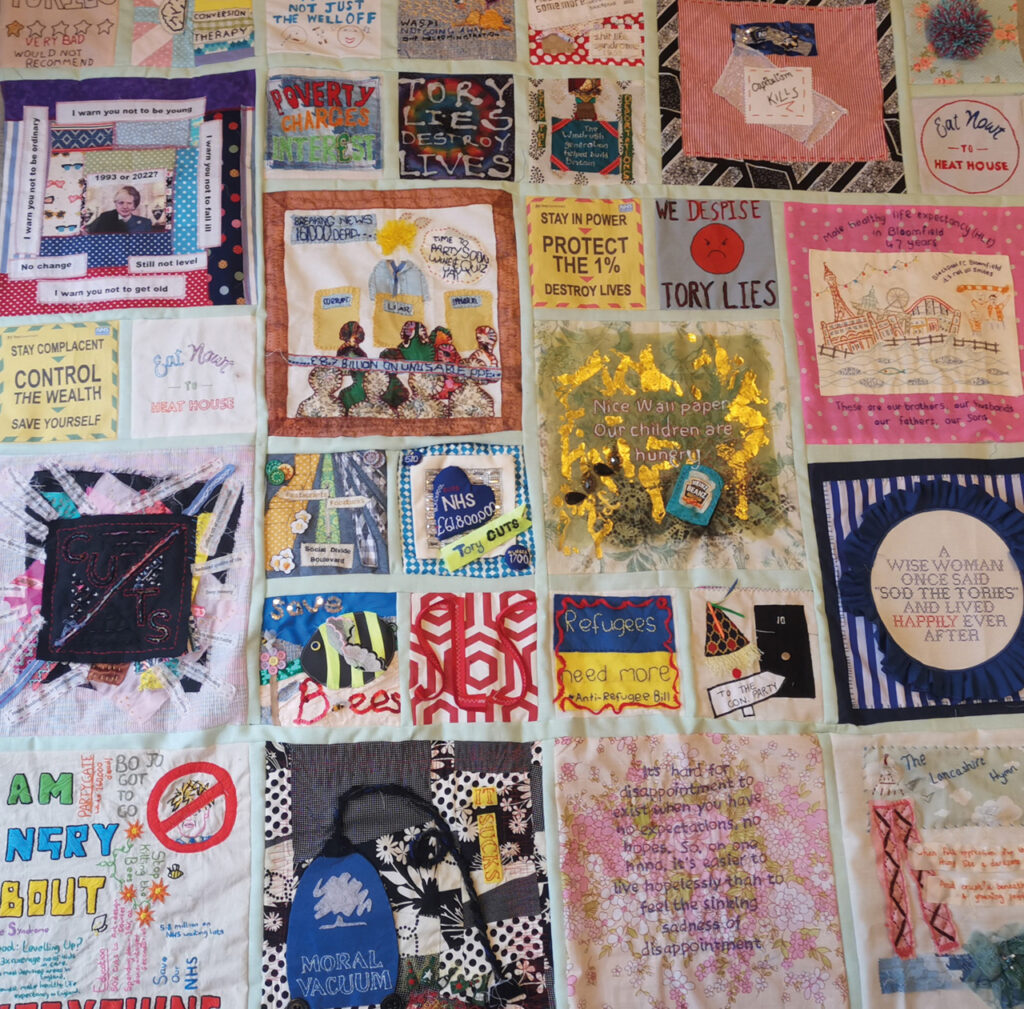 In his 2021 annual report England's chief medical officer, Chris Whitty, pointed out that Blackpool is the most deprived local authority in England with the lowest life expectancy. Other indices put the town low for prosperity while jobs, which are often linked to tourism, are more insecure, with high levels of unemployment.
"We hope that this project helps people to feel heard," said Booth. "Local people tell us that they feel apathetic when it comes to government. They think it's one rule for them and another for us – they don't care about us because we're miles away from London and we're comparatively poor."
In the 2019 general election, only 56.8 per cent of the eligible voting population voted in the town and Blackpool South had the 30th lowest constituency turnout out of the UK's 650, leading to a Conservative gain for Scott Benton MP.
"Frustration and anger"
"For an area with such high levels of need, that's absolutely baffling," said Aunty Social's Catherine Mugonyi, who crafted a square calling for an end to Windrush deportations. "If the practice of sewing and crafting together gets us talking about issues that affect us and speaking with a collective voice, it's a really useful civic engagement tool. It also helps us feel more confident when airing these concerns with people who are in a position to do something about them."
Benton pointed out that the spring conference is worth an estimated £2.4 million to to the town. He said: "I look forward to welcoming senior party figures to the town, to showcase what a wonderful place we have here. I hope to convince the party to hold many more events in Blackpool in the years to come."
The TUC and unions were due to march and rally in Blackpool on 19 March to demand a pay rise for Britain but have since cancelled the event to instead mobilise in support of Ukraine.
Mugonyi added: "There's something incredibly powerful about textile arts. It's a slow, thoughtful and gentle activity that can help to process our frustration and anger.
"For some it was a way to channel rage, while others found the work therapeutic, working through their own personal feelings. Collectively, it's a way to open up conversations and really consider our own power as artists, storytellers and as citizens."
Like the Big Issue North on Facebook