When Terry Evans and his family moved from Gosport to Grimsby for a fresh start, he thought they had made a mistake.
"The house we lived in was absolutely awful," he recalled. "No skirting boards, the walls were falling apart, no work was being done."
Billed as a three bed, Evans said in reality it was a two bed, with the damp and mould in one of the rooms rendering it unusable for his 10-year-old asthmatic daughter.
"Single industry town"
"It was absolutely horrific," he said. "We didn't feel like we could call it home. It was just a shell of a house."
After a year, they had all but given up on their fresh start and started looking at houses back down south. That was until a chance encounter with Billy Dasein persuaded them to give Grimsby one more chance.
Dasein, the chair of community group East Marsh United, told Evans about its new housing project, which had managed to buy up three houses on Grimsby's Rutland Street, transforming them into safe and comfortable homes to rent out at an affordable cost. That money would then go back into East Marsh United, allowing for its work to continue.
"As soon as we moved in there within the first week we all noticed our sleeping patterns got so much better," Evans said. "We slept a whole night without waking up. The stress levels have gone down completely. There's an easiness that comes with having a house that you can call a home and feel safe in."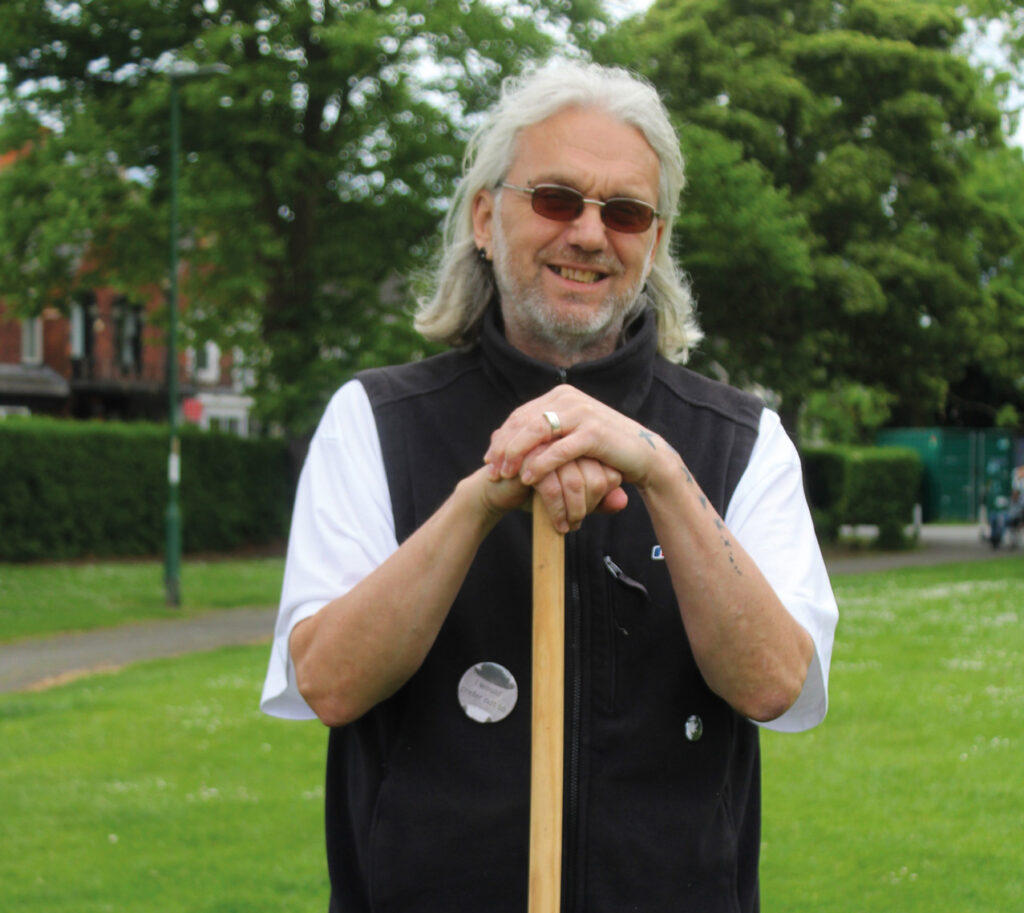 Started five years ago, East Marsh United was set up by Dasein and a small group of residents. Once the biggest fishing port in the world, he explained that as fishing disappeared, the town suffered.
"It was a single industry town and it was thriving, it was bustling, it was bursting with life and energy, with jobs, with pride," he said. "And just that – like with the mining, like with the steelworks – you take a single industry out of a single industry town, the whole place just collapses. We've now got all of the problems associated with very deep poverty and no structure to people's lives and no focus, no centre."
Riddled with problems
The offshore renewable energy industry is building up in the area, but it has yet to deliver well-paid jobs in large numbers.
From cleaning its local park to helping residents develop skills for work, East Marsh United has been doing all it can to level up Grimsby.
"There are signs of life now coming through," Dasein said. "There are lots of people looking at Grimsby from outside – friends, partners, well-intentioned and well-meaning people who actually mean what they say – and they're lining up now to work with the people of Grimsby to make real change happen."
When it comes to the housing project, Evans's home and the two others that now have young families living in them are just the start.
Through a share scheme, Dasein is aiming to raise £500,000 of investment to buy 10 more houses. His big ambition is to buy and renovate 100 houses.
"The kind of energy that is moving through Grimsby right now is phenomenal," said Dasein. "I'm honoured and East Marsh United are proud to be playing our part in that."
Kelly Mclaughlin is hoping to be living in one of those 100 homes.
Like Evans, when Mclaughlin moved to Grimsby she ended up staying in rented accommodation that was riddled with unaddressed problems. She had just lost her mum and lockdown had been imposed, putting her dreams of starting a photography business on hold. She described it as "18 months of hell".
"It depressed me," she said. "It really got me down. I suffer with my mental health and I've struggled with that from being a kid. It put me in a dark place where I couldn't get out of the flat. I felt like I couldn't go anywhere."
But after crossing paths with East Marsh United, things changed for Mclaughlin. It helped her move out of the flat, employed her as a community photographer and supported her to build up her business. Now she's on the waiting list for one of the houses.
"I don't want to sound cheesy but they did rescue me in so many ways," she said. "They gave me a purpose again, they gave me a place to call a home and it was Grimsby. Of all places I never thought 10 years ago I would be living in Grimsby but I am and I love it."
For Mclaughlin, who is writing a book about her life, getting into one of the East Marsh United homes is about more than just having somewhere to sleep at night.
"It'll give me security that I know I'm going to be safe, that I'm not going to have to worry about if I'm going to lose my home or somebody is going to push me out, that there won't be poor conditions," she said. "I will absolutely feel like I've got my seeds to plant and I can blossom."
Like the Big Issue North on Facebook