An estimated 5,000 people turned out in Manchester's Piccadilly Gardens to protest against the spiralling cost of living crisis on 1 October.
The city's first Enough Is Enough rally was one of around 70 that took place across the UK as the Conservative Party conference opened in Birmingham and the national rail network was again brought to a halt by the latest round of industrial action.
A range of speakers took to the canopied stage during the afternoon, including Clayton Clive from the RMT, which was running a picket line at nearby Piccadilly Railway Station. CWU and Unison were also present, as was Acorn, which works for tenant's rights, anti-austerity organisation the People's Assembly and local bodies like Salford homelessness resource centre Loaves & Fishes and 0161 Community, a group empowering residents to create positive change in their area.
A growing campaign
Coronation Street star Lamin Touray, who plays Ashley Hardcastle in the TV soap, highlighted connections between social and racial inequality, ending with a letter from the family of Chris Kaba, the unarmed man shot dead by a Metropolitan Police officer in early September. Representatives from Extinction Rebellion emphasised the link between climate and economic crises.
Other Enough Is Enough events took place in towns and cities across the region, including Preston, Liverpool, Warrington, Blackpool and Barrow-in-Furness. Organisers said many were running without their direct involvement, and claimed this is indicative of the rate the campaign, which began in summer, is now growing. They say its lack of political affiliation and five key demands to benefit everyone are at the root of its appeal across the spectrum.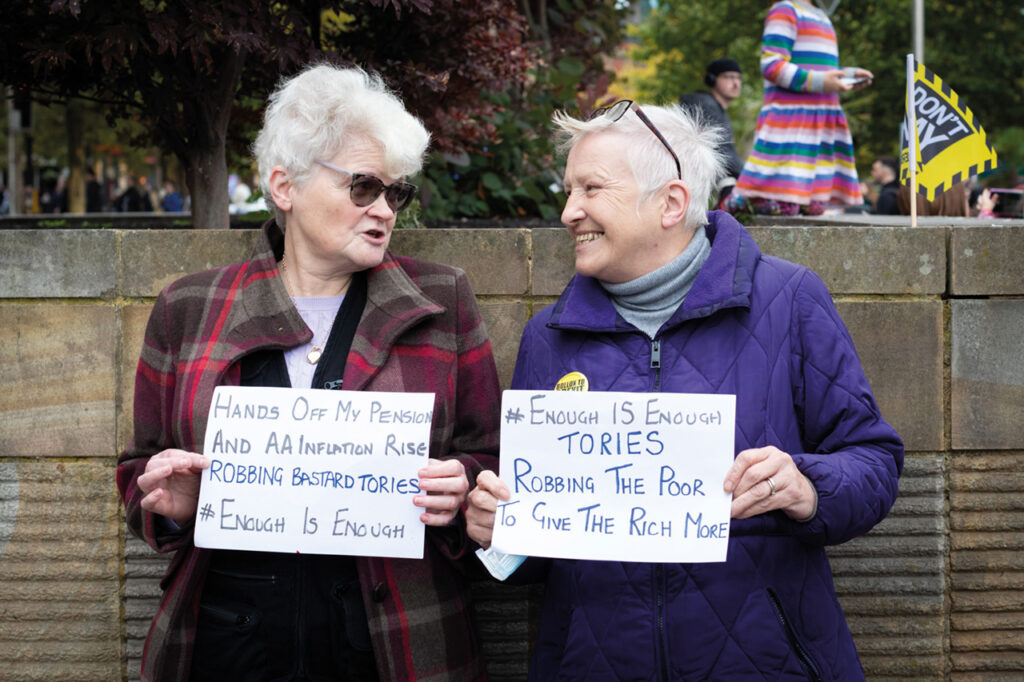 "We're asking for a real-terms pay rise for British workers," said Charlie Winstanley, Enough Is Enough's North West regional co-ordinator.
"The background to all this is wage stagnation in the country for 20 years, and a longer decline in real wage growth for double that time.
"We're talking about an economy where smaller numbers of people are becoming very wealthy, and larger numbers are falling behind. We're also asking for energy bills to be slashed, an end to food poverty, decent homes for all, and taxing the rich properly – so wealth redistribution. The idea is those with broader shoulders bear the biggest burdens."
Winstanley said the campaign would not get "bogged down in factions" and had no connection to the Labour Party, as some believe.
"If you agree with those demands, no matter who you are, who you vote for, you're welcome to join and we actively want you to," he said.
"Since we launched, there has been no paid advertising, there's been no pushing for press. It's been people triggering organic social media reach, sharing videos, and getting the message out.
"I've been involved in different political activism for a lot of my life, and I've never known a campaign to have such a broad range of people taking part."
The next stage
Performances by bands including self-described "left-wing trumpet punk ska band" Gallivanted punctuated the day, which ended on a final message outlining the next stage of Enough Is Enough's campaign – the creation of regional branches to "deliver material support for those in need through networks linking charities, unions, food banks and other organisations".
Those who have debt arrears, are struggling to pay bills or feed themselves will be eligible for assistance, with the aim of ensuring "nobody goes into this winter alone".
Less than 48 hours after the protest, the UK's new prime minister, Liz Truss, and chancellor Kwasi Kwarteng told the Conservative Party conference proposals to abolish the 45 per cent higher tax rate for those earning £150,000 or more would not be implemented, following outcry from the public and politicians on all sides, and a tumultuous week in the financial markets that saw the pound plummet to record lows against the dollar and mortgage products withdrawn by lenders.
Winstanley acknowledged it was difficult to directly attribute Enough Is Enough's day of action with the policy change, but was clear in his belief the campaign was cutting through conversations and "sharpening the minds" among MPs as to the electorate's concerns.
"It's like a clock, an old clock," said Paul Eckersley, after explaining he had recently joined the Acorn tenants' union. "We've got to look after all the cogs or it won't work properly. It won't tell the time.
"You know, even the small cogs have to be cared for to make the whole system work, which isn't happening. This is why the country is, so to speak, in a complete mess.
"We've got to be good watchmakers otherwise we won't function. I've come here to show respect and solidarity in the vehement hope that something can happen for the better."
Jay Mitra, a student member of the Greater Manchester Tenants' Union, was in Piccadilly Gardens to tell others about the services her organisation offers those in the region at a time when already high rents are predicted to start climbing in line with rising interest rates and the impact these will have on landlords' mortgage payments.
"Now more than ever we're seeing people being exploited, evicted, rent going up, and people just can't cope," she said. "We're trying to reach people here so they know there's support available."
Alan, who asked not to have his surname published, said: "I'm here to voice feelings about the cost of living crisis, and the general state of the country. It's been mismanaged by a series of governments who were unelected by the majority of the population.
"Without further intervention by people, at this point, things will go downhill very quickly to the point where, I think, there will be civil unrest and general strikes, at the least.
"I'm showing my support to everyone who is struggling. And to all those who are not right now, this moment should be seen as a warning that it likely won't be long until you are also struggling."
Like the Big Issue North on Facebook