The administrator of a company owned by Manchester-founded Inc & Co has written to the secretary of state for business with concerns that a director "may be unfit to be involved with managing the affairs of a company in the future".
The revelation is one of a number of developments in the administration of two companies acquired by Inc & Co, described by its founder as a "private equity disruptor".
Marco Piacquadio of FTS Recovery, who is handling the administration of digital agency Skylab – acquired by Inc & Co from its founders in a distressed sale in May 2020 – makes the announcement in a report filed at Companies House.
It says that Skylab, which went into administration in August 2022, is expected to owe HMRC £651,746.69 in deductions from employees' wages and outstanding VAT. HMRC filed a petition to wind up the company, which counted Manchester Utd, Manchester City, Formula 1 teams and the International Olympics Committee among its clients.
Piacquadio writes in his report that debts owed to Skylab valued at £20,000 have not been collected because of a "lack of information from the company, which has not been compliant with the Administrator in order for any progress to be made in releasing this asset". 
He has reviewed the company's books and information from creditors to establish if there are "any areas which may warrant further investigations" to make further recoveries. He says he has identified such matters but cannot disclose details to prevent prejudicing further action. 
Piacquadio has a further responsibility to report to the secretary of state any concerns about the conduct of a past or present director. "I confirm that the report to the Secretary of State has been submitted along with supporting evidence of misconduct identified," he writes.
Mason became director on 28 May 2020, only to step down the same day, in a filing only made at Companies House on 3 August 2022
Skylab, founded in 2005, was hit when the pandemic shut down much live sport, the source of most of its clients. At the time of acquiring it, Inc & Co's group chief executive Jack Mason told Prolific North: "This is the next step in our ongoing and successful growth plan. Acquiring Skylab strengthens our digital innovation capabilities; offering all members of the agency collective, as well as new and existing clients, a chance to tap into Skylab's specialist skillsets."
The founders Nigel Collier and David Logan stepped down from their directorships on selling the company in May 2020. Mason became director on 28 May 2020 only to apparently step down the same day, in a filing made at Companies House over two years later, on 3 August 2022.
In an earlier FTS Recovery report – from September 2022 – Piacquadio writes: "The filing of the resignation was following my appointment. I consider that Mr Mason had no jurisdiction to file this notice, given his powers ceased following my appointment."
He adds: "We are uncertain as to how the filing of resignation was deemed acceptable by Companies House given the appointment of an Administrator, the time elapsed from the date of retrospective resignation and the fact that it in essence left the Company without a director.
"This matter will be raised with Companies House as a matter of urgency, with the expected outcome being that the resignation is revoked and removed from the register."
Inc & Co's legal team says it does not believe there has been any misconduct by Mason and that the administrator was provided with "full information regarding finances" and access to the "finance systems".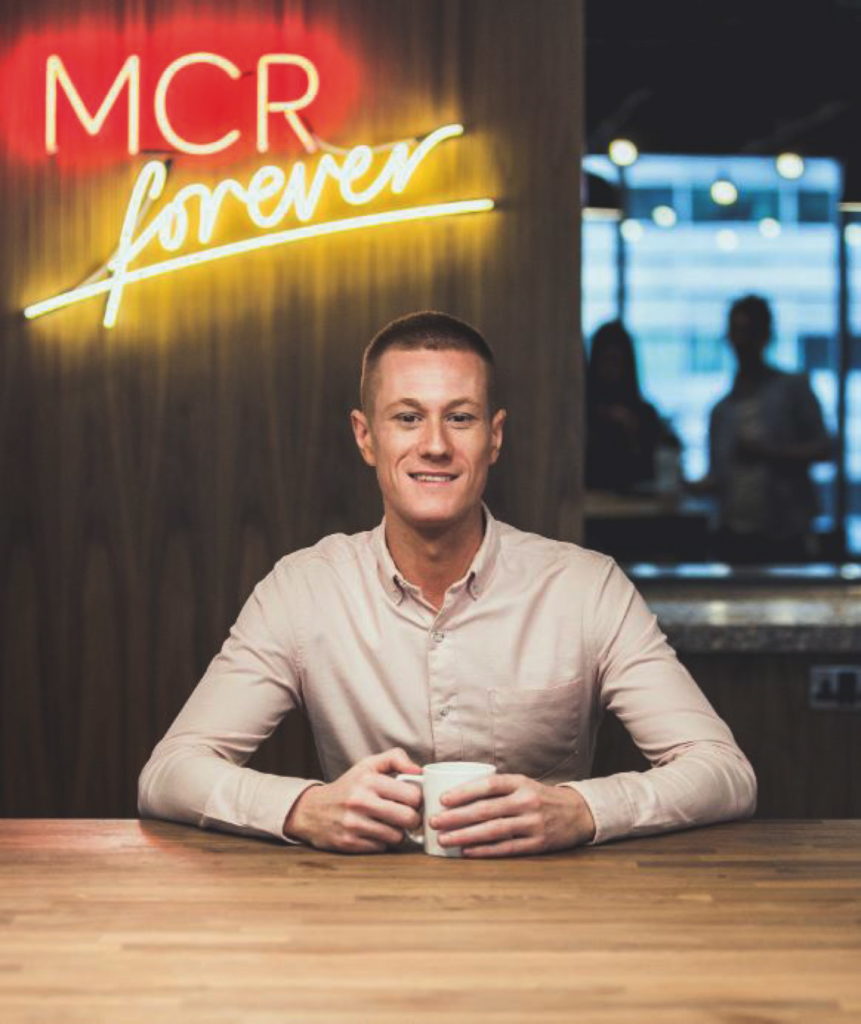 Inc & Co's legal team told Big Issue North on 27 February it believed FTS had erred in its statement "as a director is entitled to resign at any point and is not compelled to remain". But it did not say who, if anyone, was appointed as Skylab director after Mason resigned. Later, a spokesperson for Mason said there was a "filing issue" at Companies House and that Mason actually resigned on 3 August 2022. Either way, Mason signed off Skylab's abridged accounts for the period ending 30 June 2021 on 23 April 2022.
Piacquadio's February report provides further details of Skylab's finances. It says the company's mortgage register confirms a fixed charge over its assets in favour of Global Investment Management Holdings and Glenville Walker, a Liverpool law firm that acted for Fresh Thinking Group – funder of Inc & Co – on the Skylab acquisition, and also for Laundrapp, another Inc & Co-related company.
Glenville Walker also holds a charge over Old1 Ltd – formerly Chop'd, the food-to-go chain acquired by Inc Retail in 2021 – where another administrator has written to the secretary of state about the conduct of a director. Old1 owes HMRC £250,615, says administrator Martin Halligan of Live Recoveries.
Glenville Walker did not respond to several requests for comment.
Last December Global Investment Management Holdings gave notice to put another Inc & Co company into administration. Global is a company registered in Delaware, US – a tax haven allowing companies to avoid paying state corporate income tax where they earn the revenue. Delaware also has strict corporate secrecy rules. The 14 December 2022 notice is for Maker & Son Ops Ltd, the company that until recently ran troubled luxury furniture retailer Maker&Son.
Scott Dylan describes himself as a founder of Inc & Co who "oversees the strategic direction of the company".
Global remains important to Inc & Co. In December Inc & Co told The Business Desk Global is an "entirely separate entity and there is no connected party. Global Investments Management Holdings Inc is protecting its position because of issues beyond our control. Global is willing to continue supporting the company and brand going forwards." 
Scott Dylan describes himself as a founder of Inc & Co who "oversees the strategic direction of the company". When Big Issue North asked him about the status of Global in relation to Inc, he forwarded the questions to Inc's legal team, saying he wasn't "involved in the day to day of companies", although Big Issue North has evidence he was communicating with Maker employees as recently as November 2022. The legal team described Global as a "secured creditor which is supportive".
In December Big Issue North reported that customers were frustrated by delays in delivering products for which they had paid deposits and by limited communication from the retailer, which sells beds, chairs and tables, as well as sofas that can cost more than £10,000. It was set up in 2018 by Alex Willcock and his son Felix Conran but ran into financial difficulties before being acquired by Inc & Co in August 2022. 
The company went through changes after the acquisition. A company called Maker&Son Ops Ltd appointed Mason as a new director. Mason also became a director of another company, MSOLD1 Ltd. On 4 Oct, Maker&Son Ltd changed its name to MSOLD1 Ltd, which was put into administration at the request of its creditor, the bank Barclays, which is owed approximately £4.9 million.
The administrators say HMRC has made a claim estimating it is owed £1,445,355 as a secondary preferential creditor – which can apply to VAT, PAYE and employee National Insurance contributions. 
FRP told Big Issue North it "continues to receive enquiries from customers saying their orders have not been satisfied".
FRP Advisory says that when its administrators went to Maker&Son's trading premises to identify and secure company assets and records they "were excluded from the sites by Ops". The transfer of business and assets to Maker&Son Ops was voided in an 18 Nov court judgement but Maker&Son Ops continued to take new orders for furniture, even as complaints from customers mounted. It took further court proceedings in December before administrators and now liquidators at FRP could secure control of warehouse facilities and remaining stock at MSOLD1 Ltd.
FRP told Big Issue North it "continues to receive enquiries from customers saying their orders have not been satisfied and will continue to support these customers where possible".
Inc & Co maintains that as a group that buys distressed companies it will have some that succeed and some that won't, but that it has "saved hundreds of jobs over the past three years". It acknowledges that HMRC may end up as a creditor but says it has paid off "substantial HMRC liabilities of several companies, far more than HMRC has ever lost in an insolvency". It accused Big Issue North in an email of overlooking the positives of the group's activities and "looking to go on a witch hunt".
On 28 February a press release heralded a new future for Maker&Son – a licensing deal that would allow it to fulfil the customer order backlog and accept new orders. The deal is with Hastings Sofa Company, an existing manufacturer for Maker&Son. Mason said it was an adaptation of the company's approach following liquidation to help in "making sure that existing customers receive the best possible option, and new customers receive the quality of product and service that they rightly expect".
Crucial to any such deal is the question of who holds the intellectual property, such as patents, trademarks and copyrights. In a notice on its website announcing the licensing deal, the retailer said Maker&Son Holdings bought the "Maker&Son brand and Intellectual Property (IP) from the liquidators of Maker& Son Limited". After Big Issue North contacted Inc & Co's legal team to say FRP had not consented to any sale or agreement for its use, the notice was amended.
In fact, the legal team had already confirmed to Big Issue North an alternative route for the IP. On 31 August, MSOLD1 Ltd assigned its trade marks to Maker&Son Holdings Ltd in a transaction registered at the IP Office on 16 September. Its legal team pointed out that the 18 November court order had not reversed that transfer and as Maker&Son Holdings Ltd now licenses the IP back to Maker&Son, "it can continue to take orders".
Maker&Son Ops Ltd has now changed its name – to OLDMSO1351161009032023. Whether the number of dissatisfied sofa customers will change remains to be seen.
Like the Big Issue North on Facebook