Last year, the people of York and surrounding areas, raised a phenomenal £5,073 in memory of the late and loved, Pete Toulson.
Pete sold Big Issue North outside Marks & Spencer's on Parliament Street in the city centre, touching the lives of many. Here, by chance, he encountered John & Julie McGall who built up a particularly close relationship with him over the years.
In the wake of Pete's unexpected passing, John & Julie took it upon themselves to set up a JustGiving page with the intention of giving Pete the send-off he deserved. Within just 3 consecutive days this objective was achieved with a staggering £3,000 raised!
This enabled two services to be orchestrated for this deserving gentle giant. A funeral service at Lawnswood Crematorium in Leeds, and a memorial service in York Trinity Methodist Church, where over 300 people attended. The remaining funds have since been generously donated to Big Issue North Trust in Pete's memory.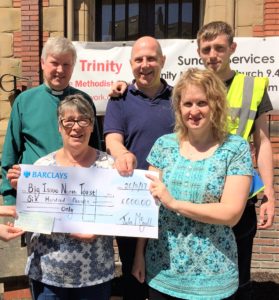 After meetings with support work professionals at the Leeds office, it was decided that the funds would be invested into a pilot project across York and Leeds. The project which is being piloted was inspired by another seller in the city, who is accepting payments for the magazine using a card reader.
This operational addition was in response to the increase in the number of people who no longer carry cash and instead favour plastic. There have been a multitude of reports which document the negative impact of 'cashless society' on street paper vendors who sell magazines like Big Issue North. This accessible and sensible technological development will empower vendors to keep with the times and engage with other members of the public who may not be aware of Big Issue North and the purpose it serves. We hope that this will lead to an increase in custom for those vendors who would like to be a part of this scheme.
Those who sell Big Issue North have continuous access to support from office staff, throughout the working day. Those who wish to take part in the scheme can access this support in the form of a one to one appointment and participate in a workshop which will demonstrate how to use the card reader.
We're excited to see the impact of this pilot scheme and will be supporting vendors every step of the way in getting to grips with the card readers.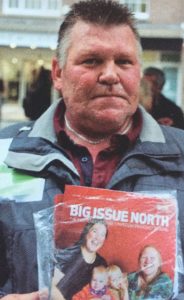 Thank you for all the public messages of support for this new venture. It simply wouldn't have been possible without the support of everyone who donated to the JustGiving page set up by John & Julie in Pete Toulson's memory.
We would like to take this opportunity to thank John & Julie McGall for their tireless support of Big Issue North and the hard-working vendors it supports.
What are your thoughts? Let us know in the comment section below.
Like the Big Issue North on Facebook