Big Issue North supports those who are homeless, or who have little other means of generating an income. We spoke to vendors who have first-hand experience of homelessness, to gather their thoughts on World Homelessness Day and asked them, how do they the issue can be tackled?
Chris, Manchester City Centre
Anyone can be homeless. There are people who are sofa surfing who you don't even think are homeless. If the government wants to prevent homelessness, it needs to get the DWP to stop sanctioning people. Their current practises clearly aren't working. I also feel like there aren't enough provisions in place for people who are homeless in the North of England.
Alex, Leeds City Centre
People who are homeless don't experience it for just the one day, do they? While World Homelessness Day is a good idea, people need to educate themselves about homelessness to get greater understanding in order to stop it.
My message to the public would be to give as much as you can in terms of support, whenever you see people who are homeless. It doesn't have to be money. If you are giving money, you should give it to services and organisations because you don't really know where the begging money is going and if you're actually keeping them there.
Jason, Leeds City Centre
Homelessness is a problem which the streets are suffering with at the moment.
My dog Bella has been with me during my time on the streets. She's helped me emotionally and mentally with everything I've gone through and am going through, like drugs, having an addiction and being on my journey to getting myself clean. Basically, I didn't think I'd get out of my addiction, but she helped me conquer it and she's just brilliant.
Now I'm off the streets, it's really interesting to see how other people are dealing with street life but with the way things are going at the moment, to see people like this, especially people I used to know, it's just upsetting.
Homelessness can happen because of a job that didn't work out, it could be drugs, it could be any number of reasons. It's the people walking past you thinking that it won't be them who it could actually happen to! Anyone could be end up homeless, it could be you. It could be a family member who you've not talked to for a while, you don't know their situation.
Selling Big Issue North has helped both me and Bella from street life. We now feel like we're a part of society again. It has helped us to get back into the swing of thing, to better ourselves and to do something else with the life we have.
Support staff have offered me help already and I think that getting badged up is a positive move for anybody who finds themselves on the streets. It's the starting block you need to move forward and to start getting your life back together.
But I think people really need to listen up to World Homelessness Day. It might just be one day, but at least it's something.
Smurf, Sheffield
I think that anything that can draw people's attention to how hard it is to be homeless can only help. Even though it's only one day, it's being internationally recognised, serving the purpose to make the situation more prominent in people's minds. The biggest problem that I've found over the years is that some people just don't understand. They see you on the street corners and in their mind you're just lumped into a big collective together, rather than people looking at the individual.
I love selling Big Issue North, I think it's a brilliant idea for people in my position who can't go out and necessarily get what people call normal work. It allows you to be able to earn an honest income and to feel good about it, rather than just sitting on the street corner expecting people to provide for you.
I want to thank everyone over the years that has looked past the uniform and seen the person and has been willing to take the time to get to know the vendor, or the homeless person. That really makes a big difference.
Terrance, Goole
Homelessness isn't just one day a year. It's 7 days a week, isn't it? I sometimes have to sleep out with my dog Roxy, she makes a good guard dog.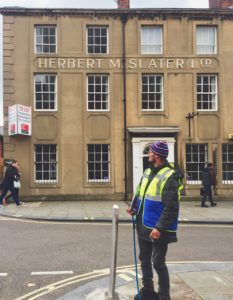 The best thing that the public can do to alleviate homelessness is to put money into charities. If you see someone begging, rather than giving them money, it's better to get them a cup of coffee or a cup of tea. Because the reality is that we all know where the money you've given them is going, it's going on drugs. It's a shame because at the end of the day there's enough support provided in Sheffield that if they wanted to get off it, they could.
The best thing the government can do to alleviate homelessness is to review the Bedroom Tax; people I know have ended up on the streets because of it. They genuinely can't afford the £10 a week and the council can't fast track them onto the priority housing list, because there aren't enough properties to go around.
Ian, Preston
I would say that there is a difference between being homeless and being houseless. I know lots of people begging on the street who have rooves over their heads. If I were to lose my accommodation, the nearest place for me to go is Blackburn or Blackpool, where I can get a bed for the night.
There's not enough homeless provision in Preston. Yet there are many empty buildings about, so many! Why not just turn them into places for people to stay?
Chris, Leeds City Centre
When I came out of the army, I ended up on the streets. The Issue was a way of making income to survive. Nowhere near enough support is being given to veterans. There are that many ex-service men on the streets, it's unreal.
I have waited 7 and a half years but get keys to my new flat soon. During that time I've been on the streets, or in hostels for a week here, or a week there but I've mainly been kipping in doorways.
The thing I'm most looking forward to about moving in is having a roof over my head, settling down and starting to get on with my life. I've been using the computers at the Big Issue North office with staff to look for free furniture to make my flat start to feel like I finally have a home.
Now I'm badged up to sell Big Issue North I finally have support there now, haven't I? It's always nice to be able to go somewhere where you can talk to people, get advice and the help that you need.
But the government should do their part and to pull their finger out or bang their heads together to prevent homelessness. They need to start sending the housing benefit directly to the landlord, instead of the tenants for one, because that's how many people are getting on the streets and becoming homeless. They also want to start getting the benefits sorted, where people aren't going to go without benefits because of unreasonable sanctions.
Want to make a difference?
To give more people the support to change their lives, please donate to Big Issue North Trust today.
Like the Big Issue North on Facebook