Sheffield dog grooming salon, Pampered Pooch Grooming Parlour, has opened its doors to canine companions of Big Issue North vendors!
Keen to make a difference to those people sleeping rough with their dogs, salon-owner Jane took the decision to reach out to relevant organisations in the area – including Big Issue North – to offer free dog grooming appointments for their
service users.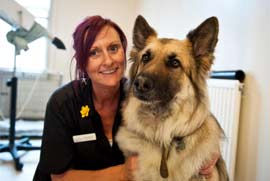 This is not Jane's first social venture. Pampered Pooch is a member of Groomer Volunteer Network, a collective of animal enthusiasts and grooming professionals, who volunteer their services free of charge to rescue dogs to boost their chances of finding a home. Jane said: "A dog is so much more than a dog, its family. For people who are experiencing homelessness, their dog can mean everything to them. The free dog grooming offer also provides a temporary safe space where the owner can get out of the cold and have a cup of tea while they're waiting for their four-legged friend."
If you have an offer of practical support for our vendors, however small, please email fundraising@bigissueinthenorth.com
Big Issue North is a not for profit, sign posting service. If you would like to assist vendors in accessing the services they need, then please make a donation to our Trust today.
Like the Big Issue North on Facebook