Like everyone in modern society, it is more and more important that our vendors are able to benefit from getting online. This is especially true for those looking to enter mainstream employment, with 90% of jobs in the UK now expecting a level of digital
literacy.
So we have teamed up with the experts at Google Digital Garage, who put on a session to provide digital skills training to vendors at their pop up office in Manchester.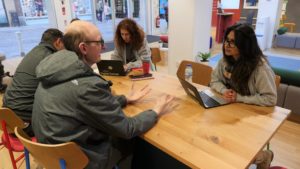 In order to make sure vendors got the most from the day, Big Issue North staff supported them to attend the workshop, and provided translators for those with limited English. Daniel Achim, Service Manager at Big Issue North, said: "As well as giving people a chance to earn an income through selling the magazine, we look to support our vendors in making positive changes and help them move on with their lives. In today's society, supporting access to digital skills training is really important for us; it gives vendors greater opportunities to enter mainstream employment, and generally become more digitally savvy."
Manchester vendor, Nicolae who took part in the workshop also gave an account of his experience of the day: "I really enjoyed
the session and it helped me compile my CV. It was a great atmosphere and now I'm looking forward to finding a job. I feel happy and more confident that I will find future employment."
We plan to continue with our digital skills initiative for vendors, and already have another Google Digital Garage workshop lined up in Sheffield. We will keep you updated, so watch this space!
If you would like to support vendors to update their skill sets, taking the steps to move into mainstream employment, make a donation to our Trust today.
Like Big Issue North on Facebook