Yorkshire comic artist and writer of Becoming Unbecoming, Una's latest work focuses on the Just For Women centre in Stanley, a small Durham town. We follow Jolene as she travels to the centre to take part in a cree group, where she finds both friendship and creativity. Cree is a North East term for a place to escape the world, to go to make and fix things – in other words a shed.
Tell us about the Cree project at the Just For Women Centre. 
The project is based on Men's Sheds, an initiative that began in Australia to combat social isolation and depression in men. I think single sex spaces are crucial in certain circumstances. Famously, Virginia Woolf said that women need a room of their own to create (to write fiction in her case). What people often forget is that she also said women need money, financial stability, as well as a space away from domestic duties and the pressures of life. For Woolf £500 a year and a room of her own represented freedom. This amount wouldn't get you very far these days but with even a modest income and a small space wonderful things can happen and as women's organisations are used to managing on a shoestring – fundraising through making things to sell and putting in the time to support their own services – a little can go a long way.
How important is your shed, which you mention in the book?
My own shed is vital to my creative work. It's quiet, away from the house, but not so far away that when the kids were small I couldn't be called or visited! I can leave my work out and come back to it for just 10 minutes if I need to. I walk to it through the garden, along some stepping stones in the morning, carrying a cup of tea. These days I spend every working day when I'm in Leeds in the shed. I do a lot of travelling with the foreign editions of Becoming Unbecoming and I'm often away for a day or two at a comics or literature festival in the UK and I'm so glad to see my little workspace when I return. I have windows down one side, a hanging wall down the other, shelves at one end, a double door that leads to a deckchair (vital in summer) and a radio. When I moved house a few years ago I dismantled the whole thing and moved it with me. It's such a precious space. Eight feet by 12 feet – I've packed a lot in there.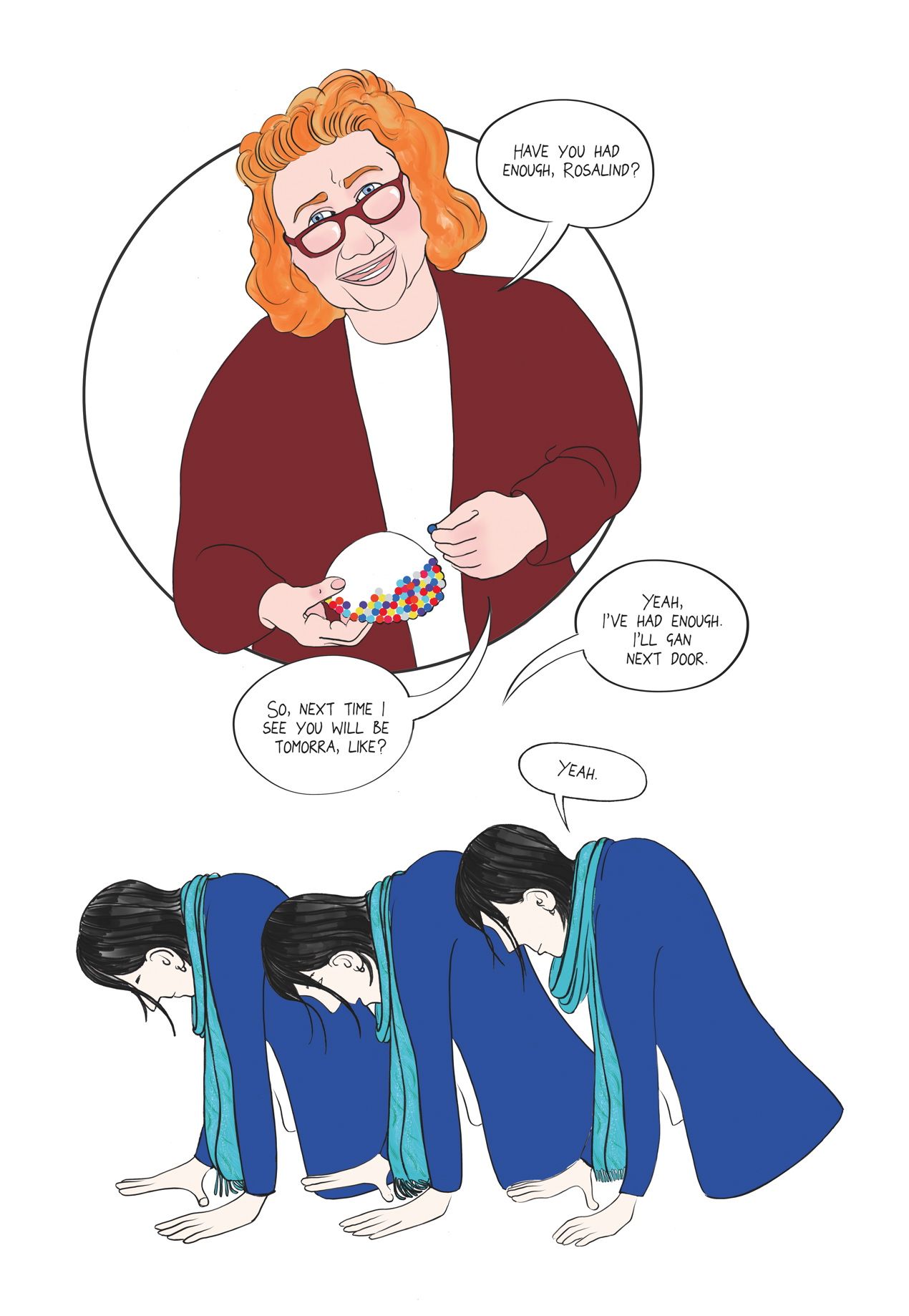 What did you learn about Durham while creating this book and how does it resonate to places that you know personally?
I have a deep relationship with the landscape and Durham is an absolutely stunning county. It has the most amazing heavy, bright skies and colourful fields. One disadvantage of driving is that it's not possible to draw or take photos at the same time, so the second time I visited the countryside I took the bus. The bus features quite heavily in the book. I love a good bus ride.
I also leaned a lot about Stanley and the other small towns scattered around the area. There was something familiar about the atmosphere of those towns. Where the economy was built on coal mining in Yorkshire there are lots of small towns that have suffered a similar fate. It can be a struggle for the people living there to get work and it's a long, expensive bus ride to Durham centre but Stanley is strong. There is a thriving town centre with lots of shops and services, and the people are unfailingly friendly and helpful. It's this spirit that drives the Just For Women Centre. When people organise they can move mountains.
Earlier this year, on your website, you wrote a compelling account of your experiences of domestic violence, a theme which surfaces throughout this book. What prompted you to share this story?
I've been waiting for my eldest son to be of an age where he can genuinely consent to this story being heard. It concerns him too, of course. But mainly I'm free to share this story because a dear friend, a feminist journalist who has investigative skills, helped me to establish that my ex-partner is not in a position to find me. This means I can be a little freer about using photographs of myself as part of my work. However, this doesn't mean that I'll be putting my personality out front now. I like to be a little anonymous, behind the work, because I think this helps people to imagine themselves into the stories, and because I don't really want to be a personality – I want people to look at the drawings.
I raised quite a lot of money for Leeds Women's Aid through the blog post but I haven't hit my target yet. I wanted to raise an amount that would pay for three months in a refuge, which is the amount of time that I stayed.
If you want to make a donation you can find the link on my website under the heading An Important 20 Year Anniversary. If you can't donate money and live in Leeds, take a donation of used clothes or toys to the Women's Aid charity shop in Horsforth.
What has changed since you completed Becoming Unbecoming in terms of women's experiences of abuse and sexual harassment being heard?
So much has changed in terms of stories being heard. Unfortunately this hasn't translated into better conviction rates in the long term. However I do think that something in the culture is changing. The #MeToo movement has allowed everyone to see how common sexual assault is and, although it's not perfect, it's been good for women and has given us confidence because it's clear now we are not alone and there's a lot of support for us. Haters gonna hate, but they can't stop this momentum. There's a big network of women and girls who are working on creative projects or in women services who are talking to one another and this is building better communication and better information for those who need it. I think this movement is good for men too. There's much more recognition for boys who've been abused in childhood and there are a handful of significant men who are helping to change the attitude of our society towards masculinity and male violence.
There's a meditative quality to Cree, where you seem to be asking the reader to slow down and linger over the pages. What can graphic novels offer in terms of the reading experience?
Thanks! Yes that's what I'm aiming for. It's so important to slow down sometimes. Life can be such hard work. I suppose I'm a dreamer – that's why I'm an artist, and maybe not everyone wants to stand and stare at the sky like I do, or get really close up to something random but interesting on the pavement, but I can highly recommend it. There really is beauty everywhere if you look for it. I like the open air and the mountains but equally I love industrial architecture. There's a cooling tower in Leeds that's really beautiful, soft colours. I think it's good for your mental health to be in the moment and notice the things around you. Drawing really makes you look.
Main photo: Casey Orr
Like Big Issue North on Facebook