Two thousand people have branded themselves permanently with a "Lifer" Beat-Herder tattoo, and as the festival's ten year celebrations draw to a close, I think I can understand why. This festival, set in the beautiful surroundings of Lancashire's Ribble Valley, is all heart.
Many people visiting this weekend have been every year since its launch in 2006. One thing that strikes you almost immediately is that the people here are a large part of what makes it great. The atmosphere as you arrive is electric, yet unassuming and unpretentious. Everyone here is just out for a good time.
Also noticeable is the lack of corporate branding and sponsorship. The organiser's dedication to keeping the festival independent and individual runs deep in to its foundations – the majority of what you see is made from materials salvaged from scrapyards. That's not to say that the setting looks shabby or tired – quite the opposite. The innovation and resourcefulness in even the most mundane structures add a new element of interest as you walk around the site. It's a startling contrast to the surrounding natural beauty.
Each stage has its own unmistakeable character and something for everyone. The ace card is the ethereal setting of the Toil Trees stage. Among towering fir trees, Andrew Weatherall, Daniel Avery and Erol Alkan are some of the acts gracing the stage, which is consistently packed throughout the weekend.
The Fortress, a colossal 70ft castle construct, visible from the moment you reach the festival entrance, pounds out techno and house day and night as flames erupt from one of the castle's towers. Just a few hundred feet away, you can enjoy laid-back reggae and dub in The Perfumed Garden's all-white dome, as psychedelic visuals are projected on to the interior.
Eccentricities and curiosities are in bountiful supply here. When you're not enjoying the music, there are numerous locations to discover and explore, including a secret swimming pool, a collection of classic cars you can dance on, tunnels, or "teleports" obscured by telephone boxes to climb through. In the unlikely case that you find yourself bored, bursts of live theatre, comedy and creative workshops keep your mind active, as if it needed any more stimulation.
At the main stage, Friday kicks off with a raucous set from the Dub Pistols, the most frequently booked act in Beat -history. You can see why. They do a sterling job of getting the crowd going with a little rain doing nothing to dampen spirits.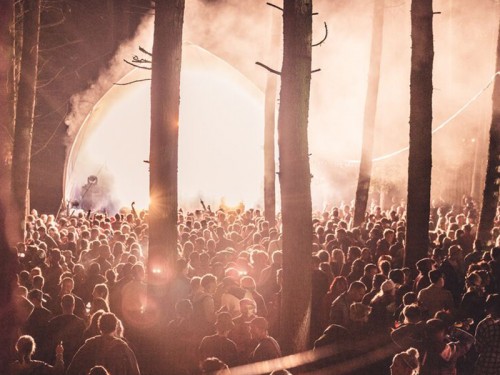 Saturday night's main stage is graced by Motown royalty Martha Reeves and the Vandellas, whose classics Jimmy Mack and Heatwave ignite the crowd, with many managing to co-ordinate dancing, singing every word and holding their phone up for their mum to hear.
Leftfield stage a triumphant return as Sunday's headliners, closing the festival with obliterative bass loud enough to rattle your bones. The set showcases the act's first new material in 16 years from new album Alternative Light Source, but doesn't neglect their older, classic tracks such as the now infamous Phat Planet.
As the tenth anniversary draws to a close, it's great to see that even with its growing popularity, the festival hasn't lost any of its individuality, creativity or spirit. An eclectic, quirky and surreal mix of music, comedy and entertainment, after this weekend I feel like I've only just scratched the surface of what Beat-Herder has to offer.
Lauren Flanagan
Like the Big Issue North on Facebook