Liverpool's Baltic Triangle has a history of slaving, whaling and being heavily bombed. Since 2011, however, the Triangle – a congregation of warehouses and low-rent spaces – has become a hip destination. That's where Camp and Furnace, two gutted warehouses connected by a narrow passage, plays host to the Liverpool Psych Fest, writes Bryony Bird.
Camp looks like a slaughterhouse decked out for a kid's birthday party – a cathedral-sized tin with fairy lights and confectionery-coloured paper lanterns strung from metal girders. Hypnotic liquid wax projections mutate over the looming walls.
It is here on Friday night that Andy Wilkins, festival accomplice, and I stand, crowd-crushed, unable to move our arms and waiting to see the highly anticipated Tess Parks with Anton Newcombe (leader of The Brian Jonestown Massacre, and the festival's notably present artist in residence). Their musical collusion (main picture) produces a sound that is subdued yet potent. Parks's voice is commanding and surprisingly gravelly. She growls over mellotron and Newcombe's fuzzy guitar. His riffs lift the music. Together they conjure the ambience of a sun-drenched drug-haze. "People are always suspicious of women in rock music," Newcombe tells me later. "I like seeing Tess win them over."
The music is both layered and uncomplicated. Songs transition seamlessly, and every one is a pleasure. They don't deviate from one another greatly in structure or sound, and their album I Declare Nothing has received some criticism for this, but this homogeneity is fully intentional, Newcombe says.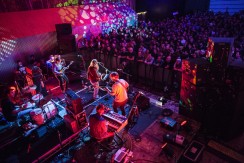 Jacco Gardener is another of Friday's memorable performances. They play multi-layered, late-1960s-influenced psychedelic pop from their new album Hynophobia. Their dreamy set fluctuates from lulling to high energy, during which I get accidentally head-butted twice by an off-kilter enthusiast.
Friday night's best new discovery is Andy Votel's Kleksploitation, an audio-visual exploitation of Andrzej Korzy?ski's bizarre electronic soundtrack to Pan Kleks, a 1980s trilogy of Polish children's films. Votel (DJ, producer and owner of Finder Keepers record label) took an increasingly creative approach to repairing the soundtrack, and soon the two artists agreed on running the edit as a collaborative project.
"Death and Vanilla make me feel like I'm being peacefully defibrillated, in slow motion, in a cathedral, in outer space."
Votel layers sounds live over the edited soundtrack and films. He tells us that he's "stripped everything right back" for the live show, though it's still brimming. Among other instruments he uses a typewriter-style harp through a fuzz pedal, a plastic fan triggering a dulcimer and a shruti box, and spins library records, pitched and drenched in reverb. "It's chaos," he laughs. The result is something engrossing, disconcerting and humorously ludicrous.
We hang out in Bold Street's coffee tent among the beanbags, hookah pipes and eastern psych records, test some oil-sodden chips from round the corner and end the night with headliners Factory Floor playing ominous post-industrial disco.
Saturday offers a plethora of delights. Camp and Furnace provides the perfect middle ground between a venue and a festival setting. With so much going on, being able to get from one act to another in under a minute is fantastic. Within just one building you can go to a talk, faze out on beanbags to a film or trippy graphics, or silk screen your own festival poster for a tenner. You can also have an interactive experience with Thorium-232, a virtual realm that is the fruit of a collaboration between Newcombe and artists Li Alin, Michael Saup and Stanislav Glazov.
After enjoying these, I head to District, a more intimate performance space. Weird Owl, who the festival describes as "recalling 13th Floor Elevators and Neil Young", kick off early, treating us to brooding tunes, strong riffs and melodies that range from lounge-y to unhinged, with elated howling over heavy drums towards the end. It's impossible not to dance.
Plastic Mermaids are an excellent surprise. Having listened to their music only briefly beforehand, I was not prepared for what I saw live. The group play hopeful melodies with youthful exuberance and boundless energy, clearly getting a kick out of what they're doing. They harmonise over a horde of interesting electronic instruments, including a home-built synth. Towards the end of the set the music quietens and takes on a pious quality, with bowed guitar and keys that sound like musical saws. Just as you think it's coming to an end the beats come in, building to a climactic freak-out.
They admit after the show that they are possibly the least psychedelic band at the festival. Their tunes are in the realms of folkadelic pop, but getting to see bands like this is one of the advantages of the festival's broad approach.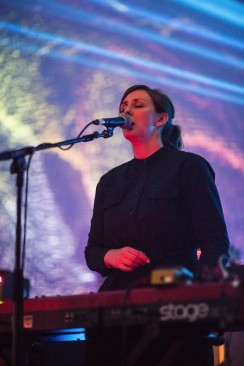 Later Death and Vanilla execute the most delicate set of the festival. Their psychedelic dream pop recalls Broadcast, the BBC Radiophonic Workshop, 1960s sci-fi soundtracks and Mazzy Star. Their brain-massaging melodies employ Marleen Nilsson's crisp vocals, delayed vibraphone and gently pulsating beats that tremble in your chest. All together this makes me feel like I'm being peacefully defibrillated, in slow motion, in a cathedral, in outer space. It's a great sensation.
Ex Easter Island Head are another standout act. The trio strike drums, cowbells and electric guitars with beaters and sticks, becoming increasingly dramatic and polyrhythmic. I wish I could stay till the end, but I rush off to see Jane Weaver, who delivers diverse synth-based tunes from her album Silver Globe. Encompassing elements of late Krautrock and 1960s folk, her set moves between being synth-heavy and high tempo to spaced-out and soothing, with catchy psych-pop songs thrown in the mix. Don't Take My Soul is an example of the latter, with her pure, high-pitched vocals layered over a dizzying merry go round-like melody. The softer and more folky Stealing Gold is a favourite of mine, lyrically and structurally sophisticated, and highly accessible.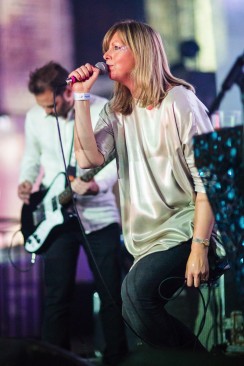 Furnace is packed for Spiritualized. Having seen them before I go to sample Black Devil Disco Club, French-born Bernard Fevre's Italo-disco, which the audience are eating up, and afterwards to Psychemagik's DJ set. I try to prolong the evening and soak up as much of the atmosphere as possible. As well as having stylistically varied music, a high standard of artists at varying levels of notoriety (I've found lots of new music), this festival is also the friendliest I've been to. I haven't seen any hostility, or even a squabble. People are grinning at me, yet none of them appear dangerously drunk, although some, particularly in the bean bag areas, seem questionably sedate.
There are far less than your usual share of festival posers. With a line-up this niche the people here haven't come for the Facebook photos, they've come for the music.
Votel sums it up perfectly when we ask why he's played three years running. "Arguably, musically this could be the best festival in the country at the moment. It's not on a beautiful landscape, it's not by a river and it hasn't got any other form of entertainment apart from loud music. It's no frills. I've never found the idea of an urban festival attractive but this, it's serious."
Bryony Bird
Like the Big Issue North on Facebook