In a year that Meghan Trainor made all about the bass and Justin Bieber apologised for dominating the charts (we don't forgive you), Richard Smirke says there were some high points too. Here are his top 10 albums
FATHER JOHN MISTY
I Love You Honeybear (Bella Union)
Big Issue North's favourite album of 2015 was also its most lucid. "Everything is doomed and nothing will be spared, but I love you honeybear," declares Josh Tillman, aka Father John Misty, near the start of this gushing 11-track love letter to his wife. Surfing the full gamut of melodramatic highs and lows, Tillman takes a rusty scalpel and dissects his life, neuroses, relationships (past and present) and contemporary America in startlingly frank and often blackly comic style. Underpinning his confessional tracts is a warm blend of soaring orchestral strings, pulsing Italo house, ragtime jazz, folky guitars and sun-kissed mariachi bands that evokes the work of Seventies singer-songwriters like Harry Nilsson and Scott Walker. Countless more innovative and forward-looking records were released in the past 12 months, but few bared their soul with as much grace and candour as Father John Misty.
JOANNA NEWSOM
Divers (Drag City)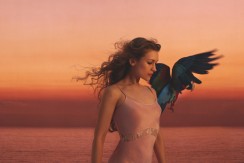 Divers proves a fitting title for Joanna Newsom's exquisite fourth album, which immerses the listener in a gentle swell of cascading harp, sweeping strings, horns, piano, harpsichord, purring analogue synthesizers and the singer's beautifully childlike (some would say irritatingly shrill) vocals. Obtuse literary and historical references abound, although enjoyment is not dependent on understanding or even recognising them. Far better to simply let Newsom's serpentine and strangely timeless melodies flow through you and weave their magical spell. Complex yet accessible, cerebral but poppy, Divers is Newsom's most concise and sublime record to date.
PUBLIC SERVICE BROADCASTING
The Race For Space (Test Card)
Mixing archival recordings from the US-Soviet space race with a suitably cinematic electro rock soundtrack, Public Service Broadcasting's second album is a celestial delight that embodies the drama, tension and excitement of the era. From the choral title track, which samples JFK's famous "We choose to go to the moon" speech, to the funky horn-driven thrust of Gagarin to the mournful static drone of Fire In The Cockpit, the London duo of Wrigglesworth and J Willgoose Esq deliver a thrilling joyride that also shines a light on some of history's lesser known heroes.
EVERYTHING EVERYTHING
Get To Heaven (RCA)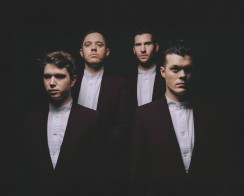 The third album from Manchester's most inventive guitar band crams a multitude of sounds, genres and ideas into 46 frenetic minutes without sounding bloated or overcooked. It's equally packed with catchy pop melodies, as illustrated by the chanting percussive thud of Regret and falsetto-rapped No Reptiles, which features the memorable refrain "It's all right to feel like a fat child in a pushchair old enough to run." There's substance behind the shape-shifting surface as well, with Jonathan Higgs's esoteric lyrics exploring contemporary fears about capitalism, technology and extremism in a captivating way.
JAMIE XX
In Colour (XL)
Taking cues from three decades of club culture, Jamie Smith's solo debut adds a dance glow to the minimalist indie template he made with The XX. Elements of grime, dub, drum'n'bass, house, dancehall and futuristic R&B wondrously combine and collide as snatches of overheard dialogue add to the feeling of stumbling through the night in a blissful chemical daze. The XX bandmates Romy Madley Croft and Oliver Sim contribute vocals to three of the standout songs, while euphoric instrumentals like The Rest Is Noise both soothe and stimulate the senses.
JOHN GRANT
Grey Tickles, Black Pressure (Bella Union)
A majestic, moving and mordantly funny operatic alt.rock opus about the indignities of middle age, bookended with biblical quotes about the true nature of love.
TAME IMPALA
Currents (Fiction)
Swapping his trademark 1960s-inspired psychedelic rock sound for Prince-esque analogue funk, Kevin "Tame Impala" Parker's third studio album is a luscious widescreen delight whose warm and woozy production belied raw and regretful tales of heartbreak.
FOALS
What Went Down (Transgressive /Warner Bros.)
Foals' heaviest album to date is also the Oxford band's most substantial, packed full of crunchy riffs, thunderous percussion and twinkling neon electronica – all topped by the maniacal melodic howl of frontman Yannis Philippakis.
COURTNEY BARNETT
Sometimes I Sit And Think, Sometimes I Just Sit (House Anxiety/Marathon)
Delivering on the promise of her early EPs, Barnett's debut album resurrected 1990s slacker-pop (a la Lemonheads) for the selfie generation in blisteringly arch and articulate style.
KENDRICK LAMAR
To Pimp A Butterfly (Interscope/Polydor)
This year's finest hip-hop album is a dizzying, genre-meshing opus that addresses issues of race, politics, poverty and corruption in contemporary America in vivid colour.
Like the Big Issue North on Facebook