After navigating numerous cattle grids and dodging suicidal sheep, we finally made it to Kendal… well, Shap. It turns out Kendal Calling isn't even in Kendal. We sought out some young gentlemen to carry our bags to Wolf Woods and pitched our tent.
On Friday morning, Tim Peaks Diner was our first port of call. We arrived five minutes in and fans were literally spilling out of the windows. Surprisingly, Thomas Turgoose was an abysmal DJ but who can blame the boy for making the most out of his This Is England fame.
We Are Scientists were next on the agenda, purely for nostalgic purposes. The band took me back to my teenage days by performing tracks from their first studio album With Love and Squalor. A decade later and the boys are still going strong, having just released their fifth studio album, Helter Seltzer.
We decided that the best way to start our Saturday was by listening to the Lancashire Hotpots sing about the traits of the working-class northern man. The crowd seemed well on board with the lyrics: "You can have another drink, it won't do you any harm, you could get hit by a bus tomorrow." So much so that they formed conga lines and performed the exquisite Dad Dance.
After singing our hearts out to Chippy Tea, we decided it was time for lunch. When I noticed Pieminister, a stand adjacent to the main stage devoted to my favourite cuisine, I was ecstatic. The pie of choice was a Mothership Matador – a beefsteak, chorizo, butter bean and olive pie with mash, mushy peas, crispy shallots and grated cheese.
Later that afternoon, Justin Hawkins bounded on to the main stage in a glistening purple catsuit sporting shorter hair, braces and a hometown "Lowestoft" tattoo across his chest.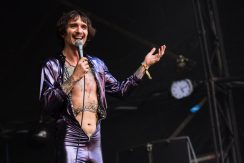 His operatic voice combined with spine-tingling guitar solos was an enchanting mix and he exuded such energy, including clapping with his feet in a headstand.
Camden Town's Madness brought generations together with a love of feelgood ska vibes. I was sceptical of the band's ability to headline the main stage, but putting aside a terrible rendition of Bon Jovi's Livin' On A Prayer, they sent the crowd, well, mad, closing their set with an avalanche of confetti and balloons.
Can I get Re-Rewind? The lyrical genius himself, Craig David stormed the Glow Tent late Saturday night with a glorious mix of noughties classics and current chart toppers.
A friend had recommended Fours prior to the weekend so on Sunday we wandered down to the Calling Out stage ready for their set. They were one of the only bands performing over the weekend with a female lead and it was a pleasure to watch Edith Violet exude such confidence.
Noel Gallagher's High Flying Birds closed the festival on Sunday evening and were nothing short of exceptional. After his performance, Noel tweeted "@KendalCalling Holy S*** Balls you did us all proud. FANK YOU!"
Kendal Calling is about respecting and enjoying the great outdoors; there are eco-friendly compost toilets and monetary rewards for picking up plastic cups. We met two young boys who had made £60 each in one day.
The Garden of Eden optimises the festival's hippy persona by offering a dose of relaxation in blossoming woodland. From yoga classes to massages, here was a place to escape the bustle. But I decided against any treatments as my conscience could not ignore the thought of a poor masseuse kneading sweaty Sunday feet.
It was a delight to see the majority of festivalgoers sporting large sunflowers in support of Hospice at Home. The charity provides care and support for adults who have palliative and end of life care needs and sunflower sales at Kendal Calling raised a total of £8053.21.
Like the Big Issue North on Facebook