#TheLifeOfASong is the brainchild of singer-songwriter and musical technology innovator Imogen Heap. In conjunction with Brighter Sound and Manchester's Northern Quarter venue Band On The Wall, Heap has selected 10 artists (primarily musicians) to create a song over a short five-day residency.
This highly collaborative process explores the journey of a song from its conception through to its completion. Heap and the rest of the group are passionate about documenting all dimensions of bringing a song to life, including lyric writing, production, social media, publishing and distribution.
An exhibition on 6 October at Band On The Wall will feature all of these essential elements of the songwriting process. Heap will also conduct a talk on her side-project Mycelia – an initiative that is challenging the efficiency and management of data involving musicians worldwide.
Chaines and Katt Strike are both up-and-coming songwriters, and Tess Tyler is a composer for film and video games. All three are selected participants of the project, and here they discuss the residency, what it entails and what the hopeful outcome will be, as well as their experience of working closely with a hugely successful major artist.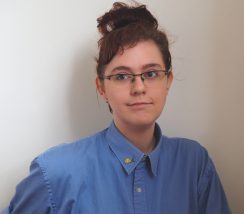 Chaines: We're a group of 10 artists all trying to write the same song, so that in itself can prove to be quite a challenge. All of us wrote fragments of lyrical content, and as a group we slowly started to whittle down which fragments we were going to use for the final song. From here we worked out the melodies – it's a very different way of working.
Katt: As Chaines said, we were sort of songwriting by committee, with Imogen leading the group. The residency started with us exploring themes that we had picked out from national and local newspapers. These themes then evolved into one solid idea, which we then based our vocal lines and melodies on. It's been quite an intensive process to get to this point.
Tess (main photo): It's been fascinating to be part of such an organic process, where we all put our ideas into a big melting pot and bit by bit come to a unified decision. I've learnt so much from the other artists in the residency, and it's been such a rewarding experience to witness other people's creativity at work.
To check out Chaines, Katt and Tess's work, visit them on Twitter: @KattStrike, @CHAINES_MUSIC and @TessMakesMusic. Here's more information on Brighter Sound and the project, and about all 10 artists
Like the Big Issue North on Facebook