Unconstrained by its name, Cambridge Folk Festival has never been afraid to stretch the boundaries of what falls within the boundaries of folk – and its 52nd year was no exception.
Take Niteworks, who deserve an early mention for their performance on the second stage Saturday night. Hailing from the Isle of Skye, the group use samples, keyboards, guitars, drums, soaring Gaelic vocals and bagpipes to create a sound that brought the diverse audience together for a Celtic rave that had people wishing they'd brought along their festival whistles. And then there was Frank Turner, who even went as far as to apologise for not being "folk" enough, before delivering a crowd-pleasing set of singalong numbers from his extensive back catalogue. A raucous rendition of You're The One That I Want was an original addition – played in honour of Olivia Newton-John, who was supposed to headline at the festival and who Turner replaced when she was forced to drop out because of ill health.
Those in search of more traditional folk could get their fix in the smaller tents around the venue, and were also treated to English folk legend Shirley Collins, who took to the main stage on Friday evening with a performance that was arguably a little too earnest for such a primetime slot. American singer-songwriter duo The Indigo Girls had a lot of work to do to shake up the audience afterwards. They just about pulled it off once they'd rewarded the patient crowd with some of their livelier material, sending everyone away smiling with a fantastic performance of Closer to Fine.
Those two acts contributed to one strand that ran through the four-day festival – a focus on female artists. Friday had an almost entirely female-led programme, kicking off with the rum-swigging She Shanties who played to their biggest audience to date on the main stage. Coven and She Drew The Gun gave excellent politically charged performances. Lisa Hannigan provided one of the day's standout sets. Her songs had the feel of gently swaying lullabies on the surface but their dark and stirring undercurrents quickly pulled you under – utterly beautiful.
A Sunday highlight was Kate in the Kettle – three women with string instruments and some powerful singing
The female line-up on Friday didn't starve the rest of the festival of female talent though. Roxanne De Bastion delivered a brilliant performance on Saturday afternoon. Two standout tracks were from her new album Heirlooms and Hearsay, an intensely personal piece of work based on her own life and her grandfather's – a Hungarian pianist who escaped persecution in the Second World War. A Sunday highlight was Kate in the Kettle – three women with string instruments and some powerful singing. They had the audience in rapture with their Bulgarian-influenced folk music and themes of Scottish plant lore – a truly unique experience.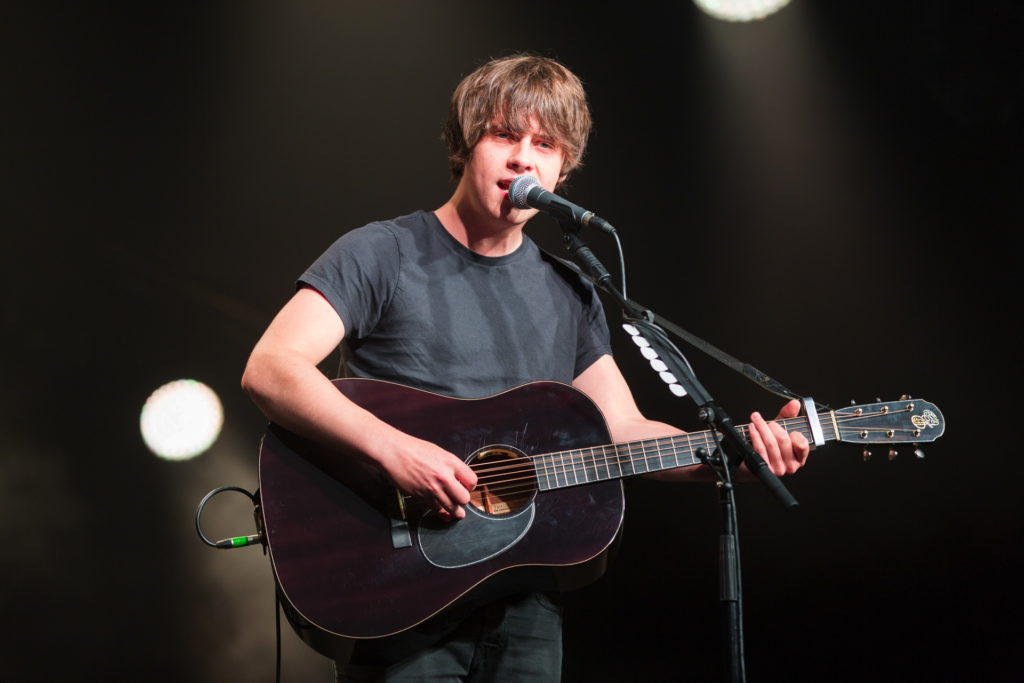 Of course the men got a chance to shine too. Jon Boden, who co-curated this year's festival, popped up in guest appearances with other bands across the four days, and delivered his own main stage performance on Saturday – an interesting set of music from his forthcoming concept album Afterglow. Elsewhere Fantastic Negrito brought eccentric blues-rock to the party, Lau delivered an impressive mix of folk and electronica, and there was some great alt-country from the recently formed Orphan Colours. The brilliantly fun Eskies included a gypsy punk-inspired number in their set which had the crowd in happy uproar, and Jake Bugg performed an impressive acoustic set, his distinctive voice echoing out across a sea of camping chairs outside the main stage tent as the Sunday sun set.
Perfect for people who want to dip their toe in to the folk scene, Cambridge Folk Festival offers something of a gateway drug into the genre. The two main stages presented as diverse a range of music as some mainstream festivals, but there was the added bonus of stumbling across something more unusual (a performance of Indian folk music, part of the Ely Folk Club set, was mesmerising). Cambridge perhaps offers something of a blueprint to emerging folk festivals, like Yorkshire's own Todmorden Folk Festival, which returns in 2018 for its fourth year. In the words of Esther Ferry-Kennington, She Shantie singer and co-founder of the Todmorden event, festivals such as these come with the understanding that when it comes to folk music "folk just means people".
Photo: The Indigo Girls by Jordan Harris
Like Big Issue on Facebook